---
Sean Hannity Show,"Let FREEDOM Ring!",M-F,3PM-6PM,EDT,WABC AM,October 7-11,2013
Sean Hannity Show ^ | October 7-11, 2013 | Sean Hannity


Posted on 10/07/2013 2:11:29 PM PDT by Biggirl

Welcome To The Sean Hannity Show Thread! All Posters And Lurkers Are WELCOME! The Show Thread Between EL Rushbo And TGO'S Lounge. Be The First To Post And Win A Sean Hannity Show Thread High Power Blender. Listen To Sean Do Comentary, Talk To Guests And Take Calls From YOU! :)=^..^=

Image by Cool Text: Logo and Button Generator - Create Your Own Logo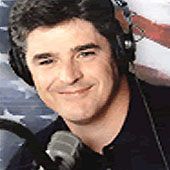 ---
TOPICS: Constitution/Conservatism; News/Current Events; US: New York
KEYWORDS: politics; seanhannity; talkradio; yawn

Good Afternoon!

---
To: Biggirl
NO comments? From anyone?
Gingrich is on. Oh how I wish he was President. He is a brilliant historian and understands what we are all about.
His perspective is refreshing and maybe even a little reassuring.
---
To: Biggirl; Sequoyah101
I don't normally post on talkradio threads, and I'm not surprised that people aren't making comments. People are swamped right now — calls for activism and low hanging fruit begging to be plucked [regarding news].
But Hannity is doing yoeman's work like he always does during critical times.
I heard him talking with Tancredo yesterday. Really alarming and I can't confirm what they discussed. It was the old 'conference committee' trick reg. immigration, but with the shutdown as a giant smoke screen. I hope it was just hypothetical.

3
posted on
10/09/2013 4:57:25 AM PDT
by
Arthur Wildfire! March
(George Washington: [Government] is a dangerous servant and a terrible master.)
---
4
posted on
10/09/2013 5:01:35 AM PDT
by
Arthur Wildfire! March
(George Washington: [Government] is a dangerous servant and a terrible master.)
---
FreeRepublic.com is powered by software copyright 2000-2008 John Robinson