---
To: C. Edmund Wright
Ugghh. How did Newt lose??.?
37
posted on
10/07/2013 6:24:36 PM PDT
by
MattinNJ
(It's over Johnny. The America you knew is gone. Denial serves no purpose.)
---
To: MattinNJ
Hush Bimbo and the other hacks on the radio were neutralized and impotent. After bloody thursday launched from Drudge, it was over. No one was going to speak the truth for Newt's sake.
46
posted on
10/07/2013 6:26:57 PM PDT
by
Greetings_Puny_Humans
(If anyone tells you it's a cookbook, don't believe them.)
---
To: MattinNJ; Servant of the Cross
Ugghh. How did Newt lose??.?
The Good Newt would have won....all of it....if he had remained the good Newt. He turned into the bad Newt (Bain, quit attacking Obama and started returning fire on Repblicans attacking him, etc) once in Iowa/NH, then again in Florida. It was over after Florida.
Lot of that covered in here: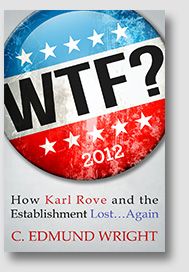 62
posted on
10/07/2013 6:33:01 PM PDT
by
C. Edmund Wright
(Tokyo Rove is more than a name, it's a GREAT WEBSITE)
---
To: MattinNJ
Ugghh. How did Newt lose??.?
Even Newt said it was "The dumbest single thing I've done in years"
FReegards!
87
posted on
10/07/2013 6:46:54 PM PDT
by
Agamemnon
(Darwinism is the glue that holds liberalism together)
---
To: MattinNJ
Newt lost because the Republican Party did not allow him to be represented by delegates to the County and State conventions in the same proportion as the votes he won at the precinct voting. He won nearly half the votes of our precinct, but our precinct sent only one delegate for him out of many to the county convention. His delegates at the county convention were then eliminated in favor of Romney going forward to the state convention. There are a number of videos on YouTube which illustrate how the GOP leadership cheated on the convention and party rules to shutdown any opposition whenever the delegates attempted to go off script for any candidate other than Romney. In other words, the conventions were rigged to select Romney no matter what the delegates actually wanted to vote for or against.
The Democrats did the same thing only worse by imprisoning delegates in their rooms during the Democratic National Convention. The delegates were rejecting Obama in favor of Hillary Clinton or otherwise, but they used fraud, force, and coercion to produce the outcome they were seeking.
117
posted on
10/07/2013 7:09:10 PM PDT
by
WhiskeyX
( provides a system for registering complaints about unfair broadcasters and the ability to request a)
---
FreeRepublic.com is powered by software copyright 2000-2008 John Robinson