---
To: AlexW
"Rules? Who needs stinking rules? A Kenyan got elected POTUS."
True dat, but in that specific case, a groundwork of uncertainty was available to sustain the idea that he might actually have been born here. There is no such possibility with the Arnold-ator.....everyone knows where HE was born, and when.

---
To: Wonder Warthog
Sorry, but he is Pennsylvania Dutch; he faked Austrian ancestry as an exotic backstory to win his first Mr. Olympia contest. After that, he was stuck with it. Of course he changed his name at the same time.
I was working in the Official Records Office at the County Courthouse in York County, PA, in 1974 and can verify that Arnold has a valid birth certificate and it is totally, totally real and official. But nobody can see it. Just because. I made a copy. Take a look: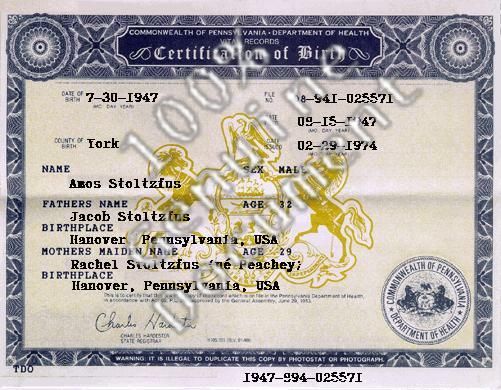 73
posted on
10/19/2013 12:23:55 PM PDT
by
FredZarguna
(The sequel, thoroughly pointless, derivative, and boring was like all James Cameron "films.")
---
FreeRepublic.com is powered by software copyright 2000-2008 John Robinson