---
To: KC_Lion; LucyT; LUV W; madmominct; maggief; Mama Shawna; manc; Marathoner; Marcella; ...
Sarah Palin's Awesome Ping List!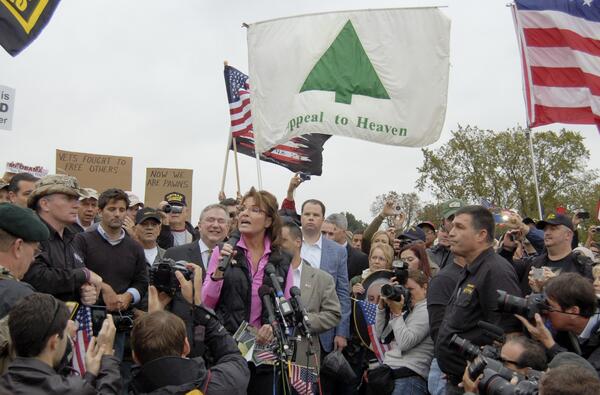 Fox News Sunday, November 24, 2013
3
posted on
11/23/2013 12:30:01 AM PST
by
onyx
(Please Support Free Republic - Donate Monthly! If you want on Sarah Palin's Ping List, Let Me know!)
---
To: onyx
GREAT WORK, ONYX...WE NEED THIS ONE AND PLENTY LIKE IT TO GET THE SHEEPLE USED TO SEEING SHOTS OF THES REAL LEADER AND HER TREMENDOUS FOLLOWING. WE NEED TO EXPAND THAT NUMBER SO SARAH CAN GET ELECTED ALASKAN SENATOR WE NEED HER. WE NEED THE OUTSTANDING SARAH BACK INTO A SEAT OF POWER WHERE SHE RIGHTFULLY BELONGS....AMERICA IS IN DESPERATE NEED OF THIS WOMAN AND ALL MEN AND WOMEN LIKE HER STRIDING THE HALLS OF CONGRESS...THAT IS THE ONLY WAY THIS COUNTRY CAN BE LEAD BACK TO IT'S PLACE OF ASCENDENCY IN THE COMMUNITY OF NATIONS. THE WORLD NEEDS A GEAT AMERICA TO EMULATE AND SHE'S JUST THE LEADER TO EFFECTUATE HER RETURN TO THAT GREATNESS, MIGHT AND RESPECT.
---
To: onyx; RichInOC; Berlin_Freeper; The Cajun; Windflier; Lakeshark
Thanks for the ping Onyx, sounds Bahsir is going to get that verbal skinning I talked about.
49
posted on
11/23/2013 5:41:56 AM PST
by
KC_Lion
(Build the America you want to live in at your address, and keep looking up.-Sarah Palin)
---
FreeRepublic.com is powered by software copyright 2000-2008 John Robinson