---


LESS THAN $4.4k to GO!! Can We Do This BEFORE Thanksgiving? It's Up to You! (FReepathon XLVI)
Free Republic | Tuesday, November 26, 2013 | onyx


Posted on 11/26/2013 8:51:35 AM PST by onyx

Edited on

11/26/2013 9:54:55 AM PST

by Jim Robinson. [history]

Click here to pledge your support via secure server ^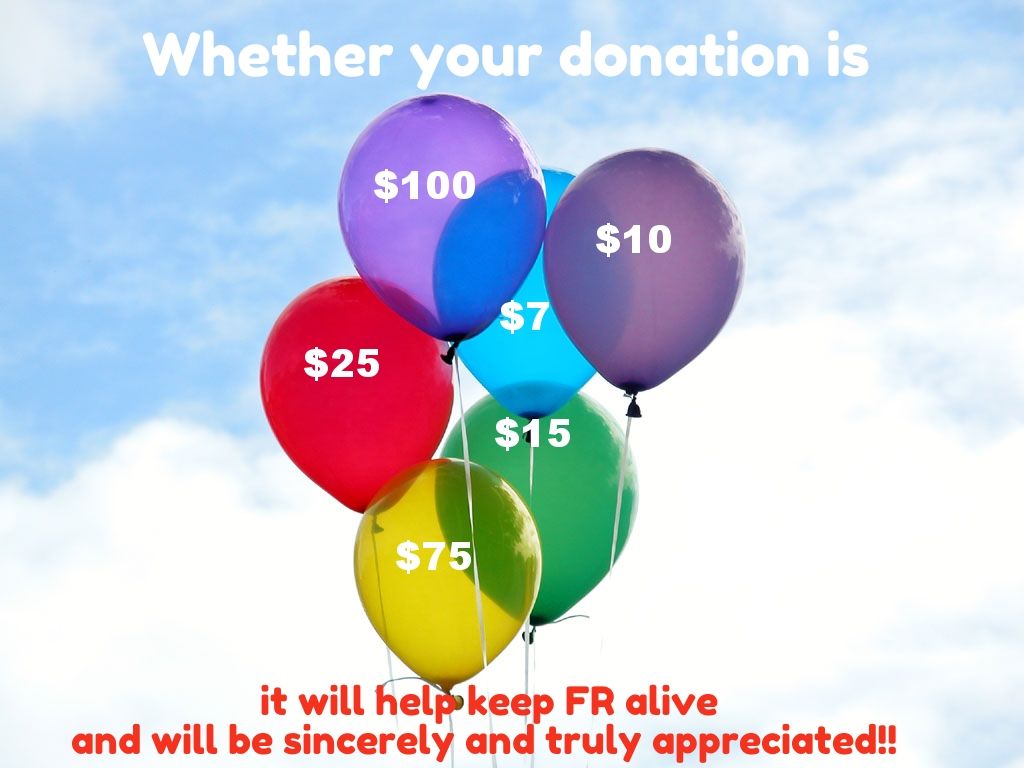 Thanksgiving is the day after tomorrow!






What else can be said, what else can be done to get this FReepathon done BEFORE Thanksgiving? Please help me here, because I don't know. Jim's FReepathon Team tries everything we have in our arsenal to entice you all to make your donations and to remind you all we have a FReepathon underway that needs to be completed. Jim's dedicated Team works hard and long hours, over way too many weeks, that unfortunately turn into 2 months. We're not ignorant of the fact, that the Marxist's economy sux, or that many FReepers are seriously hurting financially, because some of us are too, but every donation counts, and every donation is truly and greatly appreciated. Your donations all add up.

As you all know, or should know, Jim is still recovering from surgery and doing his Physical Therapy at home. Right now, he is working on improving the strength in his shoulders, arms and hands. Praise God, his recovery is coming along almost miraculously. Thank you all so much for your continued prayers.

To those of you who who regularly use and enjoy Free Republic, but have never donated, and yet can afford to contribute, shouldn't you thank Jim for his courage and dedication to FR by donating and helping to complete this FReepathon? How wonderful it would be to allow Jim to continue to recover and have a Happy Thanksgiving without worrying about Free Republic's bills! BTW, this FReepathon pays this Quarter's expenditures. PLEASE give Jim peace and time to heal by making your first donation today.



$5, $10, $20, $50, $100 or more, it all helps keep FR alive and is always sincerely, truly & greatly appreciated!!


Like Jim says, "We're going to Need Free Republic Now, More than Ever," and he's right.

The Marxist has sold out Israel and the Free World by making this deal with Iran that Prime Minster Netanyahu calls, "a historic mistake." Charles Krauthammer said it's "the worst deal since Munich." And now we learn that the secret negotiations for the past year were being conducted by none other than ... drum roll ... Valerie Jarrett!

Obama's Doctrine: Embolden our enemies, Undermine our friends, Diminish our military and Put our country (and the Free World) at risk. Well, he promised to transform America, didn't he?

Personally, I don't believe for a minute, that Harry Reid plans to limit the Nuclear Option to selected confirmations of judges and Obama nominations. I think the demonic-rats are going after GUN CONTROL, once those judges are in place on the DC Circuit, so again, "We're going to Need Free Republic Now, More than Ever."

The Marxist still has Obamacare wrapped around his neck and if he and the demonic-rats think their Iran appeasement and his Obamacare delay have put Obamacare on the back burner they're sadly mistaken. Of course, the Stupid Party can still blow the gifts they've been handed, so it's up to us, to the TEA Party Patriots of Free Republic and like minded patriots across the nation to never give up, never surrender, just to reload! IOW, "We Need FR Now, More than Ever!"


We're now less than $5.7k from meeting FR's financial needs. As you all likely know, ALL donations are for THIS Quarter's expenses. It's not like FR has a fat bank account. Free Republic is solely dependent upon donations from people who love and use it. Like Jim says, "We sell no advertising or merchandise. We have no corporate sponsors or sugar daddies and accept no government subsidies. This means no annoying commercial ads, no ad tracking, and no pop ups!! And no outside influences trying to pressure, sway or control us. It's just us freedom-loving grassroots conservatives exercising our first amendment rights by using and funding one of our favorite and most useful news and activism organizations."

Our New Monthly Donor Campaign is in Round #6! Woo-Hoo! FIFTY-ONE ( 51 ) FReepers have signed up to Donate Monthly and Twelve ( 12 ) FReepers are New $1-A-Day & More Donors!!!

Donating Monthly is an Ideal way to Reliably Support Free Republic, so if you're able, please consider Donating Monthly. We have some very generous FReeper Sponsors who are kicking-in $10.00 for every New Monthly Donor!!!

And, we now have 182 Donations this quarter of $100 or more!! FReeper I_be_tc donates $100 per quarter and challenges 300 other FReepers to do the same. If you donate $100 or more per quarter, please let Jim know, so we can add your name to the "300 Club Roster!" If we can get 300 members sending in a $100 or more per quarter, our fundraisers will run much faster!





Please click the link or RedMDer's graphic above to contribute by secure server or by mail to:
Free Republic - PO Box 9771 - Fresno, CA 93794



Your loyal support Keeps FR Alive and is truly and greatly appreciated!

Prayers up for our beloved nation.

Special prayers for all our members in need.

God bless and keep you all and everyone you love.

We are the Sovereigns and the Resistance!






---
TOPICS: News/Current Events
KEYWORDS: freepathon; quarter4
---
Navigation: use the links below to view more comments.
first previous 1-20, 21-40, 41-60, 61-80 ... 461-464 next last
---
---
---
---
---
---
---
---
---
---
---
---
---
---
---
---
---
---
---
---
---
Navigation: use the links below to view more comments.
first previous 1-20, 21-40, 41-60, 61-80 ... 461-464 next last
---
---