---
To: Eagles6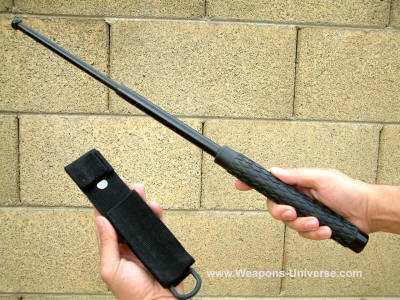 For those in areas where firearms are forbidden, a baseball bat or golf club might be illegal to carry in many places, but I would think that a metal or wooden cane or walking stick might pass muster. If a telescoping baton is allowed, that'd be ideal, because it can be carried on a belt or in a purse much more easily.

19
posted on
12/08/2013 1:12:22 AM PST
by
2ndDivisionVet
("Of the 4 wars in my lifetime none came about because the US was too strong." Reagan)
---
To: 2ndDivisionVet
Unfortunately the batons are generally illegal where a more suitable weapon is too.
when confronted with multiple attackers your best defense is your back to the wall and a good rifle with 20-30 rd STANDARD capacity mags. A pistol if you can't have a rifle.
A good knife is a must. Preferably a fixed blade, Kbar being ideal but something more discreet may be desired for formal occasions.
Assisted openers are a good second choice.
And don't forget the flashlight.
All the martial arts training done with boots and gloves means nothing in an encounter with half a dozen crips, bloods or zetas that want your nice, new shiny SUV along with your wife and 2 teenaged daughters.

---
To: 2ndDivisionVet
A friend of ours went to MOSCOW Russia, as a missionary. He was told to immediately go to a bicycle shop and buy a bicycle chain and keep it up his slieve, in case he is attacked by hoodlums, and to use it as a flail if attacked.
It was advise that came in handy on several occasions.
42
posted on
12/08/2013 7:58:46 AM PST
by
Ruy Dias de Bivar
(Sometimes you need 7+ more ammo. LOTS MORE.)
---
FreeRepublic.com is powered by software copyright 2000-2008 John Robinson