Reminds me a bit of the (former?) official White House poster artist, commie propagandist Shepard Fairey...
Here is the 'thank you' letter Barack Obama sent to Shepard Fairey:
"Dear Shepard, I would like to thank you for using your talent in support of my campaign. The political messages involved in your work have encouraged Americans to believe they can help change the status quo. Your images have a profound effect on people, whether seen in a gallery or on a stop sign. I am privileged to be a part of your artwork and proud to have your support. I wish you continued success and creativity.
Sincerely, Barack Obama.'"
http://www.washingtonpost.com/wp-dyn/content/article/2008/05/16/AR2008051601017.html
________________________________________________________
Your images have a profound effect on people"--BH Obama
Other "images" by Fairey...

by Shepard Fairey
http://www.duckywaddles.com/Scripts/prodView.asp?idproduct=744
________________________________________________________

"Stalin Lenin", Shepard Fairey,
limited edition silkscreen, signed
and numbered. 18"X24" *SOLD OUT*
Source: http://www.duckywaddles.com/scripts/prodView.asp?idproduct=429
________________________________________________________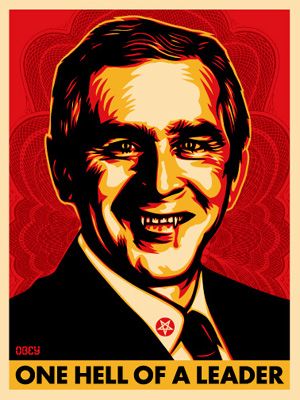 "Bush Hell" by Shepard Fairey
Source:
http://www.thegiant.org/wiki/index.php/Special:Search?search=bush&fulltext=Search
****************************************************************************************************
Portrait of Angela Davis by Obama artist Shepard Fairey:

Angela Davis
Angela Davis by Obey Giant, Shepard Fairey:
http://www.zimbio.com/Shepard+Fairey/articles/63/Angela+Davis+Obey+Giant+Shepard+Fairey
_________________________________________________________________
From David Horowitz's FrontPageMag.com/DiscoverTheNetworks.org:
PROFILE: ANGELA DAVIS
* Communist professor at the University of California's Santa Cruz campus
* Recipient of the Lenin "Peace Prize" from the police state of East Germany in 1979
* Provided an arsenal of weapons to Black Panthers who used them to kill a Marin Country judge in a failed attempt to free Davis' imprisoned lover, Black Panther murderer George Jackson
* Icon of the campus Left and frequent guest speaker at anti-war rallies
* Leader of a movement to free all criminals who are minorities claiming that they are political prisoners of the racist United States
* "The only path of liberation for black people is that which leads toward complete and radical overthrow of the capitalist class."
Angela Yvonne Davis is a tenured professor in the "History of Consciousness" program at the University of California - Santa Cruz. A former member of the Black Panther Party, she is currently a "University Professor," one of only seven in the entire California University system, which entitles her to a six-figure salary and a research assistant. This income is supplemented by speaking fees ranging from $10,000 to $20,000 per appearance on college campuses, where she is an icon of radical faculty, administrators, and students. Davis has also taught at UCLA and the State University of New York at Stony Brook.
http://www.discoverthenetworks.org/individualProfile.asp?indid=1303
_________________________________________________________________
"The political messages involved in your work have encouraged Americans to believe they can help change the status quo. Your images have a profound effect on people"--Barack Hussein Obama, in his Thank You letter to Shepard Fairey