~ The FReeper Canteen Presents ~
~ Remembering Our Troops!! ~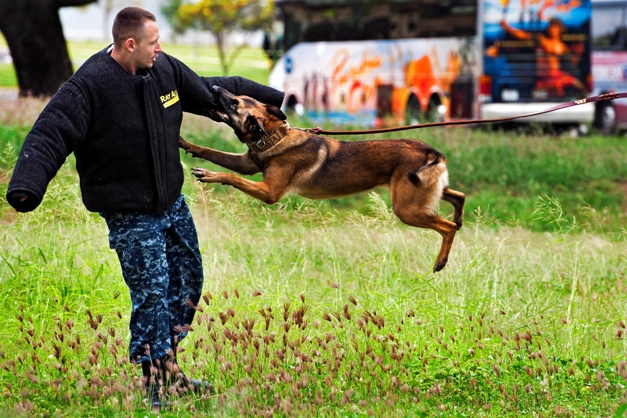 ASTA ATTACK
Asta, a military police working dog, attacks U.S. Navy Petty Officer 2nd Class William Bryan during a controlled aggression demonstration at Ford Island on Joint Base Pearl Harbor-Hickam, Hawaii, April 13, 2013. The military uses working dogs to apprehend suspects and to detect explosives and narcotics while searching buildings, ships and submarines. Bryan is a master-at-arms. U.S. Navy photo by Petty Officer 3rd Class Diana Quinlan







Canteen Mission Statement
Showing support and boosting the morale of
our military and our allies' military
and family members of the above.
Honoring those who have served before.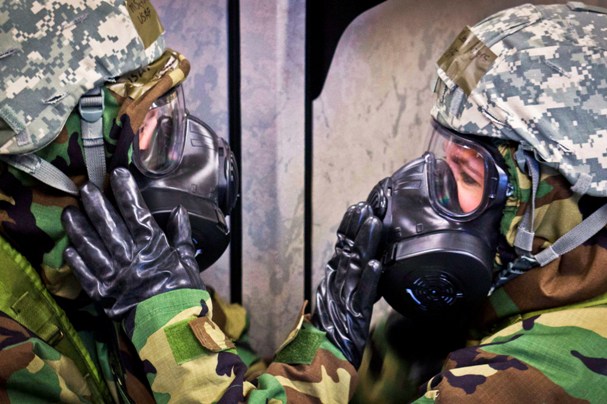 HELPING HANDS
U.S. Air Force Master Sgt. Jessica Sobczyk, left, and Tech. Sgt. Leah Rogers assist each other in securing their gas masks during an exercise at General Mitchell International Airport, WI, April 13, 2013. The training exercise helps prepare airmen from the Wisconsin Air National Guard for operations in chemical, biological, radioactive and nuclear environments. Sobczyk and Rogers are assigned to the 128th Air Refueling Wing. Air National Guard photo by Staff Sgt. Christopher Wenzel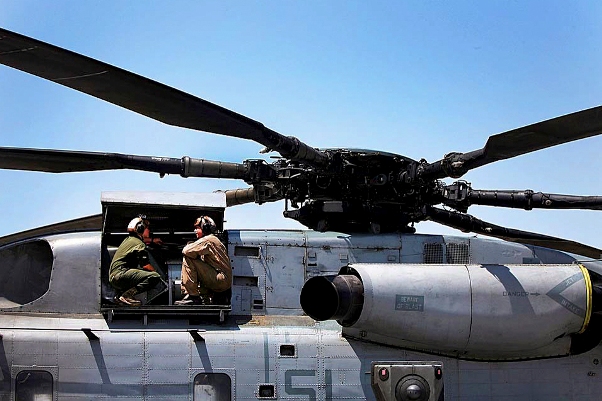 SUPER CHECK
U.S. Marines Lance Cpl. Victoria A. Pierce, left, and Sgt. Matthew R. Mawhorr check a CH-53E Super Stallion aircraft on Camp Bastion in Helmand province, Afghanistan, April 10, 2013. Crews performed aircraft checks as part of a turnaround inspection. Pierce, a flightline mechanic, and Mawhorr, a crew chief, are assigned to Marine Heavy Helicopter Squadron 461. U.S. Marine Corps photo by Sgt. Gabriela Garcia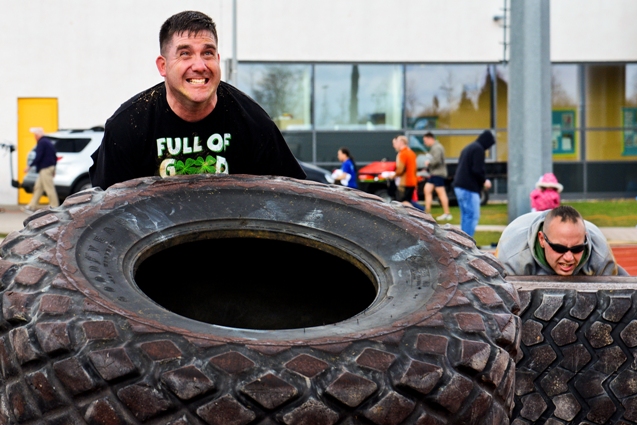 TIRE TEETH
Participants compete in the first rugged terrain obstacle run on U.S. Army Garrison Grafenwoehr in Grafenwoehr, Germany, April 13, 2013. More than 670 competitors participated in the 13-kilometer, 13-obstacle race, which centered around Grafenwoehr's rugged terrain trail, a training resource designed to test the ability of small units to operate in a physically demanding environment. U.S. Army photo by Markus Rauchenberger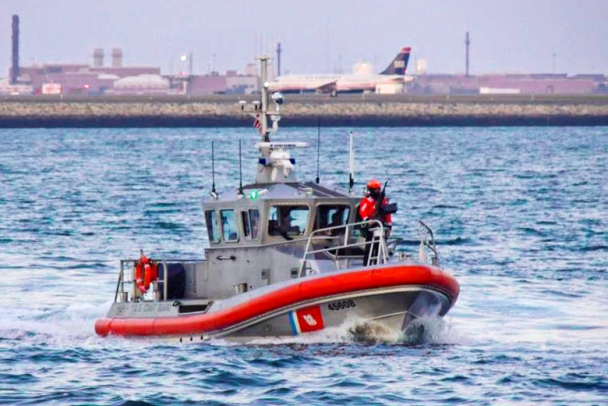 BOSTON HARBOR
A Boston Coast Guard boat crew patrols Boston Harbor near Logan International Airport, April 15, 2013, as the Coast Guard increases its presence following the bombings at the Boston Marathon. U.S. Coast Guard photo by Lt. Joe Klinker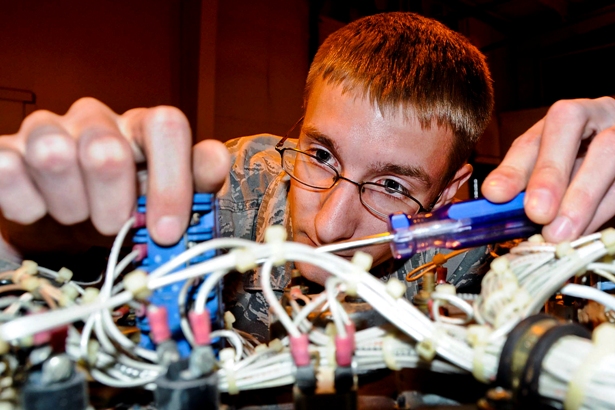 WIRE ROUTES
U.S. Air Force Airman 1st Class Ross Honomichl checks a generator for faulty wires at the power production warehouse at Altus Air Force Base, Okla., April 12, 2013. Honomichi is a power production journeyman assigned to the 97th Civil Engineer Squadron. U.S. Air Force photo by Airman 1st Class Franklin R. Ramos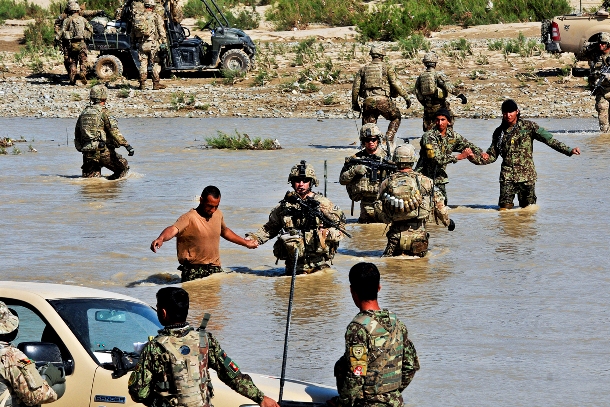 RIVER CROSSING
U.S. and Afghan soldiers cross the Tarnak River in the Panjwai district in Afghanistan's Kandahar province, April 10, 2013. The soldiers are assigned to the 2nd Infantry Division's Company C, 1st Battalion, 38th Infantry Regiment. U.S. Army photo by Sgt. Kimberly Hackbarth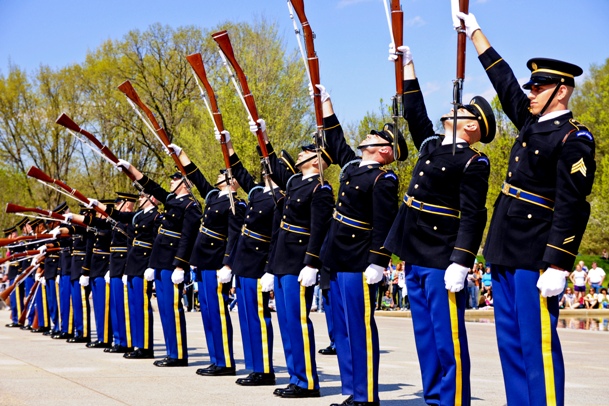 RIFLE DRILL
Members of the U.S. Army Drill Team, part of the 3d U.S. Infantry Regiment known as "The Old Guard," perform during an exhibition drill at the Lincoln Memorial in Washington, D.C., April 13, 2013. The soldiers spend hours a week perfecting each movement and routine. U.S. Army photo by Sgt. Luisito Brooks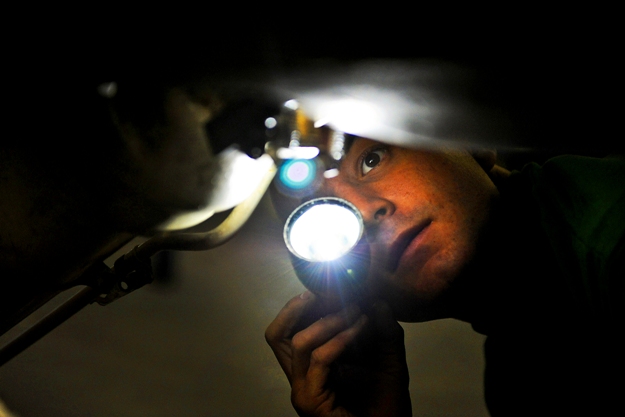 GEAR GAZE
Navy Airman Mathew Hanck inspects a landing gear switch on an F/A-18C hornet in the hangar bay of the aircraft carrier USS Nimitz in the Pacific Ocean, April 8, 2013. The Nimitz is underway for a sustainment training exercise to prepare for an upcoming deployment. Hanck is assigned to Strike Fighter Squadron 146. U.S. Navy photo by Petty Officer 2nd Class Jason Behnke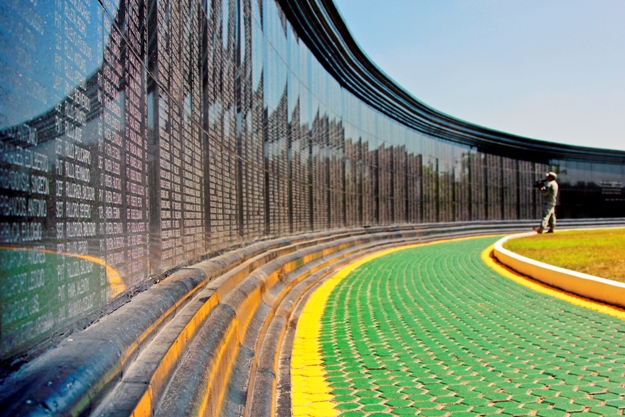 SURVIVOR RECORD
U.S. Army Sgt. Jesse Untalan uses a camera to record his great-grandfather's name, Pedro Untalan, a survivor of the Bataan Death March, at the Capas National Shrine in Capas in Tarlac province, Philippines, April 14, 2013. Jesse Untalan participated in Balikatan 2013, an annual bilateral training exercise to increase interoperability between the Philippine armed forces and U.S. military when responding to future natural disasters. Untalan is assigned to the U.S. Pacific Army Command. U.S. Marine Corps photo by 1st Lt. Garth M. Langley

Please remember that The Canteen is here to support
and entertain our troops and veterans and their families,
and is family friendly.