---
DC Chapter's Year 2013 In Review (Picture Heavy)
Posted on 12/24/2013 11:11:07 AM PST by trooprally
Yes FR, there is an ACTIVE DC Chapter
Not all of the DC Chapter FReeps had AARs wrote, so it was decided to write a Year In Review AAR for all of our activities.
Enjoy the new AARs threads and remember the ones you already read.
April 01: Dr Raoul's Funeral:


There were 18 FReepers in Philadelphia this day. They came from Ohio (StayTrue), Florida (Kristinn, TGSLtakoma and Taxman), the eastern shore of Maryland (Credo2) and places in between. We finally met Raoul's family and his family finally met Raoul's FR family. All were pleased to talk with each other and remember Raoul. The DC Chapter presented Raoul's wife with the Polish flag that flew at Walter Reed during our Friday night FReeps.
Other FReepers who attended were BillF, BufordP, GunsAreOK, Sensei Ern, Exit 148, [Mr. and Mrs.] Trooprally, Sauropod, Hell in a Handcart, Concrete Bob, Albion Wilde, ELS. Credo2
See Jimmy Valentines Brother's thoughtfully written AAR HERE
See The Gateway Pundits Story HERE
Also remember in your prayers A Great Per who also passed away earlier this year. A Great Per is one of the original FReepers during Clinton's "-residency" and up to a few years ago, regularly attended DC Chapter FReeps. Hopefully some long time FReepers will write more on A Great Per.
April 27: White House Correspondence Dinner:
The rebel rousers of the DC Chapter once again "attended" the WH Correspondence Dinner, our <>b15thyear. And once again we had a great time mocking the liberal media. Those in attendance were Kristinn, Jimmy Valentine's brother, Fraxinus, Cindy True Supporter, Sensei Ern, GunsAreOk, BufordP, Stratman1969, ELS, Albion Wilde; Kabar, Hail Caesar!, Lurker Jim, and [Mr] & [Mrs] Trooprally.
Below Left & Right from Twitchy Media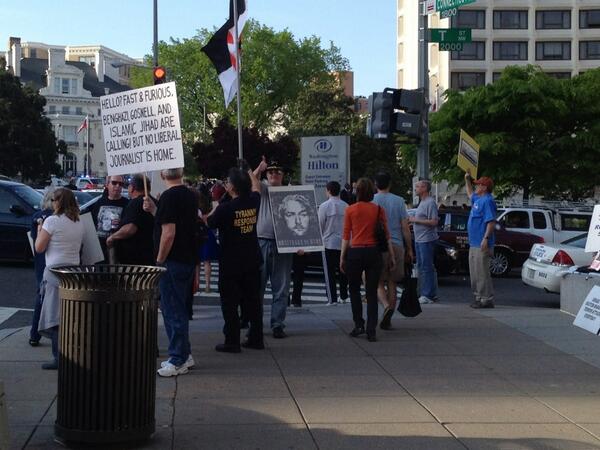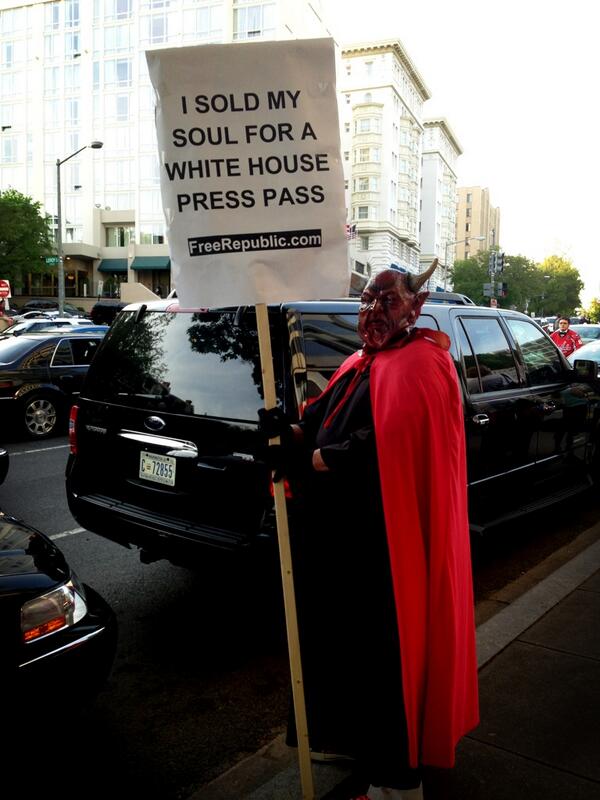 Below 4 pictures are from DC Chapter member Stratman 1969's MaroonedInMarin Blog Report - HERE
Below images were take by [Mrs] Trooprally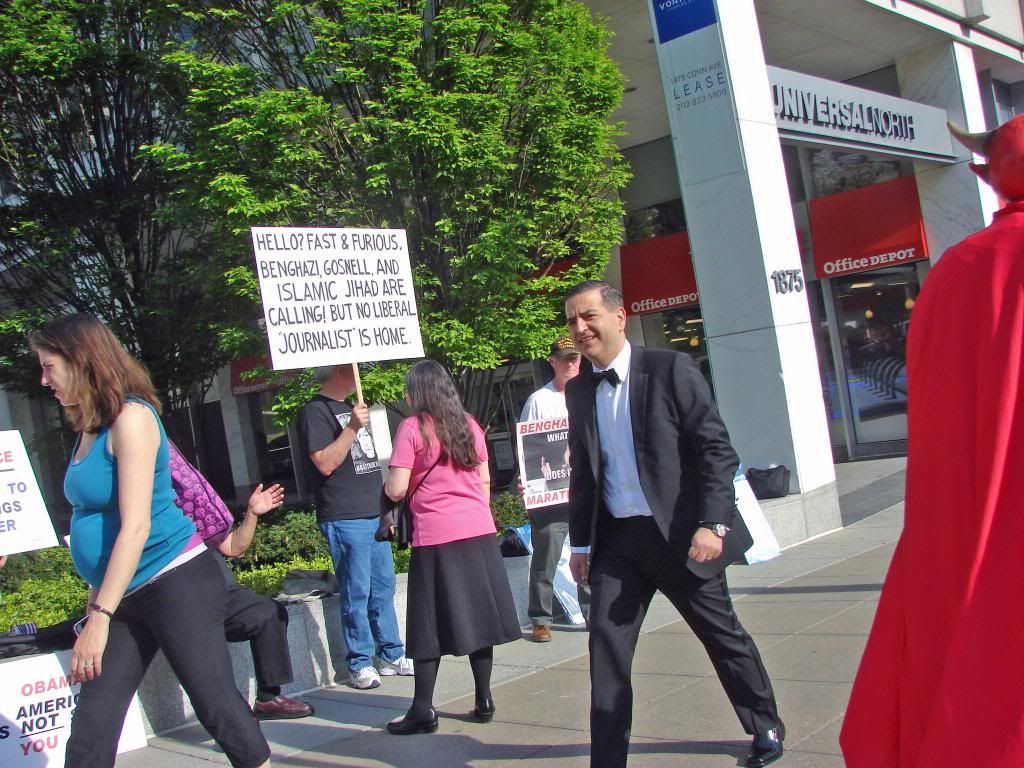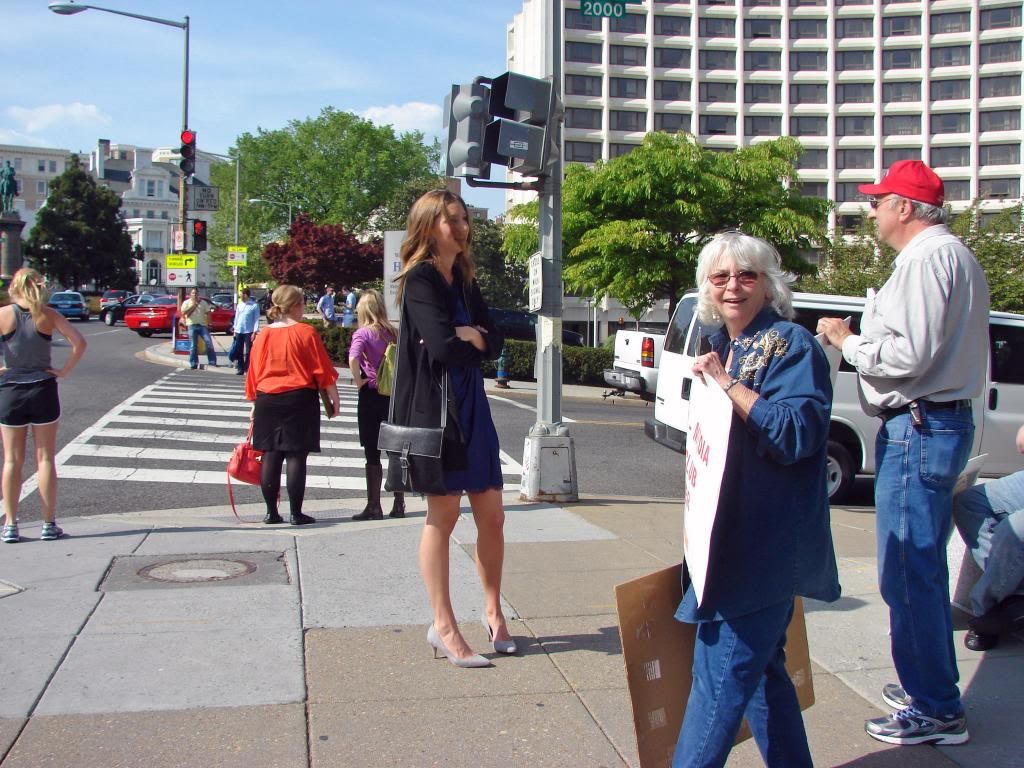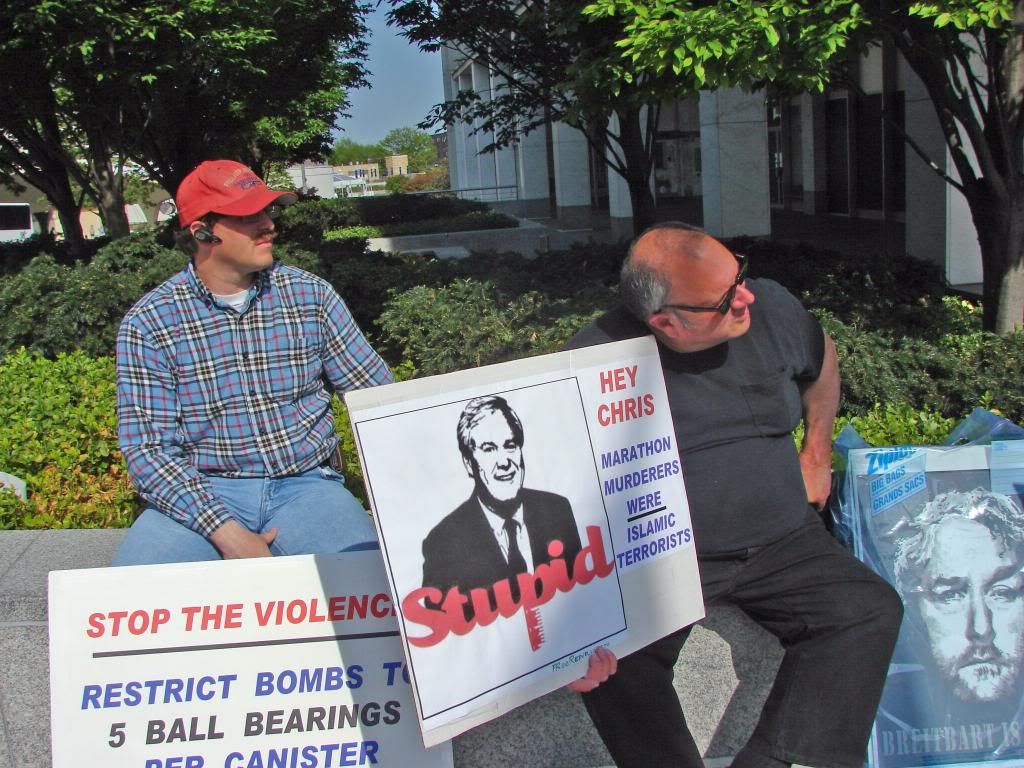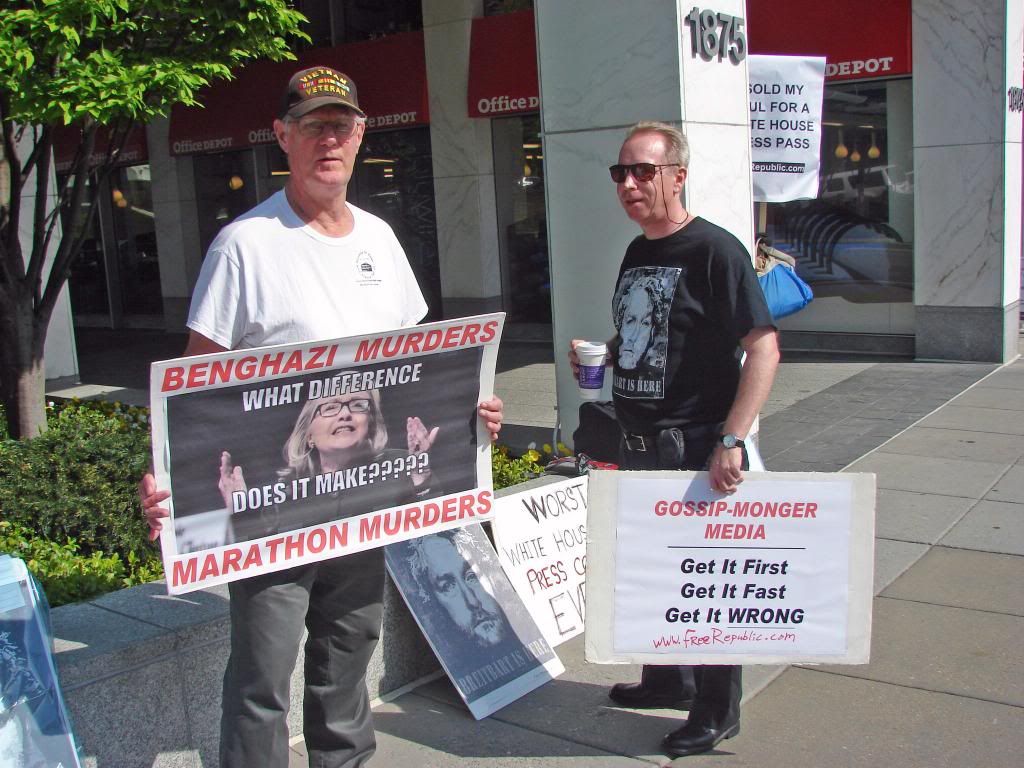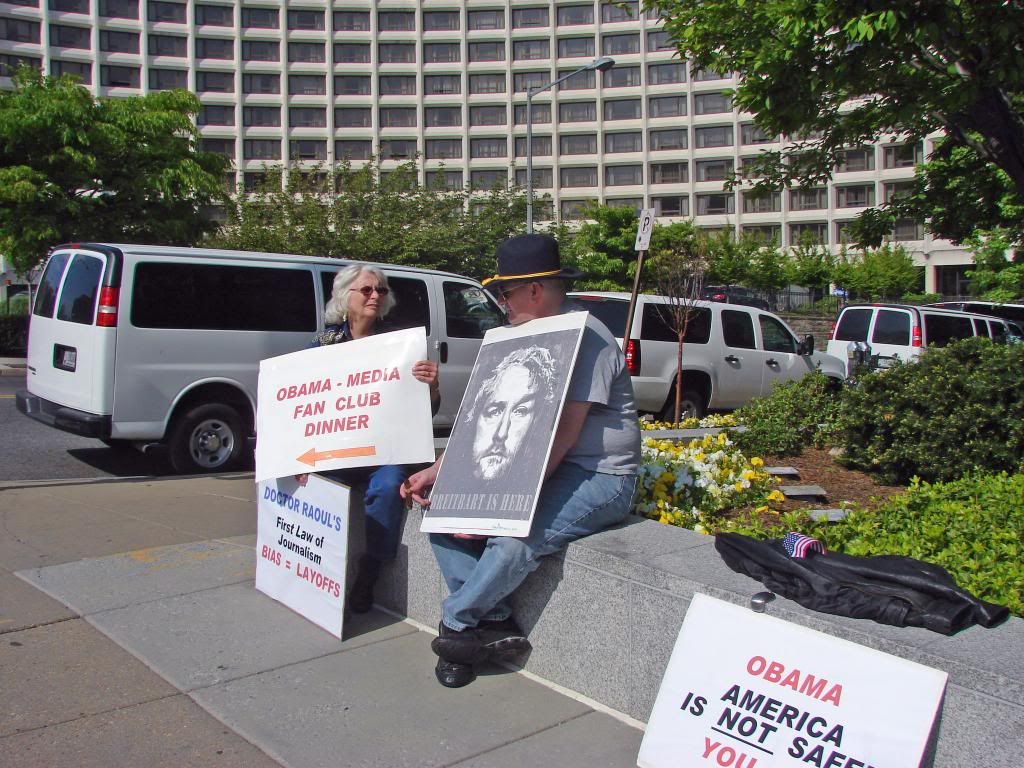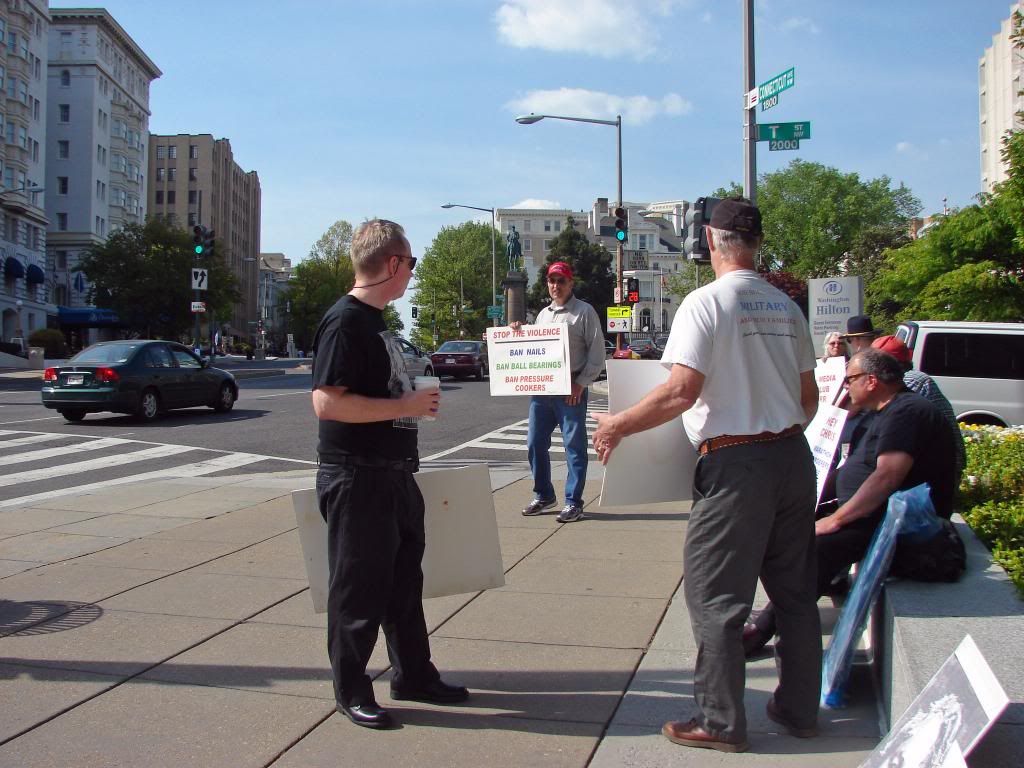 May: 7th Annual Recruiter Appreciation Day:
Kburi, Cindy_True_Supporter and RongKirby were our representatives this year, presenting each branch, Navy, Marine and Army Recruiter Offices, with a framed Certificated of Appreciation, gift certificate to Manny's Pizza (the pizza place of choice when we were at Walter Reed) and a good deal of "THANKS".
See Trooprally's AAR HERE
June 02_ Florida Anti-IRS Protest:
3DJoy joined the Florida Tea Party to protest the IRS. While not a "Call To action" by the DC Chapter it is good to see one of our own in action and get her picture in the newspaper. You have to link to the article to see 3D's picture. She is on the left. 3Djoy, while living in Florida, spends her summers in DC and those summer Friday nights at Walter Reed.
Kristinn's Report HERE
September 26 – Media Research Center 2013 Dishonor Awards Gala Dinner: :
Angelwood and BufordP were guests of the M R C. This great event was a parody of liberal Hollywood awards ceremony.
See BufordP's AAR HERE
October 05 – Aleethia Foundation 10 Year Anniversary Dinner: :
The Aleethia Foundation are the people who took our Wounded Warriors out for the Friday night dinners at Walter Reed. They continue at Walter Reed Bethesda. The dinner was attended by around 300 people with Cindy_True_Supporter, [Mrs] Trooprally and myself representing FReeRepublic. FReeRepublic was recognized for our support of the troops every Friday night and for helping the Aleethia Foundation win a fully handicapped accessible Toyota Sienna Mobility Van. The slide show had pictures of us at Walter Reed. Hal Kosner joked around about us being called "FReepers". FReeRepublic received a loud round of applause.


Short announcement HERE


October 08 -Honor Flights to the WWII Memorial: :
BevPerl, Bev Perlson of Band of Mothers and [Mrs] & [Mr] Trooprally were at the WWII Memorial for the Honor Flights from Florida, Texas and Montana. The National Park Service opened a barricade to let the flights in. When asked, they said that they assumed anyone going thru the opening were friends of the Honor Flight veterans. A good number of tourists made it into the Memorial that day.
My sign got the attention of FOX's On The Record field reporter, hosted by Greta van Susteren. I had the honor of being interviewed along with WWII and Korean War vets. I had my 5 seconds of fame on her show that day.
Greta's segment is HERE. My interview starts at minute 1:54
See Kristinn's Report HERE
October 13 - WWII Memorial Opened:
Today showed the Obama regime a small glimpse of what he might be up against if patriots really rebelled against his socialist rule. Someone wrote a sign for the stack of Barackades stacked against the south lawn fence: "Returned To Sender". Lucky for Obambi we have elections that Americans still believe in – at least for now.
Here is the now famous picture of the wounded vet on a sedgway returning one of the Barackades to the White House.
The moment in history that the Barackades came down was 8:20AM. A patriot carried around bolt cutters and was not bothered by law enforcement personnel. Later that morning the Barackades at the Lincoln Memorial, Korean War Memorial and the Vietnam War Memorial came down. I left the WWII Memorial around 11AM. Looking over the Reflecting Pool to the Lincoln Memorial I saw hundreds of people defiantly sitting on the steps.
FReepers that participated in this great moment: Appleblossom, BMWcyle, BufordP, ConorMacNessa, Jimmy valentines Brother, Lurker Jim, RongKirby, [Mr] Trooprally, and TrueBlackMan. I am lacking DC Chapter members' pictures so if I left someone out, please let us know.
Below pictures were taken by ConorMacNessa (Vietnam corpsman).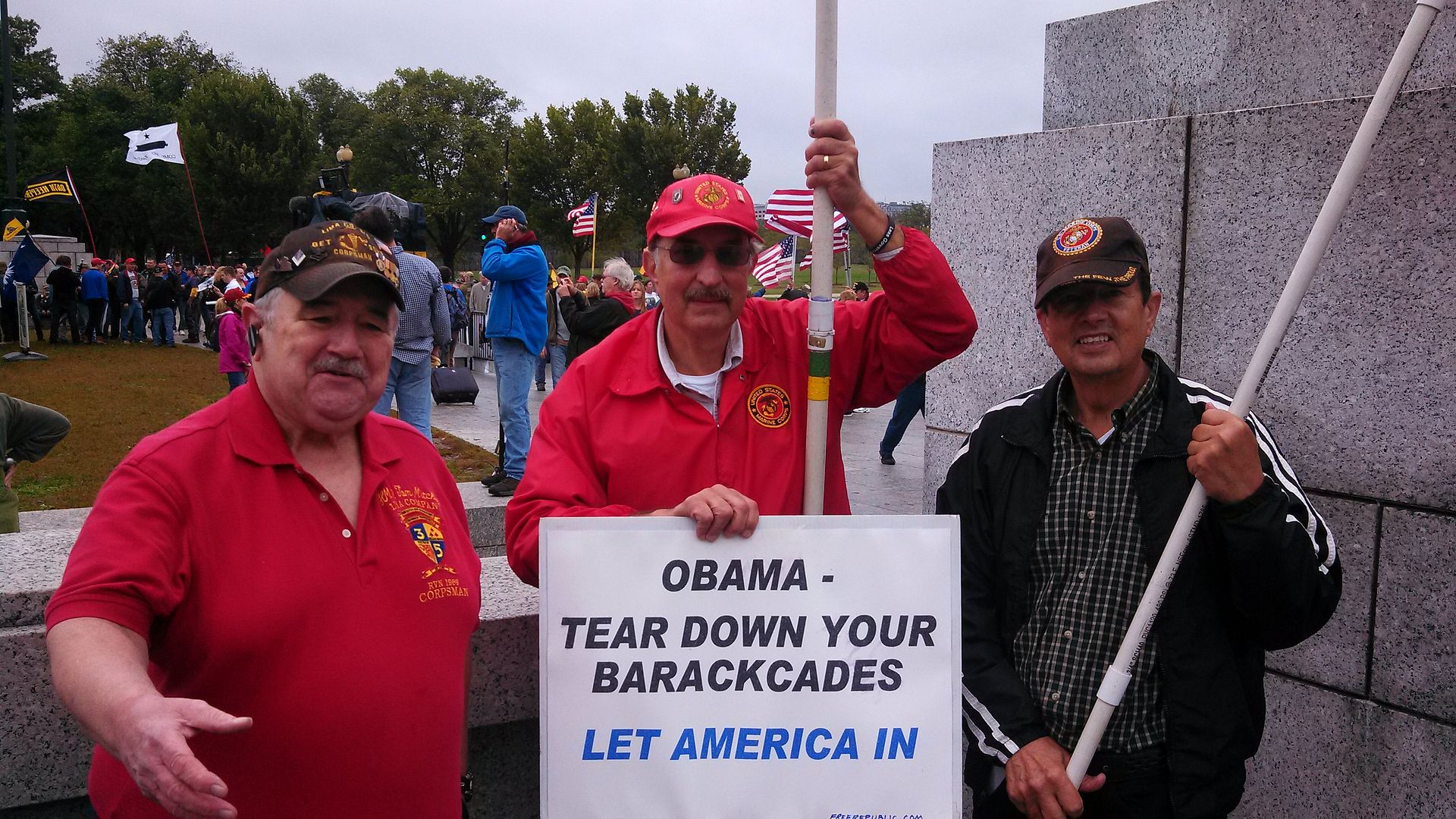 ConorMacNessa also has a great AAR HERE
And the Live Thread HERE


In the education of the confused LEOs about our rights, our own Lurker Jim was there. He shows up in numerous pictures holding stacked flags, the Honor & Remember on top and the white We Support Our Troops below it. He is the patriot in the cream colored jacket in the lower right corner of the below picture.
December 07 - DC Chapter Christmas Party:

This year's Christmas Party was another joyous event. Lurker Bill and his gracious wife once again hosted our party. After a most delicious dinner with dishes brought in my various FReepers, we had our white elephant gift Exchange and a raffle. What was really great was seeing each other again. Without the Friday Walter Reed Support the Troops Rally, some of us only see each other at the Christmas Party
"Local" FReepers that attended were Cindy_True_Supporter and her husband, Credo2 (Eastern shore local), Fraxinus, GunsAreOK, iMacMan Kburi and his wife, Lurker Ethel, and Tolerance Sucks Rocks. We had some special guests come down from Massachusetts – RLMorel and Veeram. These two FReepers come down and support most of our big FReeps. The storm that came in Sunday afternoon made their planned 9 hour return trip a lengthy 13 hours. It would have been worst if they left Monday as they planned since the New England area got socked in that day.
Our Hosts.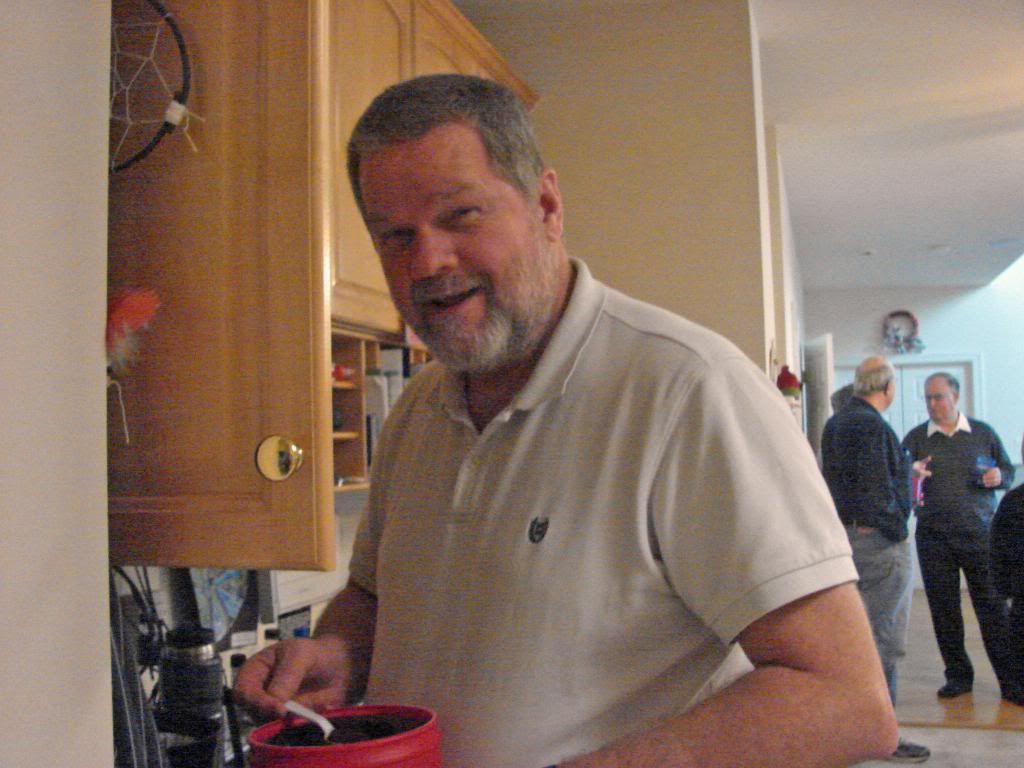 And Others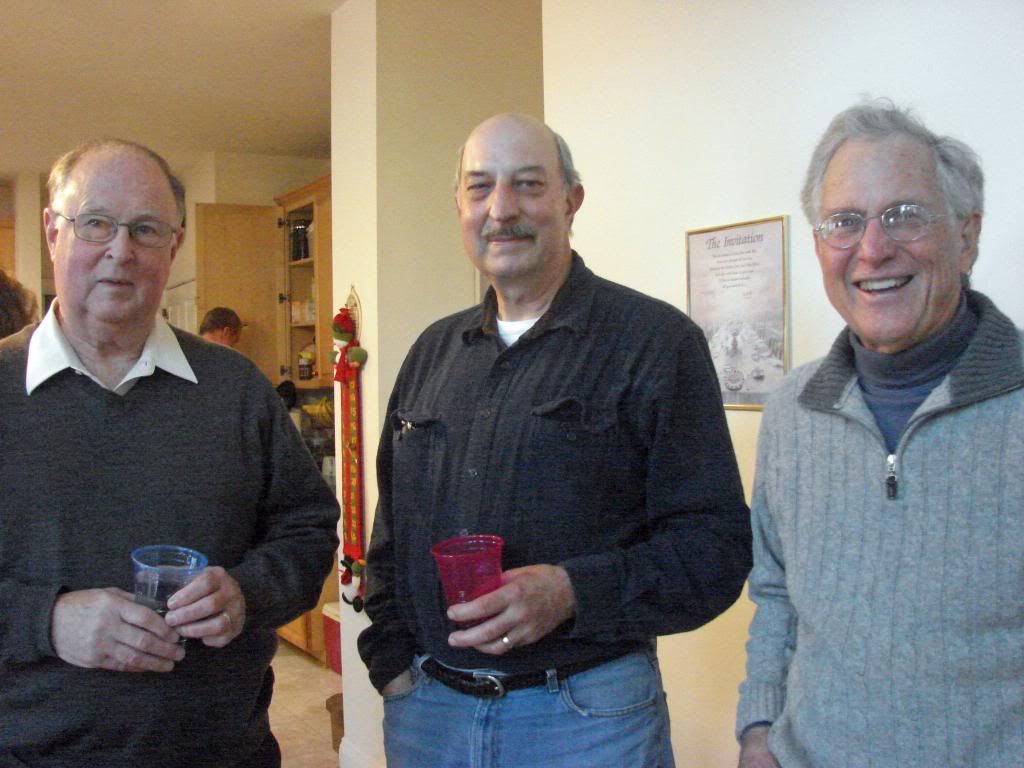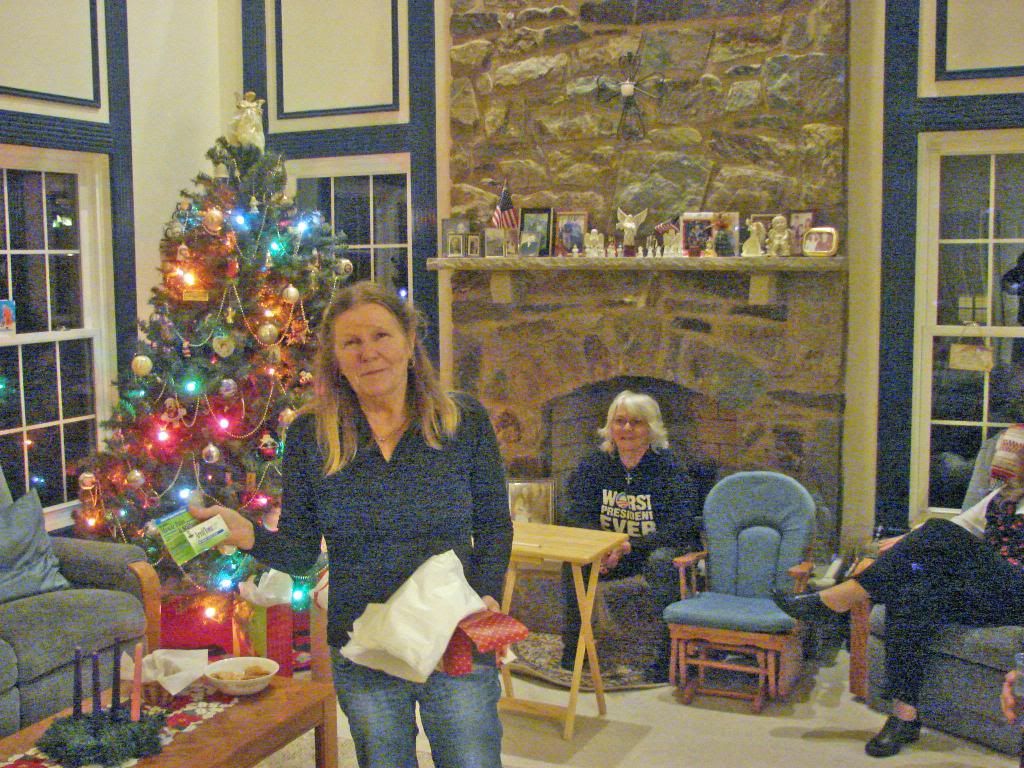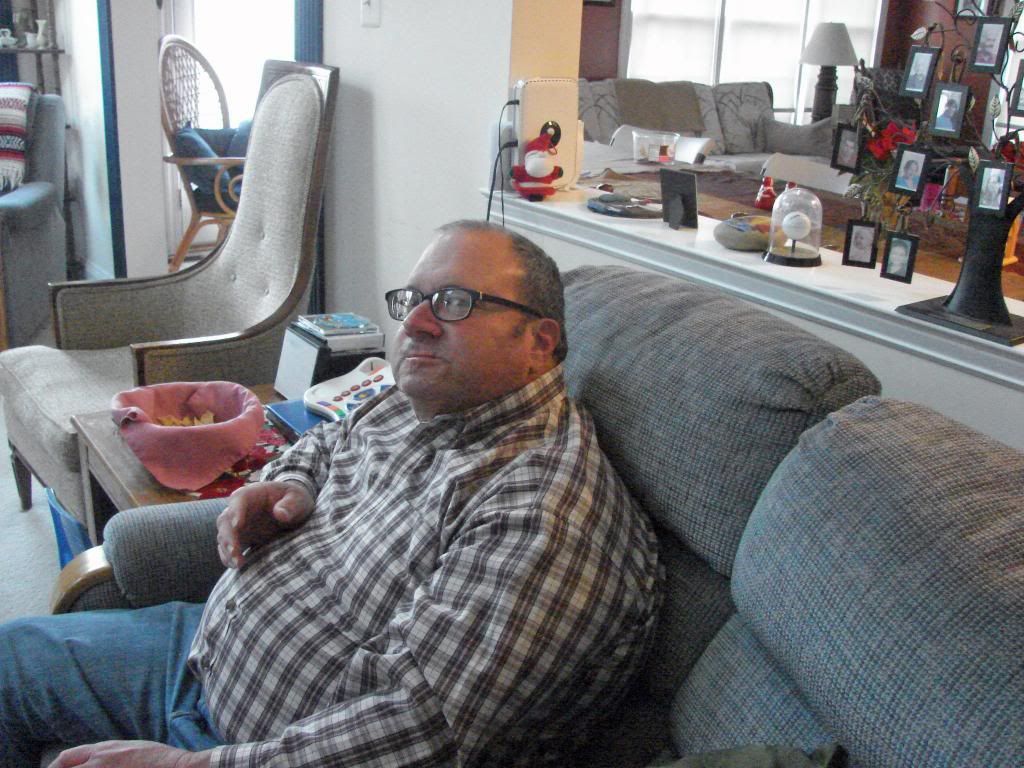 2013 - Olney's Saturday Morning Support the Troop Rally:

I have been remiss in posting an AAR this year. YES - We are still in Olney so come on by.
We started our Support the Troop Rally on the first Saturday of January 2006. Saurpod & HellInAHandCart were coming thru Olney to our 2005 Christmas Party and saw them. We soon had our FReep started. Unlike Walter Reed we have missed several Saturdays due to larger events in DC. And several times Lurker Bill held down the corner by himself while we were FReeping in DC.
These Saturday morning rallies happen every Saturday from 10:30 till 11:30AM. FR has a core group of around a dozen patriots (FReepers, Legionnaires and lurkers) with about 5-6 showing up every morning opposite the anti-American Quakers. The "Quackers" as I like to call them, are absent during hot or inclement weather. When they do show up there are only 1 or 2, rarely having 3. And the two regulars that usually show up are 60's hold overs.
JANUARY – Lurker Jim (Army - Vietnam) starting the year off in a patriotic way, TammyCat and her dog stopped by, some hot drinks from a passer by.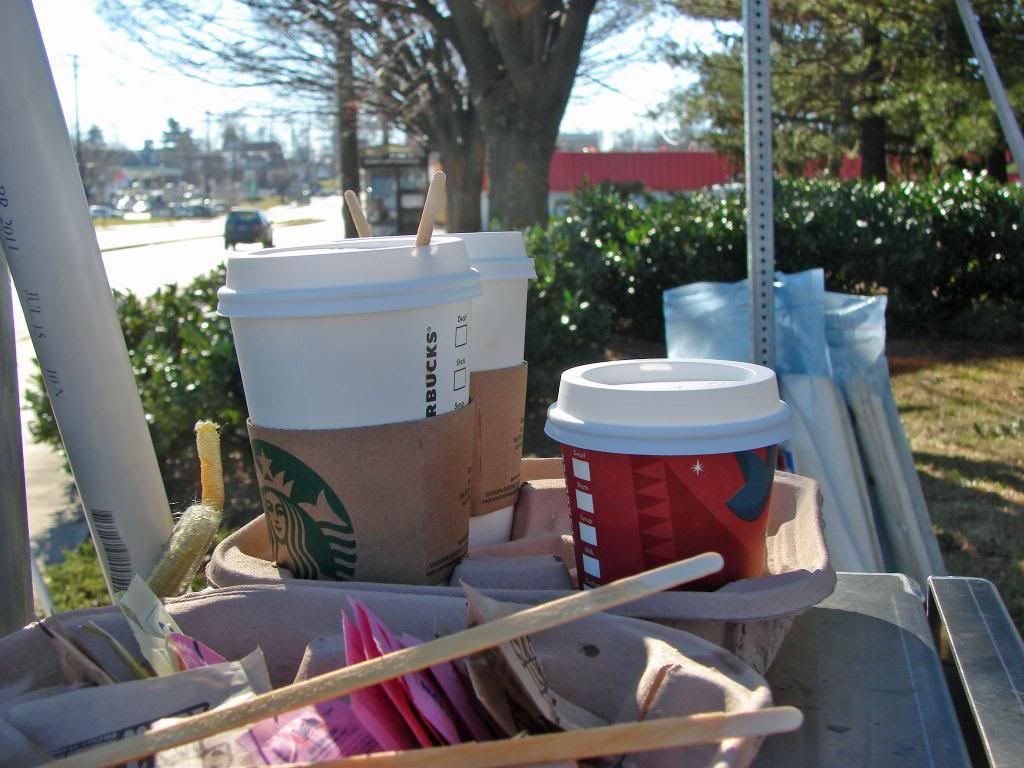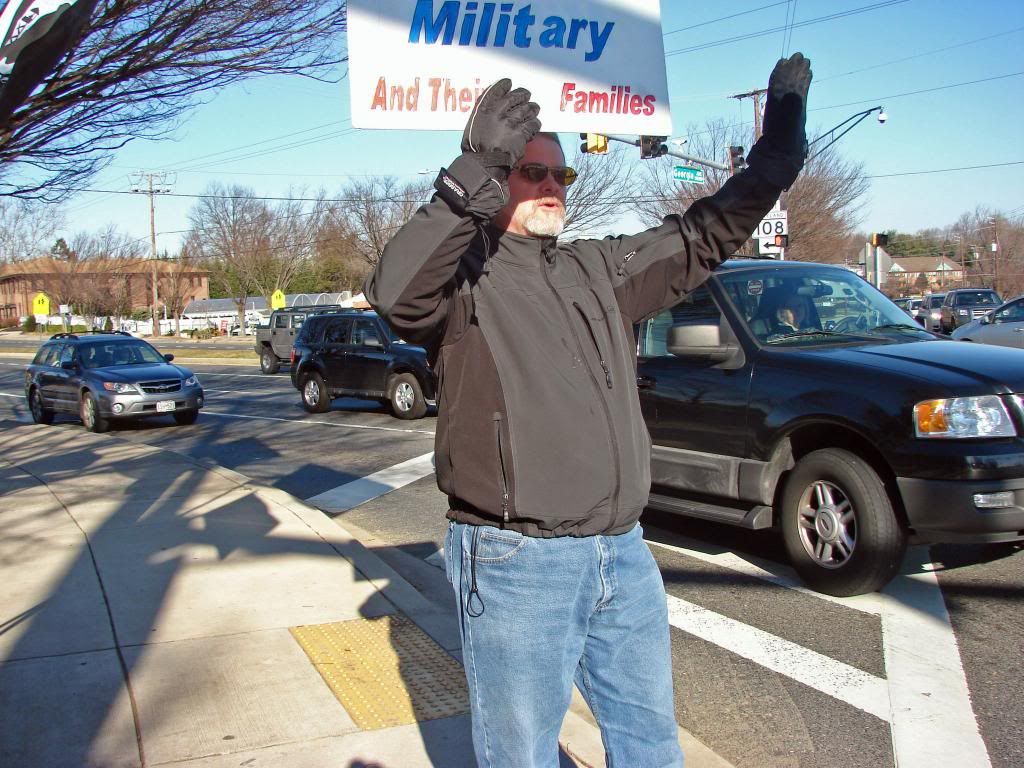 FEBRUARY: - Just enough snow, wind and rain to make it look cold and miserable. But all the honks, police car woops, salutes and waves cheer us up.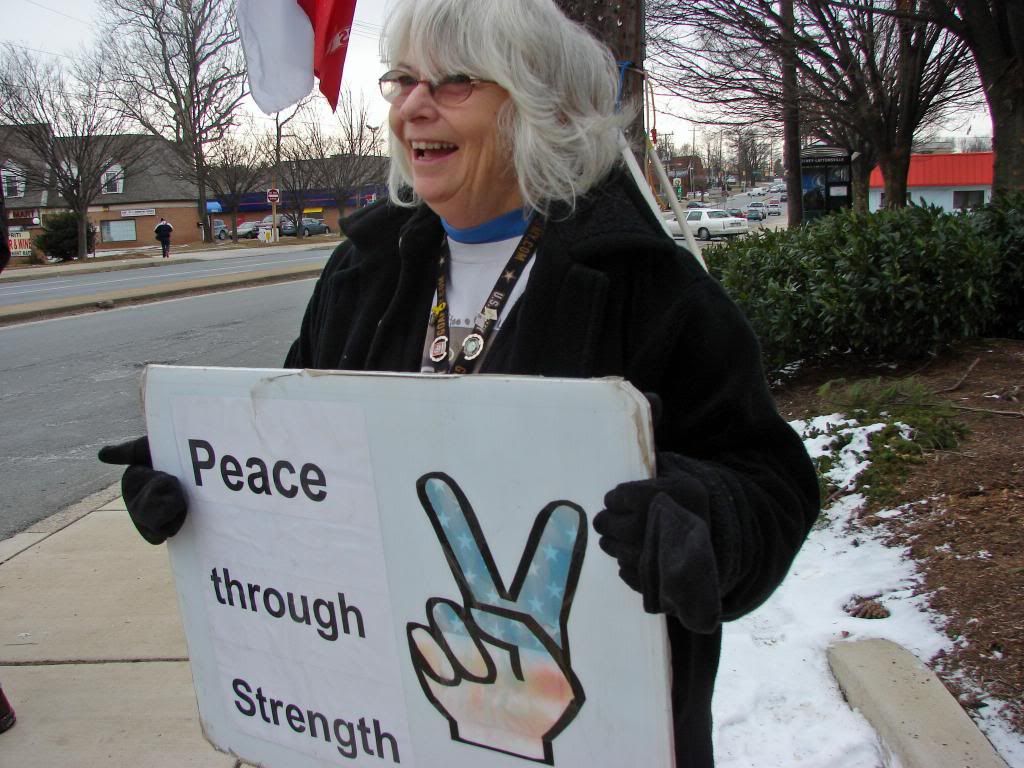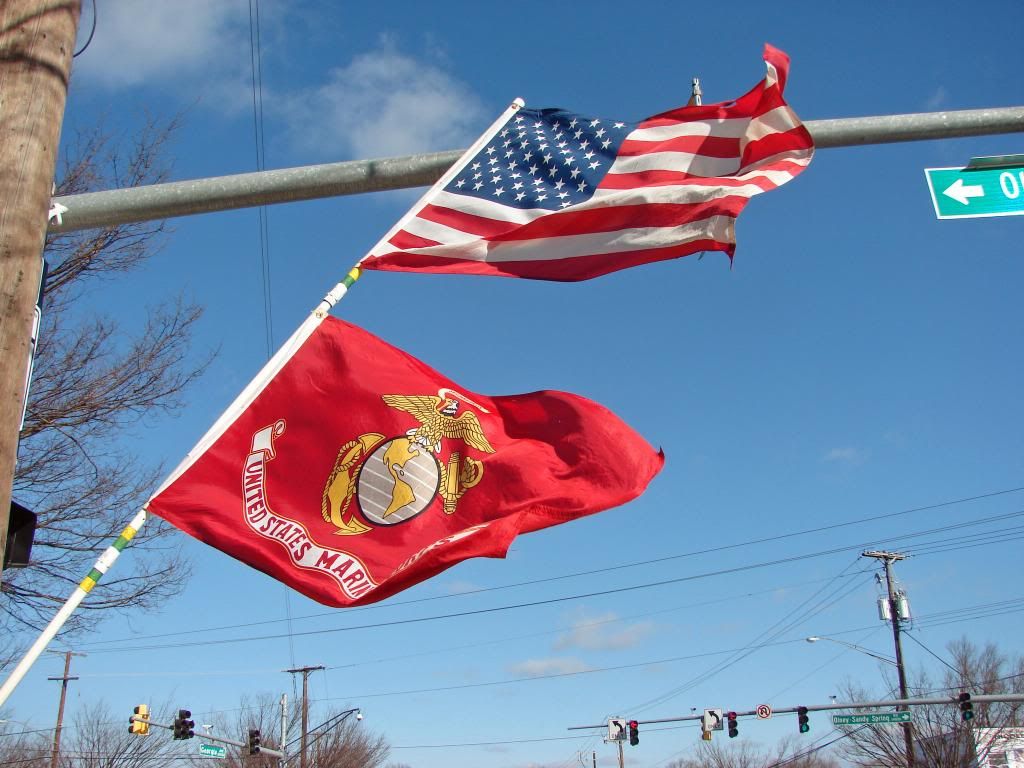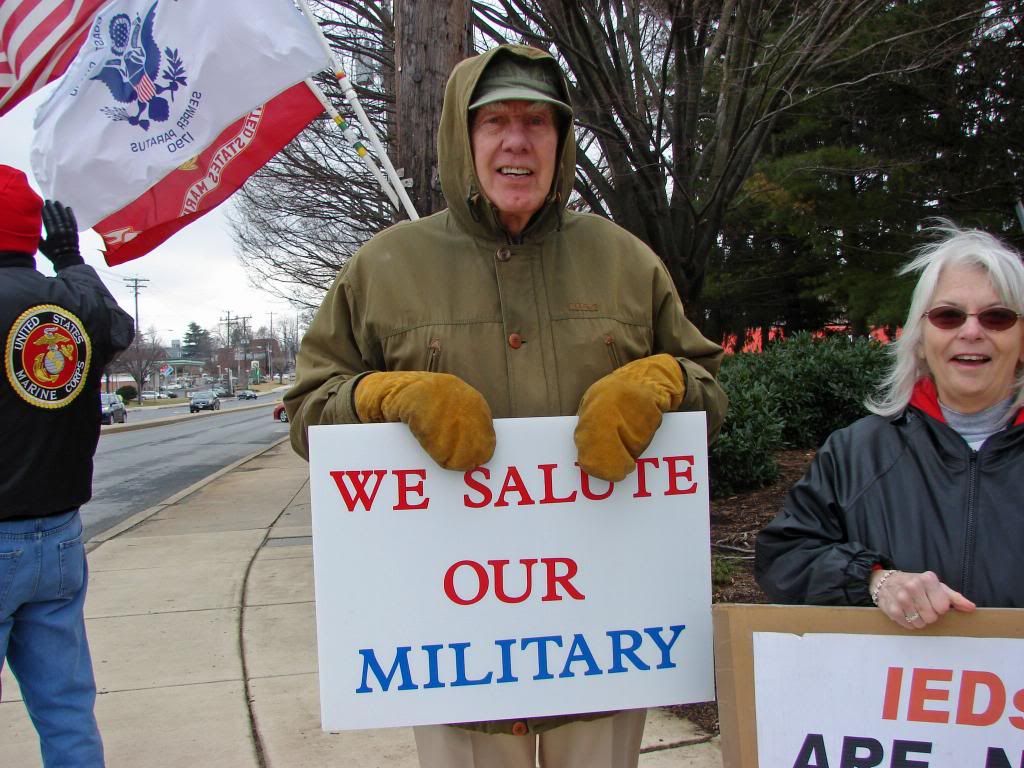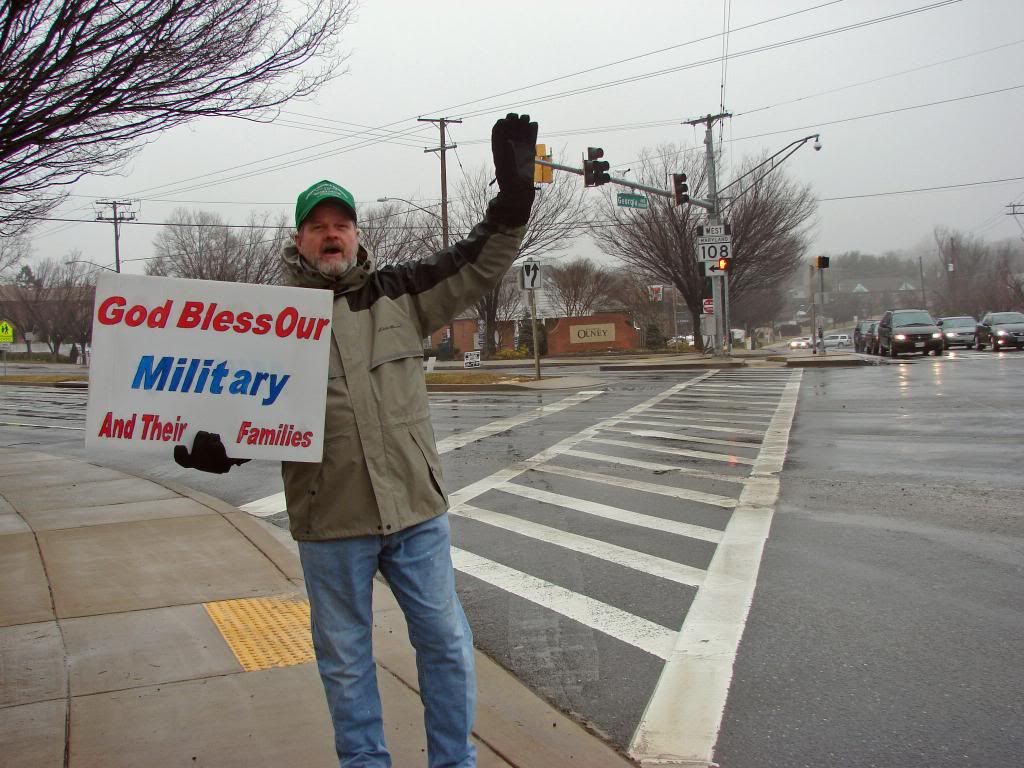 MARCH: - Still windy but "warmer" this March. At least Lurker Bill thinks it is a lot warmer.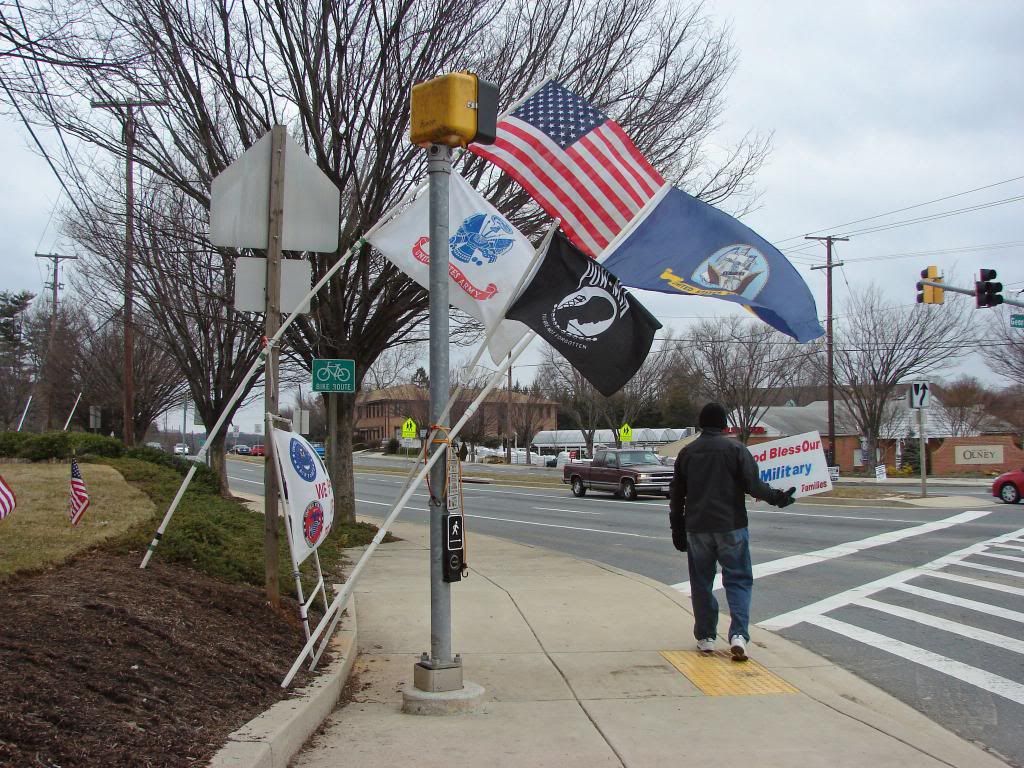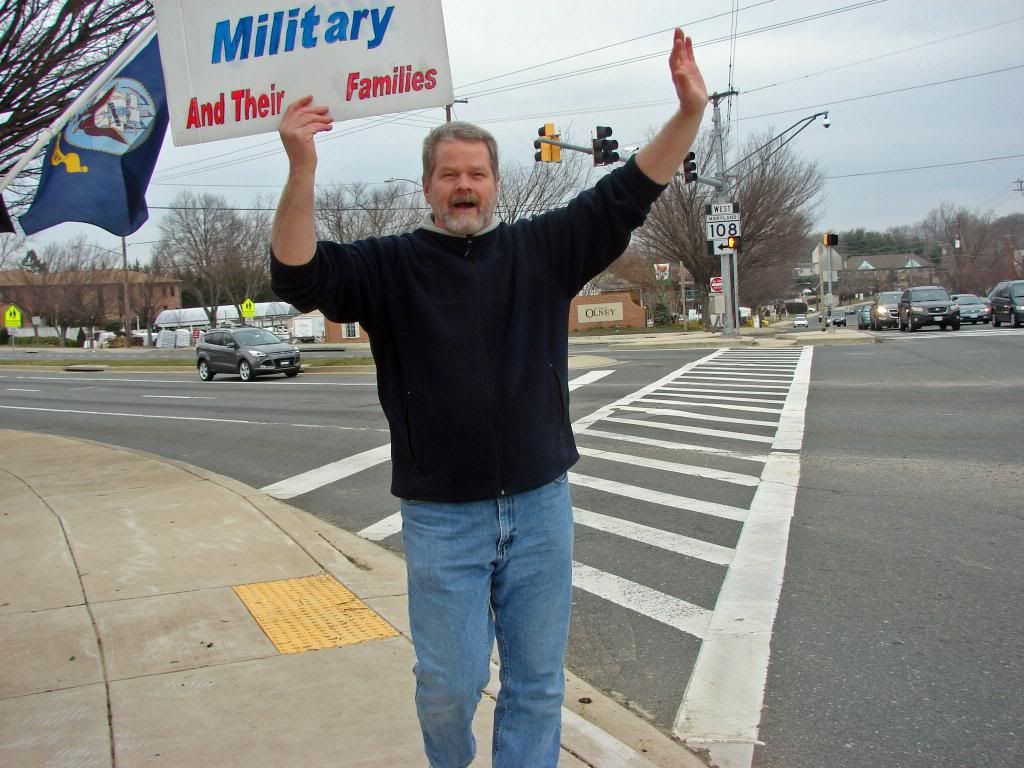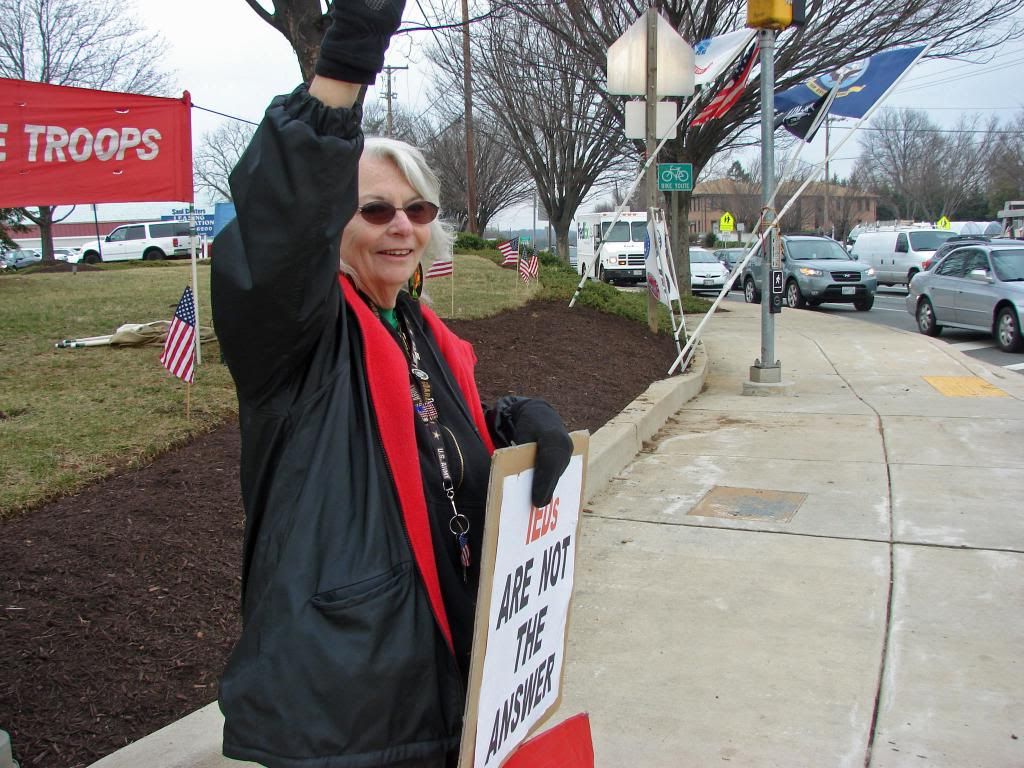 APRIL: - Sunny and warmer, still windy. Passerby re-gifted a blue jean jacket by giving it to [Mrs] T. It was too small for the generous person and she thought [Mrs] T could use it.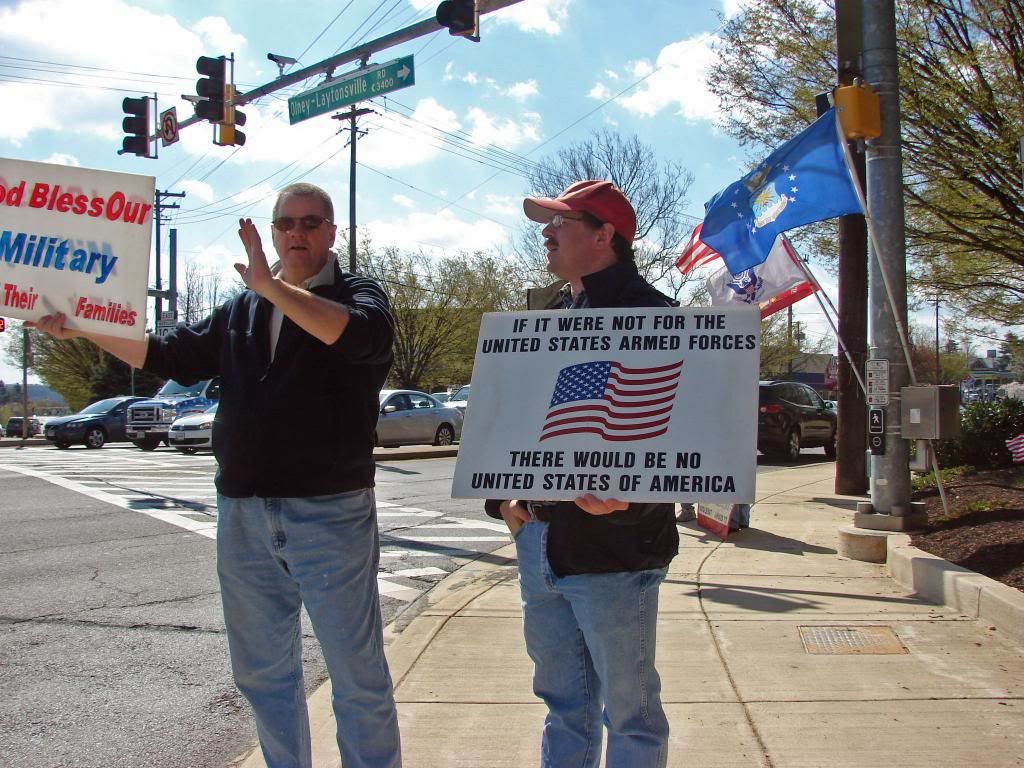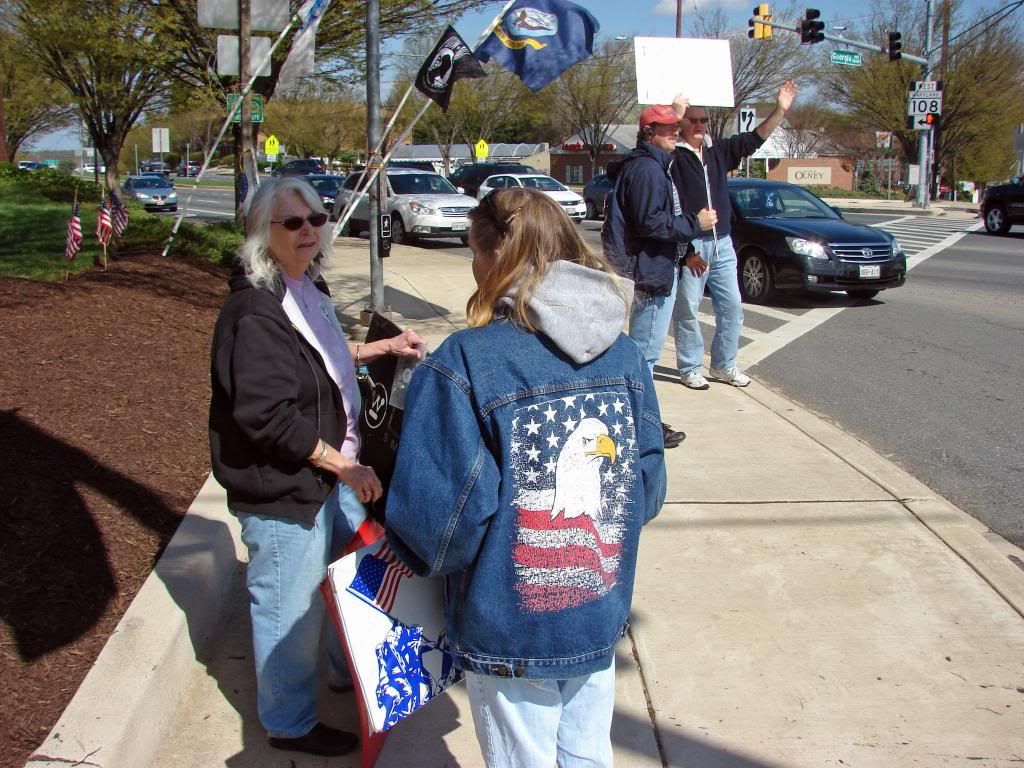 MAY: - Memorial Day, Lurker Jim's Remembrance banner is up. And finally, short sleeve weather!! Last Pic - Guy from bus stop joins us several times over the summer.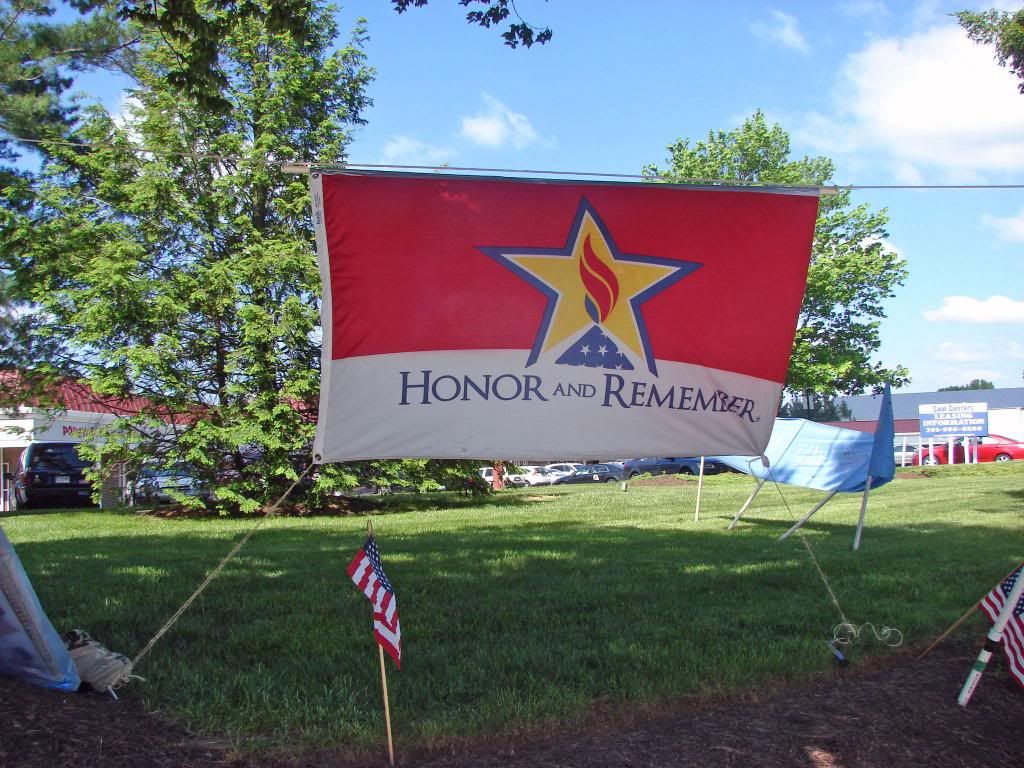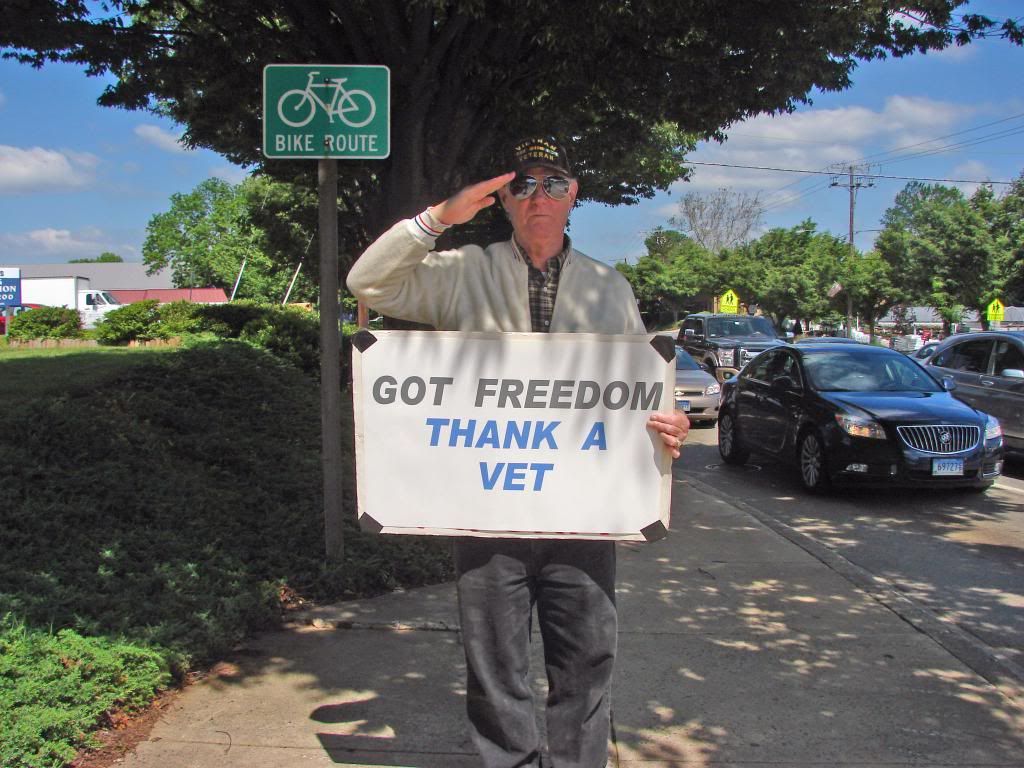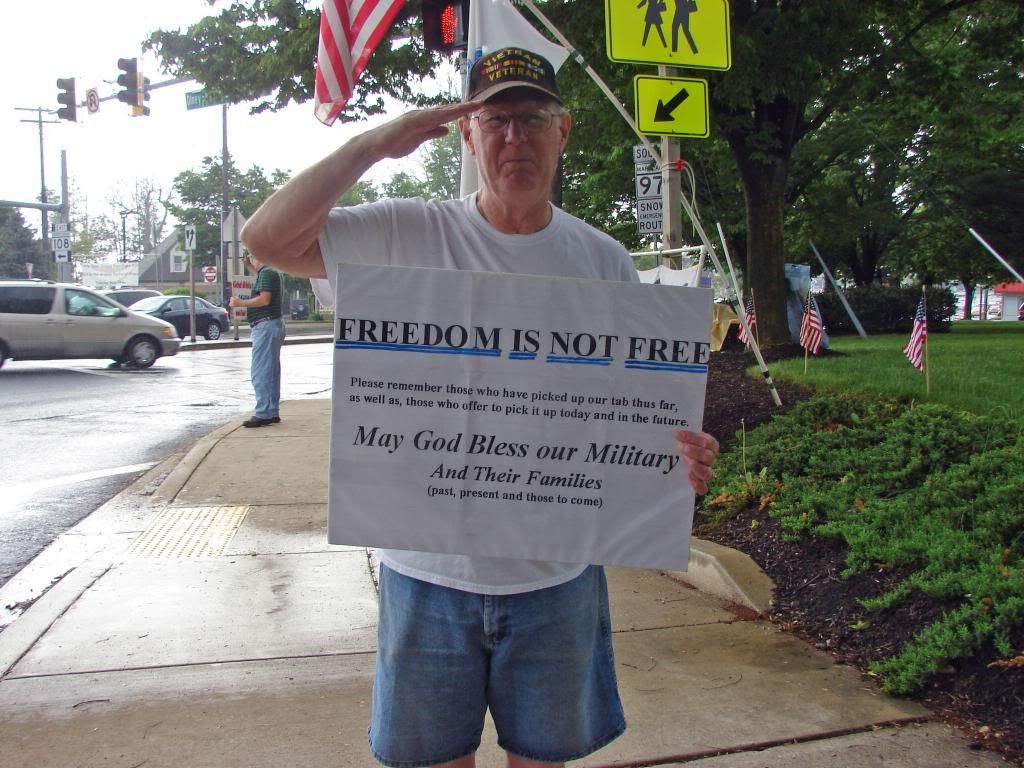 JUNE & JULY: - GunsAreOK and Glenn, USMC, Iwo Jima Vet, join us.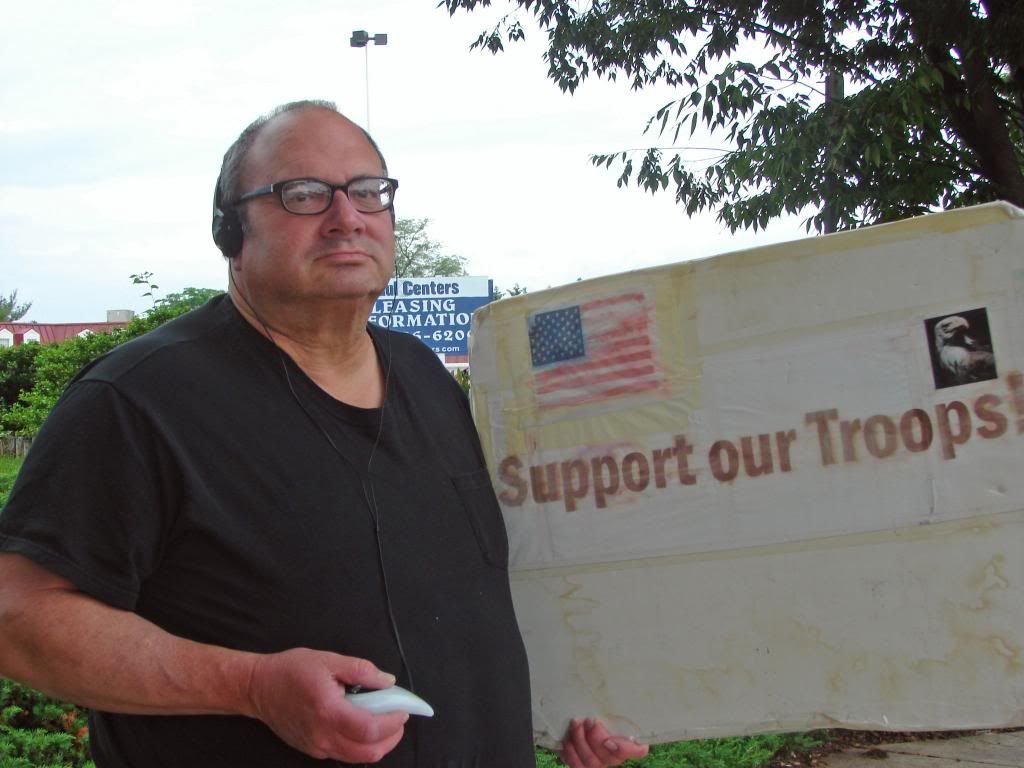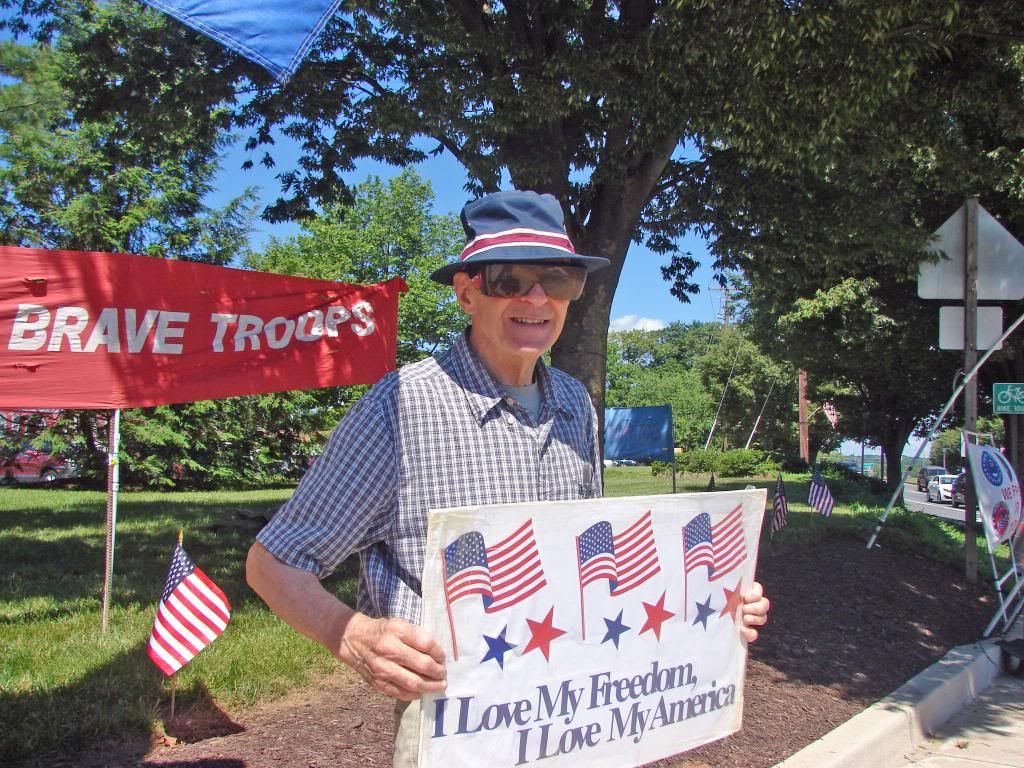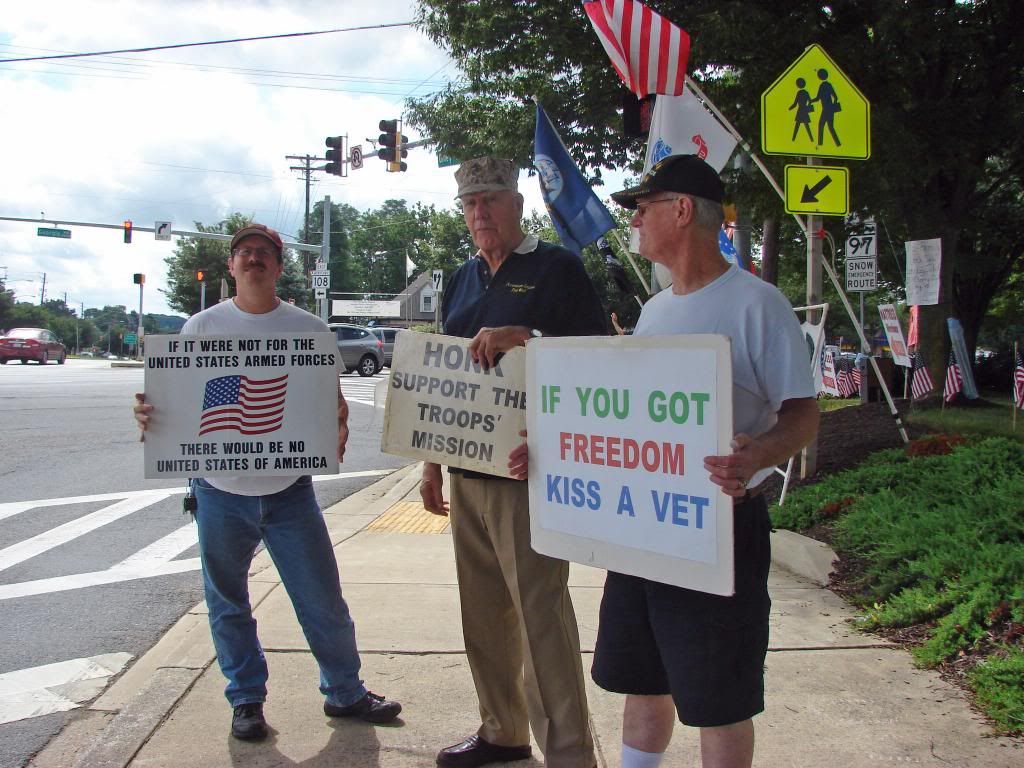 AUGUST & SEPTEMBER: - Sunny weather stays with us.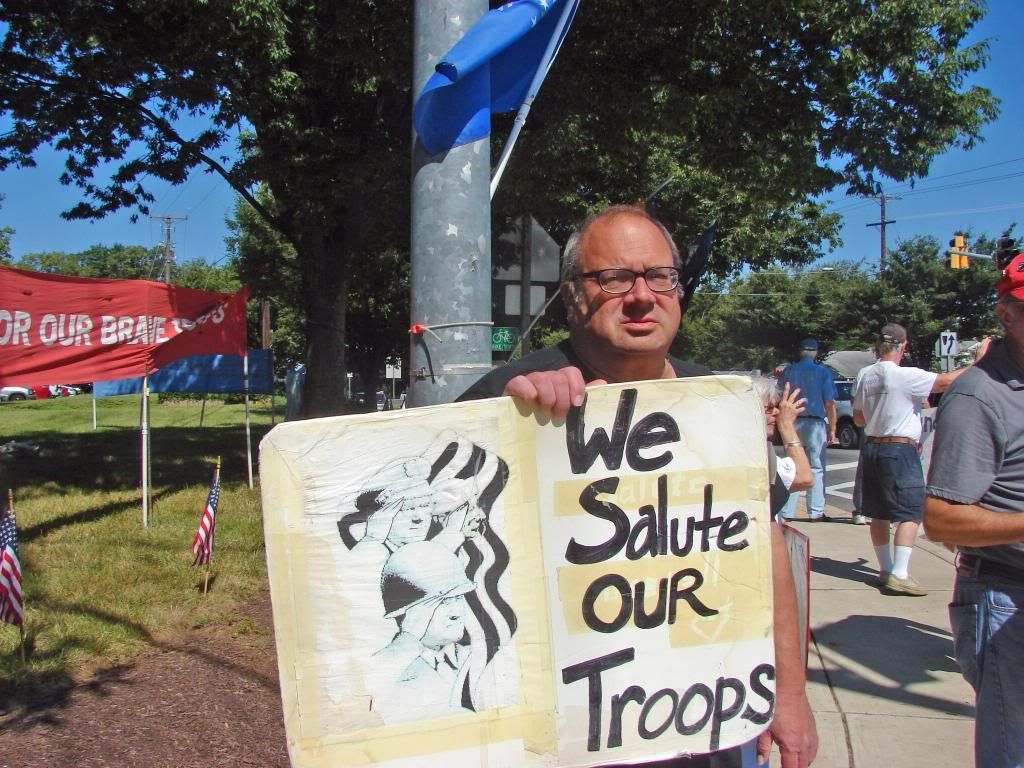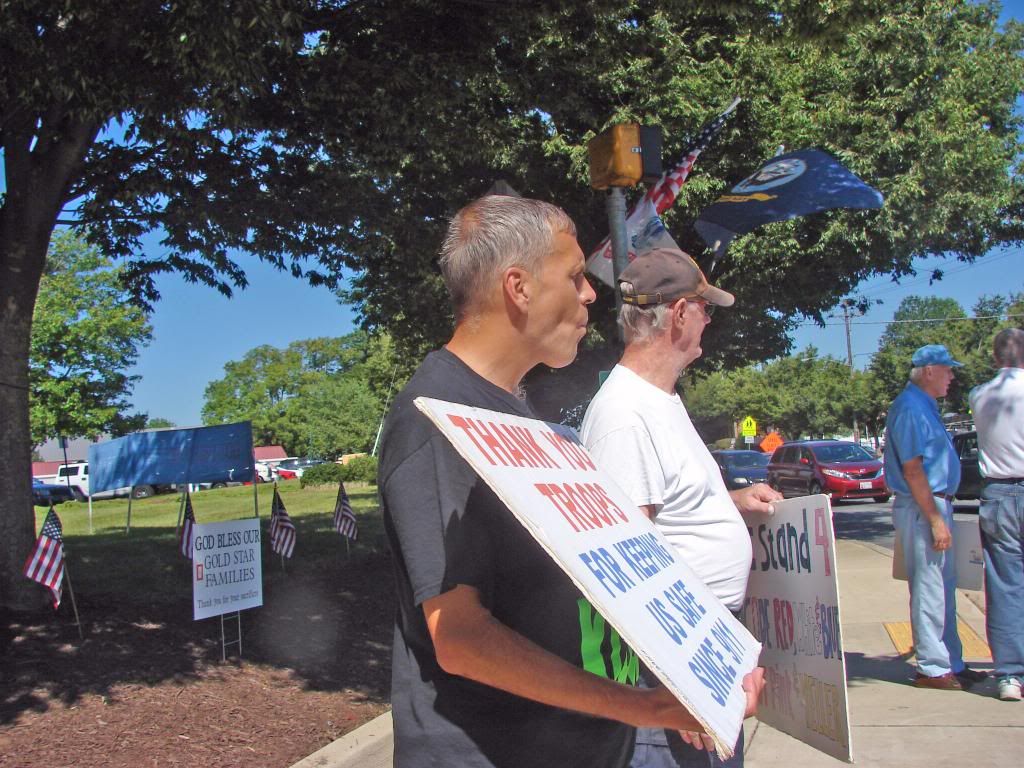 OCTOBER: - Most of our regulars are here, L-R: Cindy_True_Supporter, Me, Halsey, Lurker Jim, Fraxinus and Lurker Bill. Lurker Jim, Army, Vietnam Vet, hanging strong.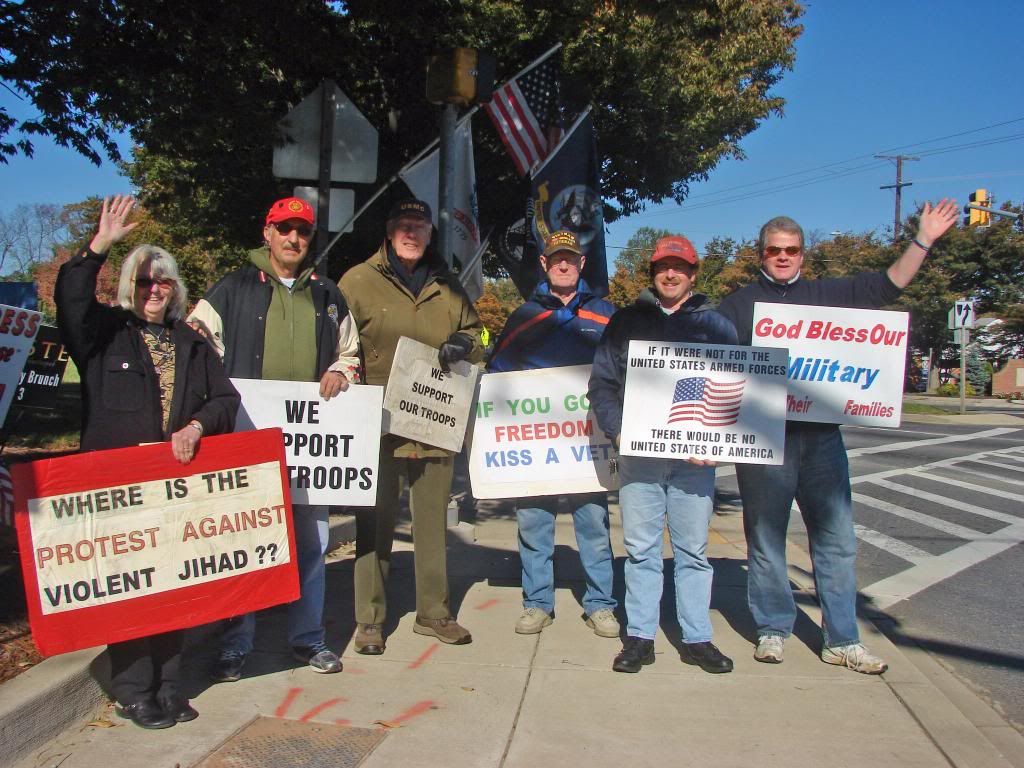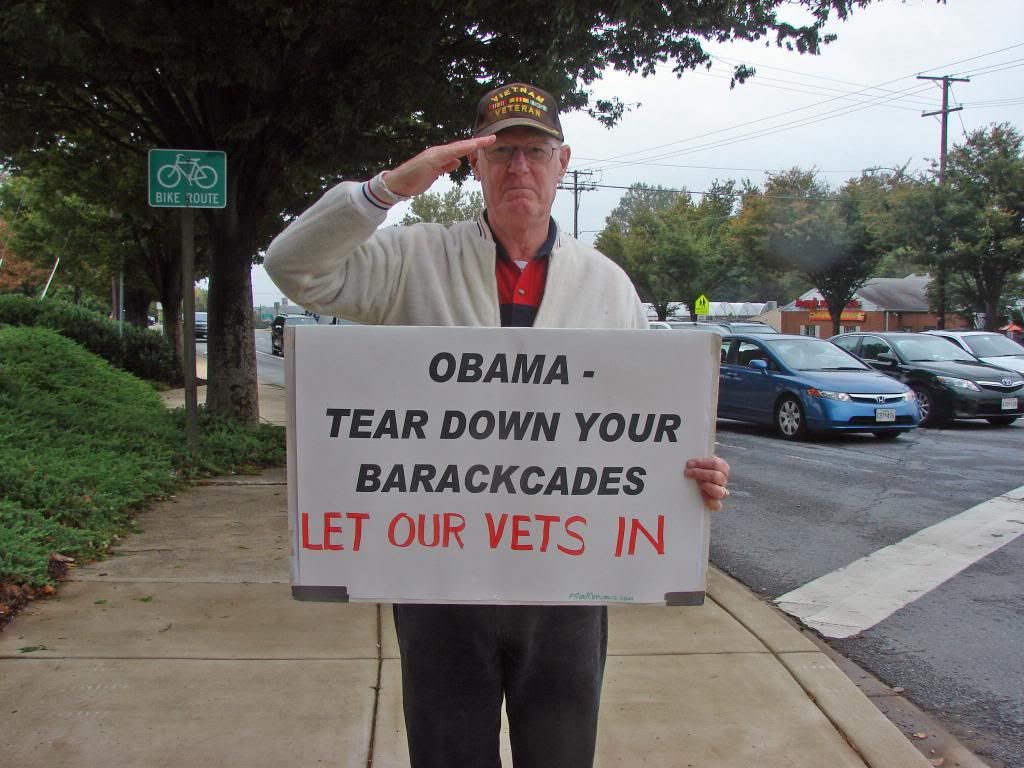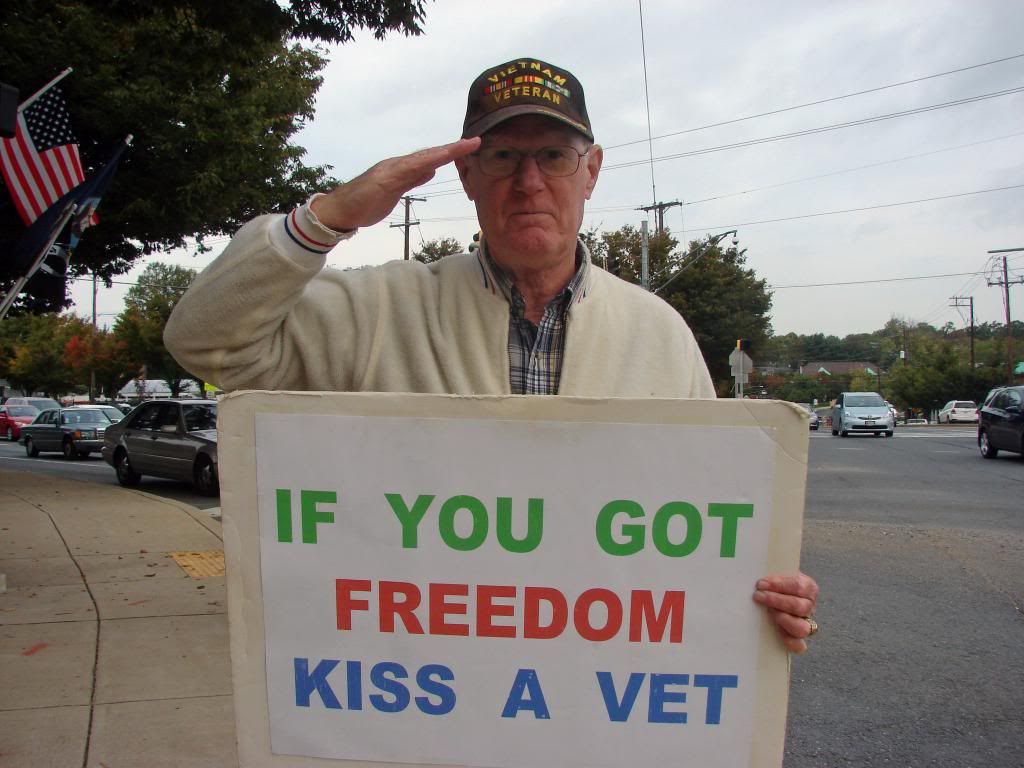 NOVEMBER: - GunsAreOK comes by again and a rare picture of [Mrs] Trooprally with her Legion Post Commander Halsey, USMC, Korea. And the cold weather is back.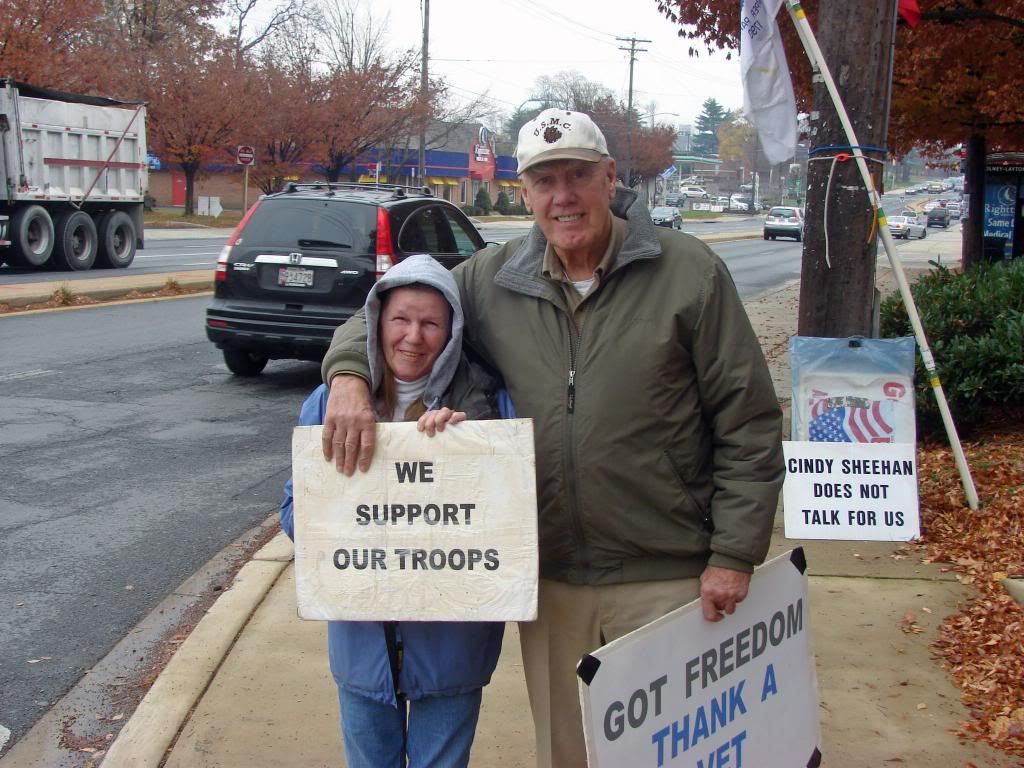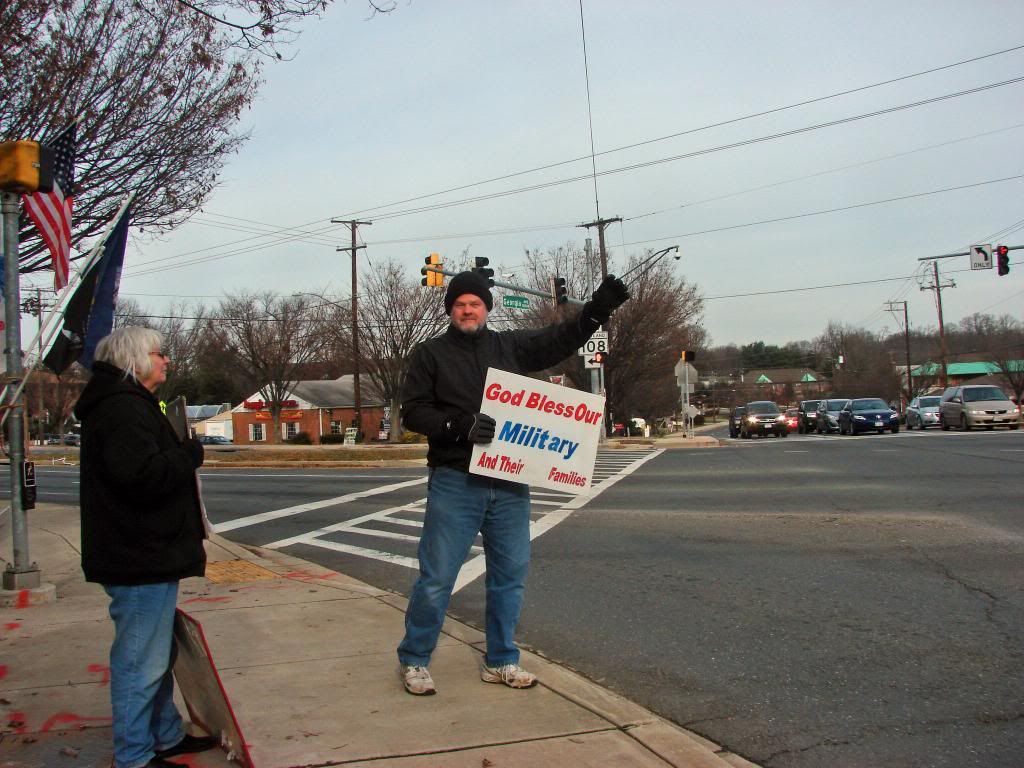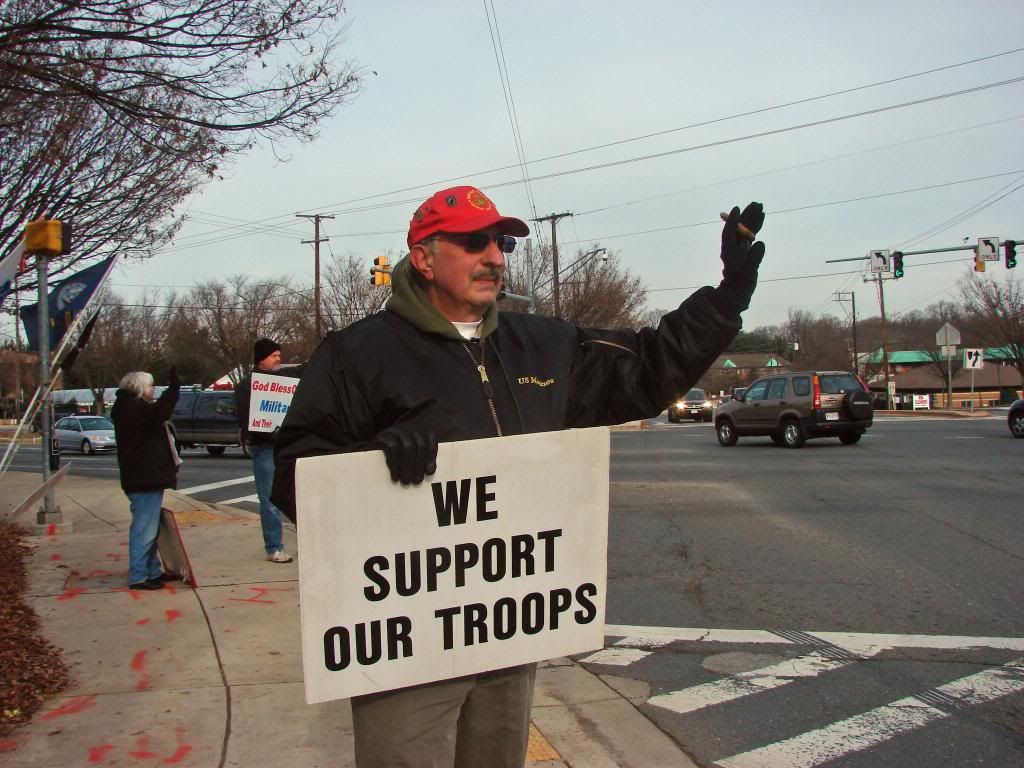 DECEMBER: - RLMorel and Veeram come down from Massachusetts for the Chapter Christmas Party. And everyone is bundled up for the 30 degree weather. You can see L Bill's music set up and his Gold Star sign in the 2nd to last picture. It is great to hear everything from patriotic music to each military branch's theme song to big band.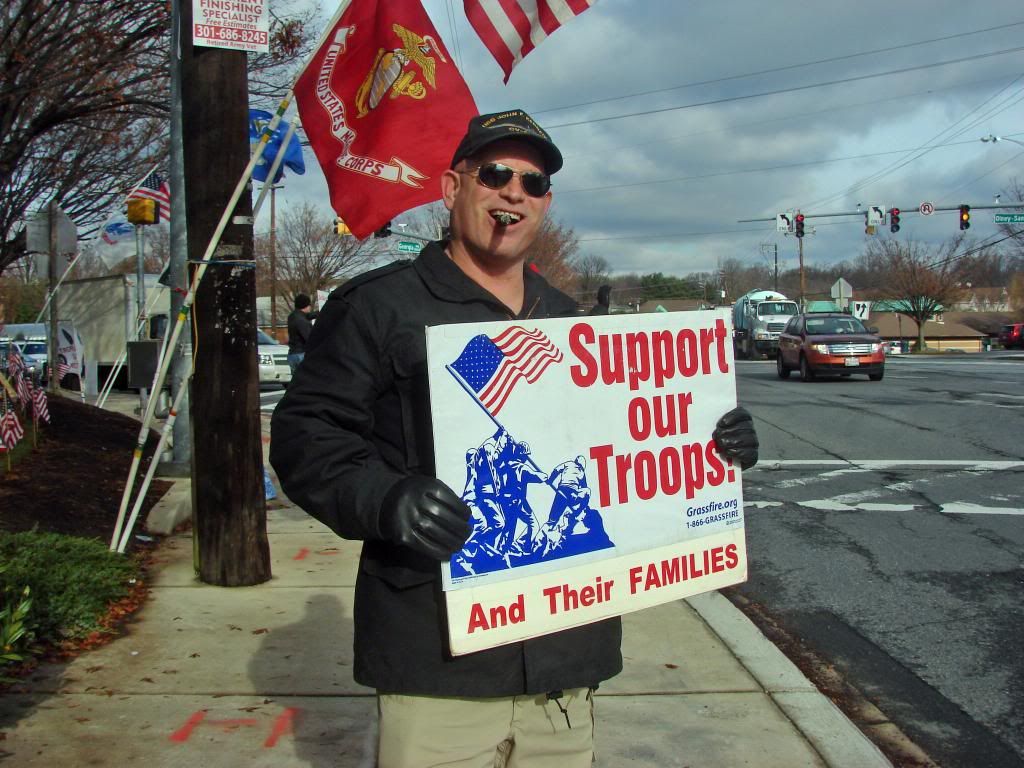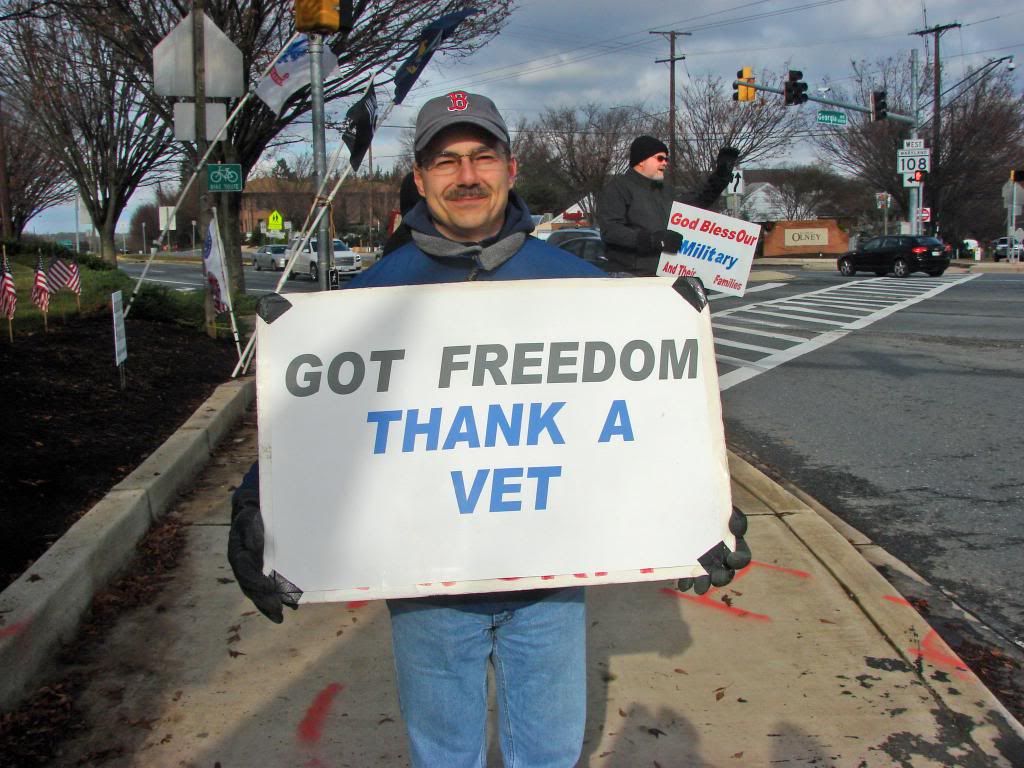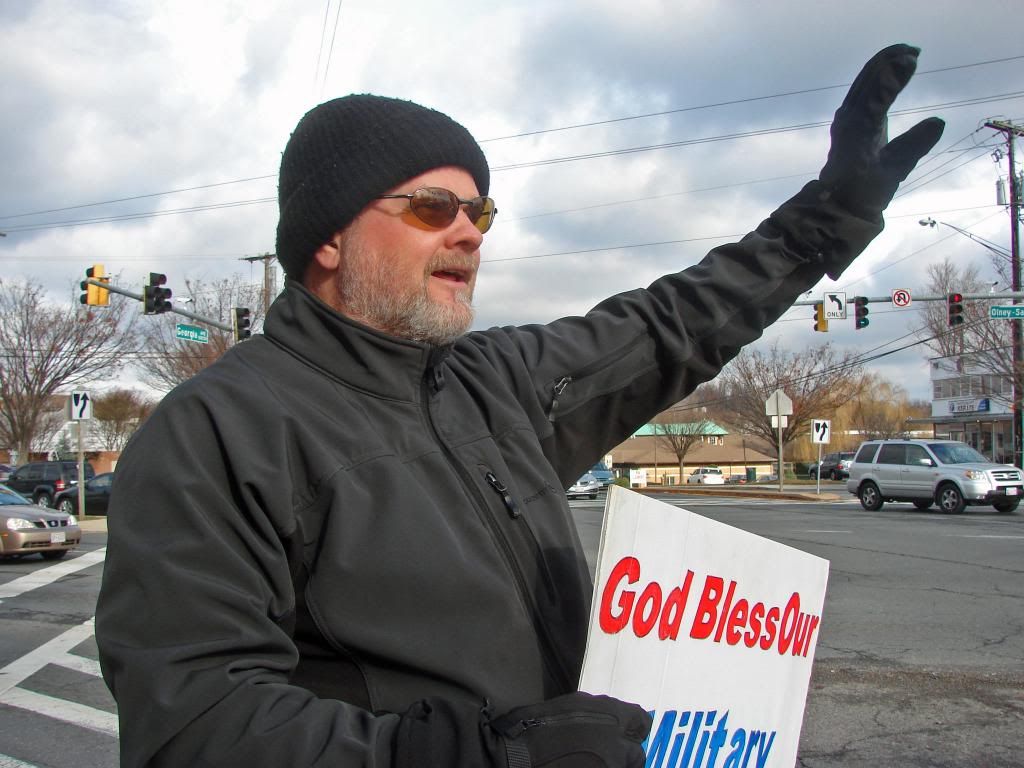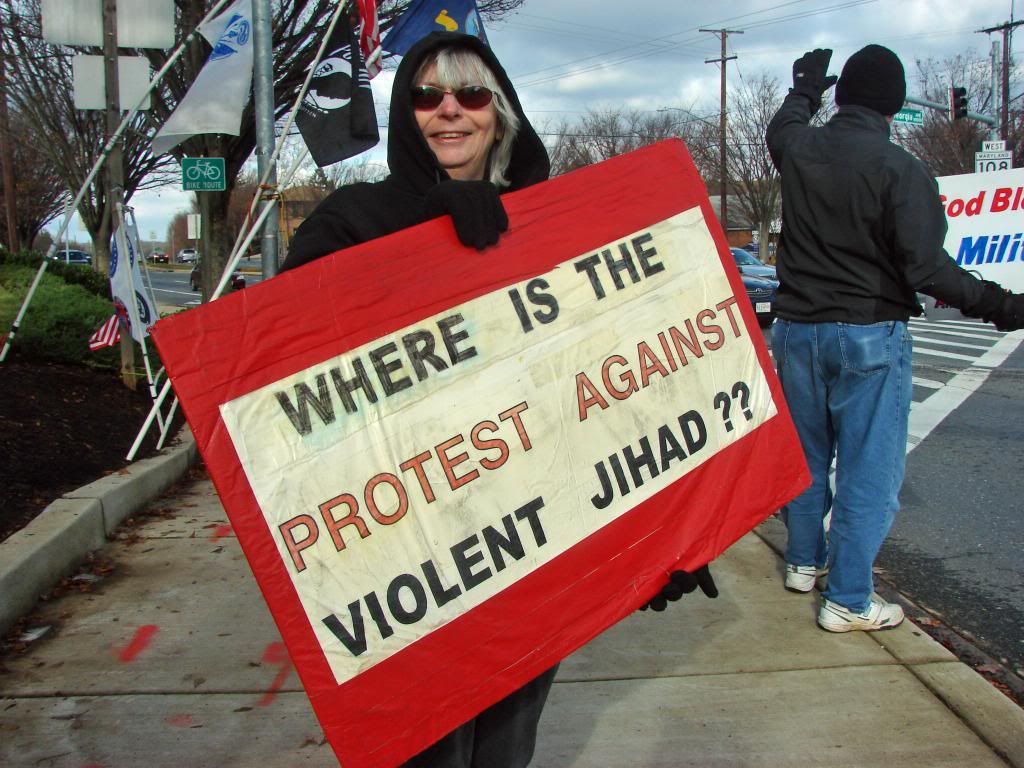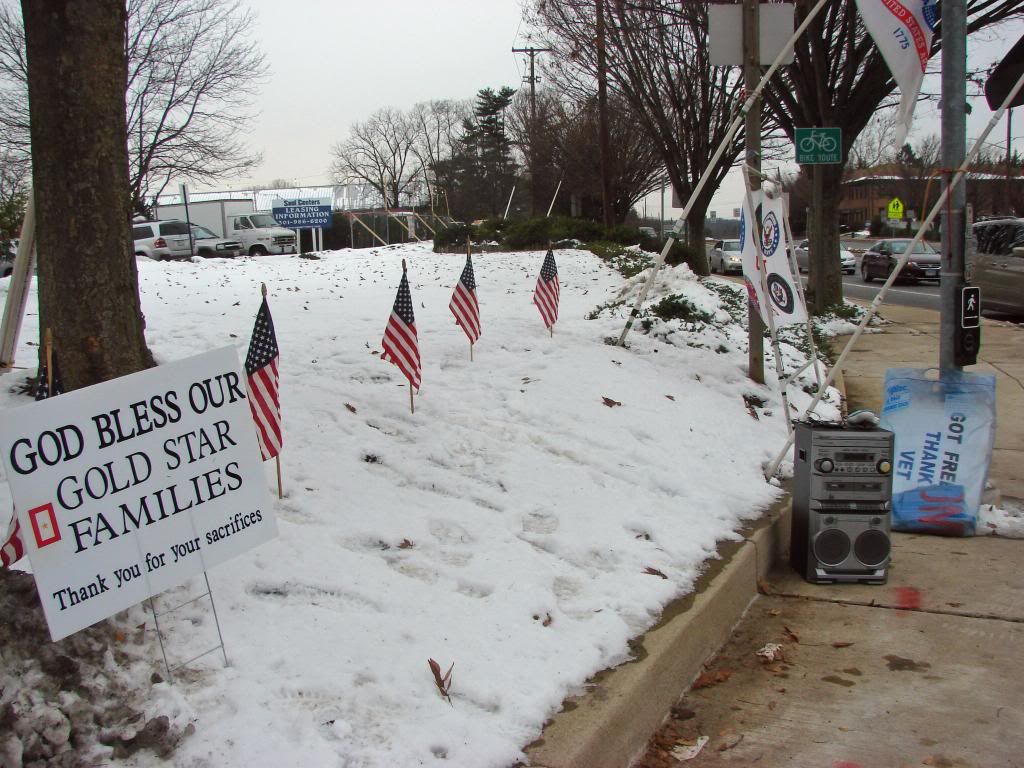 WEEK 414_DECEMBER 21: Shortest day of the year with 70 degree weather along the east coast and Santa showing up in Olney. The reception of Santa was tremendous with almost everyone honking waving and smiling. It was heart warming to see the youngest kids waving at Santa so vigorously that their hands almost flew off. And the smiles on their faces will always be remembered.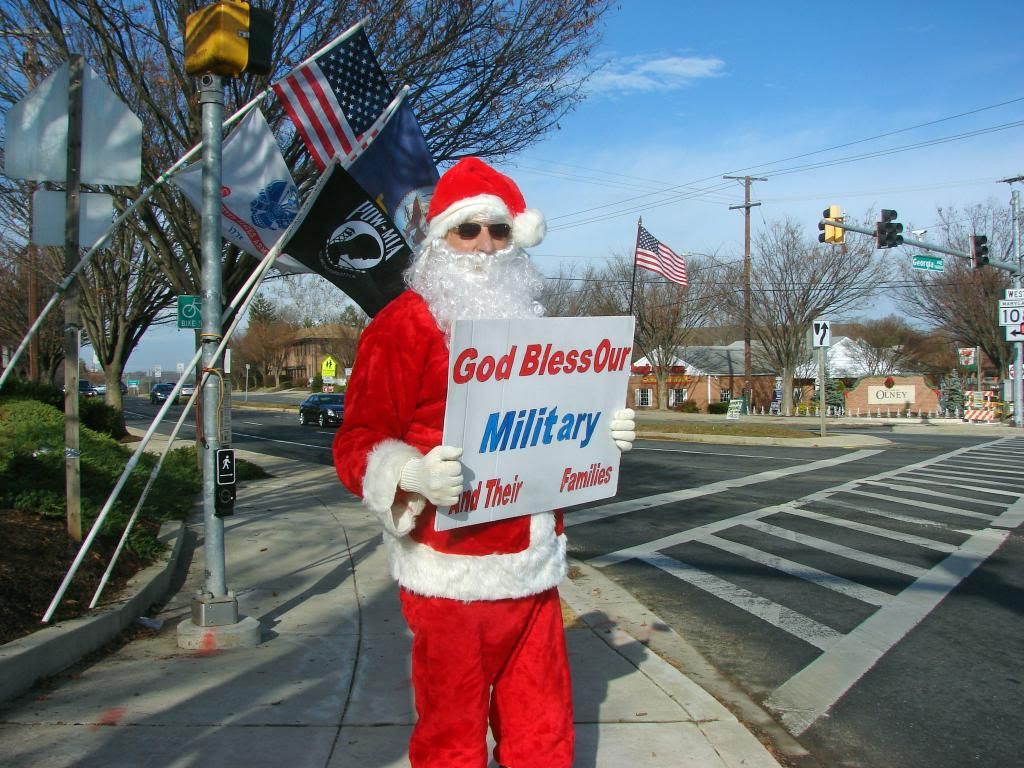 An eventful 2013 comes to a close for the DC Chapter of FreeRepublic
The DC Chapter wishes everyone a Merry Christmas and a Happy New Year!!
---
TOPICS: Activism/Chapters; Free Republic; US: Maryland; US: Virginia
KEYWORDS: 2013; 2013review; aar; barackades; dcchapter; olney
---
Navigation: use the links below to view more comments.
first 1-20, 21-38 next last
---
---
---
---
---
---
---
---
---
---
---
---
---
---
---
---
---
---
---
---
---
Navigation: use the links below to view more comments.
first 1-20, 21-38 next last
---
---