---
To: Cincinatus' Wife; Luircin; Attention Surplus Disorder; oblomov; Spartan302
Why not file lawsuits under the fact that the Obamacare mandates are violating the civil rights of the citizenry. Citizens can get millions, the lawyers fighting this can get millions, and we can kind of eliminate this through a 'death of a thousand cuts' method rather than trying for outright elimination. Make it cost a lot to push this through. Sue the legislatures and sue the politicians.
7
posted on
01/13/2014 1:13:52 AM PST
by
CorporateStepsister
(I am NOT going to force a man to make my dreams come true)
---
To: CorporateStepsister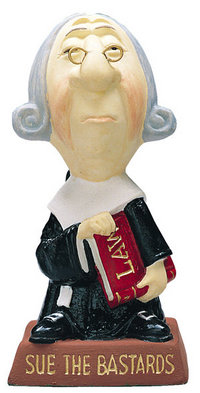 ---
To: CorporateStepsister
I don't think that goes anywhere. A legal/litigation challenge to 0'care would have to get into a circuit court and then be appealed to the USSC, per my larval understanding of the hierarchy of the court system.
However...there is a doctrine of "impossibility" in legal procedure. This may be the only (legal-based) means of overturning 0'care; but, by the time it is proven impossible, it may well have overturned itself.
I look forward to the moment when the administration floats the idea of bailouts for the insurance companies. You know, the guys who were the evil bastards all along? But who actually wrote the bill. With the bailout provision for them. I so look forward to that moment. Boy oh boy, if that doesn't get the libs going, there is absolutely no hope for them (or for us)
12
posted on
01/13/2014 1:32:23 AM PST
by
Attention Surplus Disorder
(At no time was the Obama administration aware of what the Obama administration was doing)
---
To: CorporateStepsister
Yes, Rand Paul is launching such an effort.
The question is whether the courts will even hear the case.
In the US, one needs to show "standing" (yes, this is in the Constitution), otherwise the courts will reject the case.
Although it may seem obvious to us that there is a direct harm to our personal well-being and liberty, a judge could say that the citizen has a legislative remedy.
If Paul is smart, he will continue to build public awareness of his legal effort. It may force the hand of a federal judge (or even SCOTUS) to hear the case. In the end, judges are political figures too, and are sensitive to the insinuation that their rule is not legitimate.
---
To: CorporateStepsister
How does the mandate violate civil rights?
---
FreeRepublic.com is powered by software copyright 2000-2008 John Robinson