~ The FReeper Canteen Presents ~
~ Remembering Our Troops!! ~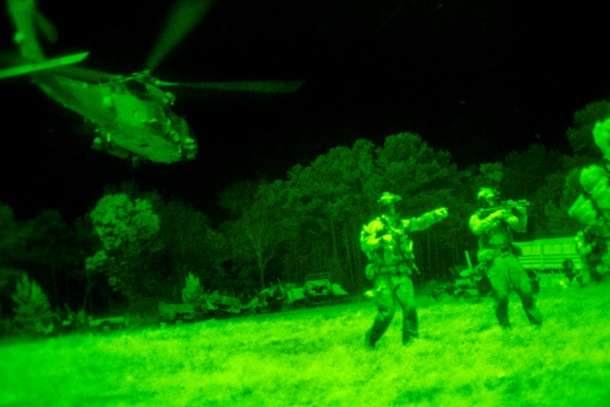 EMERALD EXERCISE
As seen through a night-vision device, a helicopter lifts off as Navy SEALs attack a simulated enemy threat during Operation Urban Corkscrew, part of Emerald Warrior 2013, on Camp Shelby, MS, April 29, 2013. The SEALs extracted two simulated downed helicopter pilots and returned them to safety during the operation. U.S. Air Force photo by Staff Sgt. Chris Griffin







Canteen Mission Statement
Showing support and boosting the morale of
our military and our allies' military
and family members of the above.
Honoring those who have served before.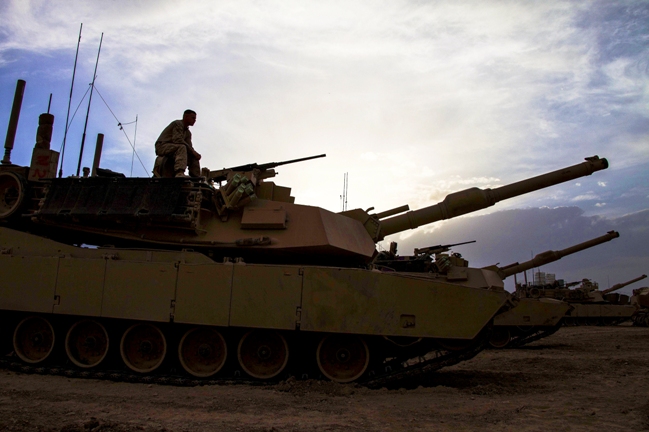 ABRAMS OPERATOR
U.S. Marine Corps Cpl. Joseph Ordille takes a pause from conducting function checks on an M1A1 Abrams tank on Camp Shir Ghazay in Afghanistan's Helmand province, April 25, 2013. U.S. Marine Corps photo by Staff Sgt. Ezekiel R. Kitandwe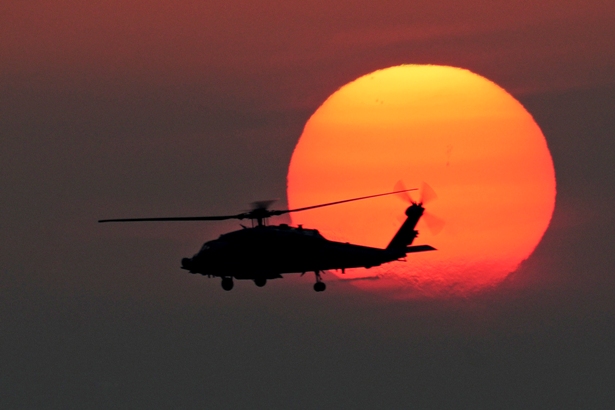 SUNSET SEAHAWK
An HH-60H Seahawk helicopter flies over the flight deck of the aircraft carrier USS Dwight D. Eisenhower at sunset in the North Arabian Sea, April 29, 2013. The Eisenhower is deployed to the U.S. 5th Fleet area of responsibility promoting maritime security operations, theater security cooperation efforts and support missions as part of Operation Enduring Freedom. U.S. Navy photo by Seaman Andrew Schneider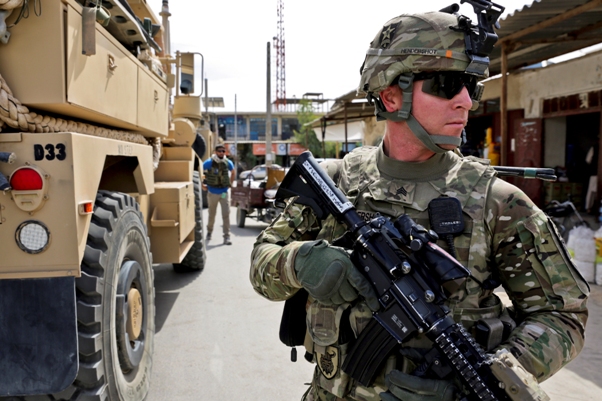 SITE SECURITY
U.S. Army Sgt. Thaddaeus Hendershot provides security at the site of a meeting with the Farah provincial director of telecommunications in Farah City, Afghanistan, May 1, 2013. Hendershot is assigned to Provincial Reconstruction Team Farah. U.S. Navy photo by Chief Petty Officer Josh Ives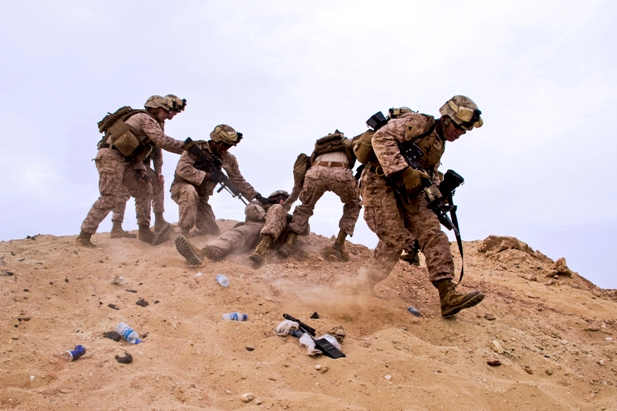 LIVE-FIRE EXERCISE
U.S. Marines pull a simulated casualty to safety as part of a live-fire exercise during Eagle Resolve 2013 at a range on Camp Al-Galail, Qatar, April 26, 2013. U.S. Marine Corps photo by Lance Cpl. Juanenrique Owings
EYE TO EYE
U.S. Army Chief of Staff Gen. Ray Odierno presents the Bronze Star Medal for Valor to Sgt. Scot Gerwitz during an award ceremony in Vicenza, Italy, May 1, 2013. Gerwitz received the award for his courageous actions during combat operations in Afghanistan. U.S. Army photo by Staff Sgt. Teddy Wade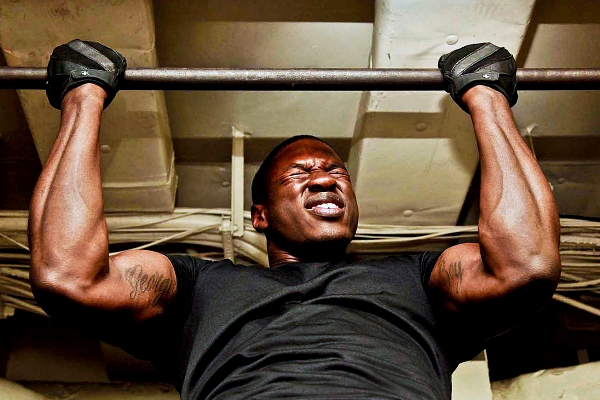 MARINE MUSCLE
U.S. Marine Corps Lance Cpl. Lacaundus O. McBride pulls himself up to the bar during the Campbell Cup held in the gym of USS Peleliu at sea, April 28, 2013. The challenge was the final event of a competition that pit teams from within the 15th Marine Expeditionary Unit and Peleliu Amphibious Ready Group against each other. U.S. Marine Corps photo by Cpl. John Robbart III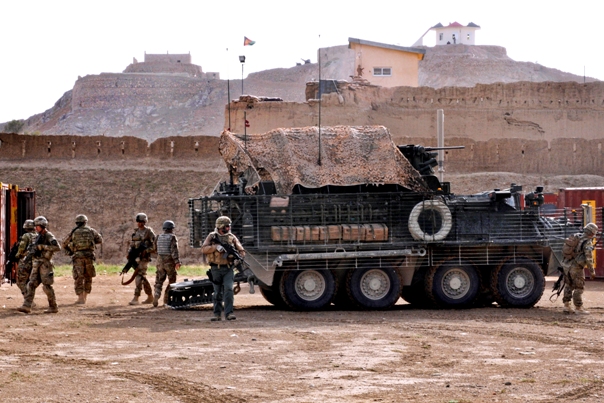 CRIME SCENE CLASS
U.S. soldiers and law enforcement professionals dismount a Stryker armored vehicle after arriving for a class in techniques to investigate crime scenes in the Spin Boldak district of Afghanistan's Kandahar province, April 25, 2013. The soldiers are assigned to the 2nd Infantry Division's 2nd Battalion, 23rd Infantry Regiment, Task Force 435. The class certified Afghan police as instructors for the techniques. U.S. Army photo by Staff Sgt. Shane Hamann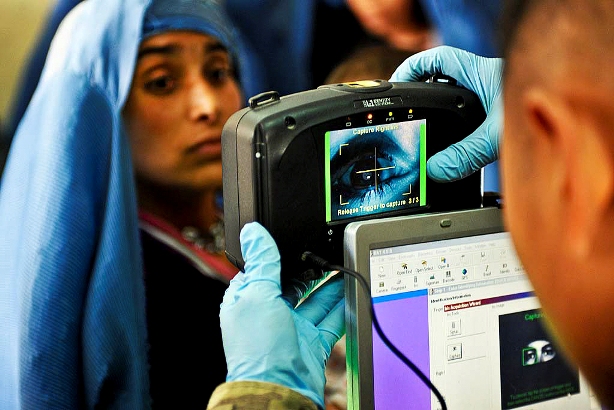 IRIS SCAN
U.S. Airman 1st Class Michael Vue scans an Afghan woman's iris in the waiting area of the Egyptian Hospital at Bagram Airfield, Afghanistan, April 29, 2013. Medical teams use biometrics to identify and track the records for all incoming patients by scanning their iris and fingerprints for entry into a database. Vue, an entry controller, is assigned to the 455th Expeditionary Security Forces Squadron. U.S. Air Force photo by Senior Airman Chris Willis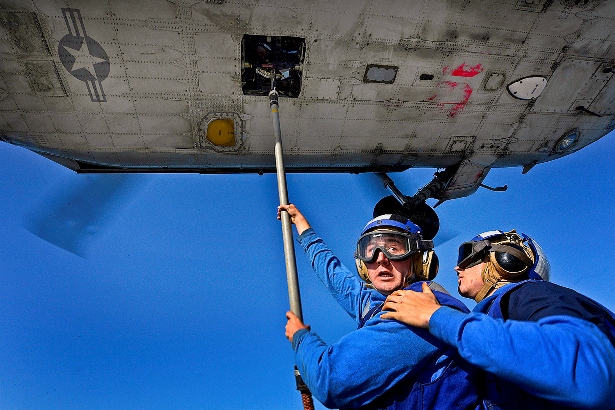 VERTICAL TRAINING
Navy sailors conduct vertical replenishment training aboard the guided-missile destroyer USS Pinckney in the Pacific Ocean, April 25, 2013. The Pinckney is returning from Port Hueneme, Calif., after preparing for an upcoming inspection survey, conducted every five years of a ship's life to ensure mission readiness. U.S. Navy photo by Petty Officer 3rd Class Daniel M. Young

Please remember that The Canteen is here to support
and entertain our troops and veterans and their families,
and is family friendly.