---
Silent Technical Privilege: In Technology, My Looks Got Me Everywhere
Slate ^ | 01/16/2014 | Phillip Guo


Posted on 01/16/2014 6:31:45 AM PST by SeekAndFind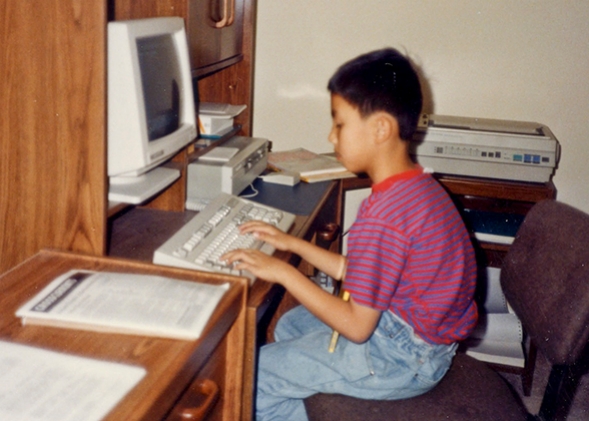 I started programming when I was 5, first with Logo and then BASIC. The picture above is me, age 9 (with horrible posture). By the time this photo was taken, I had already written several BASIC games that I distributed as shareware on our local BBS. I was fast growing bored, so my parents (both software engineers) gave me the original dragon compiler textbook from their grad school days. That's when I started learning C and writing my own simple interpreters and compilers. My early interpreters were for BASIC, but by the time I entered high school I had already created a self-hosting compiler for a nontrivial subset of C. Throughout most of high school, I spent weekends coding in x86 assembly, obsessed with hand-tuning code for the newly released Pentium II chips. When I started my freshman year at MIT as a computer science major, I already had over 10 years of programming experience. So I felt right at home there.
OK, all of the above was a lie. With one exception: That is me in the photo. When it was taken, I didn't even know how to touch-type. My parents were just like, "Quick, pose in front of our new computer!" (Look closely. My fingers aren't even in the right position.) My parents were both humanities majors, and there wasn't a single programming book in my house. In sixth grade I tried teaching myself BASIC for a few weeks, but quit because it was too hard.

(Excerpt) Read more at slate.com ...
---
TOPICS: Business/Economy; Culture/Society; News/Current Events
KEYWORDS: profiling; race; technology
---
Navigation: use the links below to view more comments.
first 1-20, 21-40, 41-60, 61 next last
---
---
---
---
---
Comment #5 Removed by Moderator
---
---
---
---
---
---
---
---
---
---
---
---
---
---
---
---
Navigation: use the links below to view more comments.
first 1-20, 21-40, 41-60, 61 next last
---
---