~ Hall of Heroes ~

MAJ George E. Wahlen
All info and photos from this website.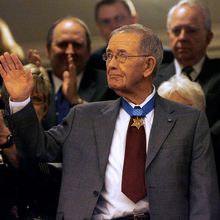 George E. Wahlen (August 8, 1924 - June 5, 2009) was a retired United States Army Major who previously served with the United States Navy and was awarded the United States military's highest decoration, the Medal of Honor, for his actions during the Battle of Iwo Jima in World War II. In 2004, President George W. Bush signed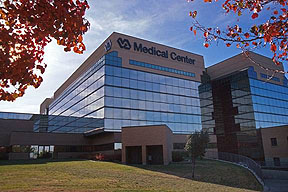 legislation authorizing the naming of the George E. Wahlen Department of Veterans Affairs Medical Center in Salt Lake City. As federal buildings cannot bear the name of a living person, Congress approved special legislation allowing for an exemption in the case of Wahlen.
At age 17, Wahlen was trained as an aircraft mechanic, and he worked at Hill Field in Utah, leading five other mechanics as crew chief for the United States Army Air Corps. He volunteered for the draft, hoping to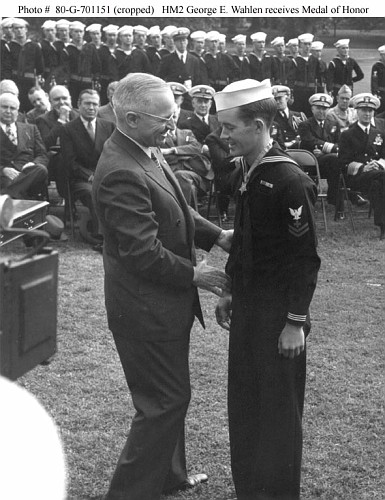 work on aircraft, but became a Navy Corpsman. He volunteered for combat duty with the United States Marine Corps, and was attached to Fox Company, 2nd Battalion, 26th Marines, 5th Marine Division, and participated in the Battle of Iwo Jima in February 1945. He was awarded the Medal Of Honor by President Harry S. Truman on October 5, 1945.

Wahlen spent nine months recovering from his wounds, before being discharged in December 1945. He later re-enlisted in the United States Army, where he served during the Korean War and the Vietnam War. He retired with the rank of Major after being awarded a Purple Heart and serving in all four branches of the United States Military. As a civilian he worked for over a decade with the Veteran's Administration, where he retired at the age of 59.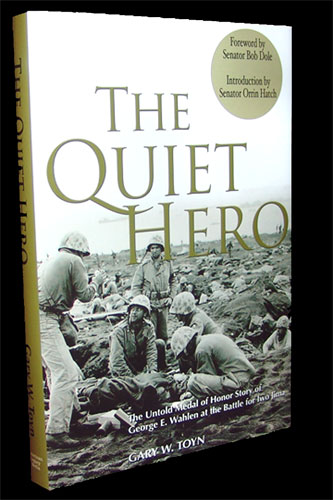 He is the subject of the book The Quiet Hero: The Untold Medal of Honor Story of George E. Wahlen at the Battle for Iwo Jima by Gary W. Toyn.

"If you were to ask my dad today, if he were here, he would say this is not about him. It's about the veterans who served everywhere, specifically those who did not return, that paid the ultimate sacrifice," said son Blake Wahlen
He passed on at the age of 84. His burial was 12 June 2009. On 18 June 2009 there was a large memorial held and attended by veterans of all ages. The main entrance to the George E Wahlen Medical Center as of 22 June 2009 was still draped in black banners to show mourning for such a wonderful yet humble person.
Rank and organization: Pharmacist's Mate Second Class, U.S. Navy, serving with 2d Battalion, 26th Marines, 5th Marine Division.

Place and date: Iwo Jima, Volcano Islands group, March 3, 1945.

Entered service at: Utah. Born: August 8, 1924, Ogden, Utah.

Citation:

For conspicuous gallantry and intrepidity at the risk of his life above and beyond the call of duty while serving with the 2d Battalion, 26th Marines, 5th Marine Division, during action against enemy Japanese forces on Iwo Jima in the Volcano group on 3 March 1945. Painfully wounded in the bitter action on 26 February, Wahlen remained on the battlefield, advancing well forward of the frontlines to aid a wounded marine and carrying him back to safety despite a terrific concentration of fire. Tireless in his ministrations, he consistently disregarded all danger to attend his fighting comrades as they fell under the devastating rain of shrapnel and bullets, and rendered prompt assistance to various elements of his combat group as required. When an adjacent platoon suffered heavy casualties, he defied the continuous pounding of heavy mortars and deadly fire of enemy rifles to care for the wounded, working rapidly in an area swept by constant fire and treating 14 casualties before returning to his own platoon. Wounded again on 2 March, he gallantly refused evacuation, moving out with his company the following day in a furious assault across 600 yards of open terrain and repeatedly rendering medical aid while exposed to the blasting fury of powerful Japanese guns. Stouthearted and indomitable, he persevered in his determined efforts as his unit waged fierce battle and, unable to walk after sustaining a third agonizing wound, resolutely crawled 50 yards to administer first aid to still another fallen fighter. By his dauntless fortitude and valor, Wahlen served as a constant inspiration and contributed vitally to the high morale of his company during critical phases of this strategically important engagement. His heroic spirit of self-sacrifice in the face of overwhelming enemy fire upheld the highest traditions of the U.S. Naval Service.
Click here for a YouTube video of MAJ Wahlen talking about his experiences!
Obituary from the LA Times.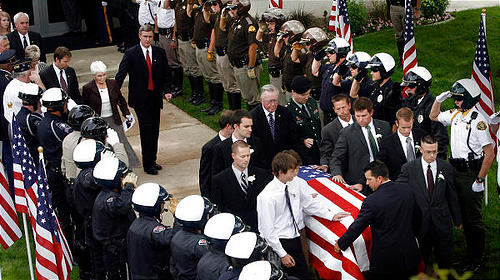 Thank you, sir, for your service and sacrifice for our country!
Please remember the Canteen is here to honor, support and entertain our troops and their families. This is a politics-free zone! Thanks for helping us in our mission!
And thanks, Biglook, for the heads up on this hero!