---
A Humorous Look at a Socialist President
Townhall.com ^ | February 16, 2014 | Daniel J. Mitchell


Posted on 02/16/2014 6:02:12 AM PST by Kaslin
Very few political cartoons make me laugh out loud.
Even when I look back at the all-time favorites that I included in my political cartoonist contest,
most of them are on that list because they make a very effective and clever point about public policy.
Though I do recall being very amused by Glenn McCoy's cartoon on media bias, Chip Bok's war-on-women cartoon, and Robert Ariail's cartoon about Greece and the euro.
But I don't think any of them made me laugh as much as this gem by Scott Stantis.
I don't even know what it struck me as being so funny.
Yes, I have a peculiar interest in international economic policy, so I'm fully aware that President Hollande of France is a disaster, but I'm not sure that's enough to make a cartoon amusing.
And I've commented several times on the debate over whether Obama is a socialist, but that's hardly a topic that lends itself to humor.
Or perhaps I'm just a narcissist and I appreciated a cartoon that was somewhat similar to one of my homemade jokes about Hollande and Obama.
Beats me.
But kudos to Scott Stantis (who also is the author of the best-ever cartoon on the failure of Keynesian stimulus).
Since we're looking at funny cartoons, it's time to give some credit to the other side.
I don't often find much humor on the left, but this cartoon on income inequality is worth sharing.
It's from the New Yorker, though I don't know the author. And I confess that I'm merely assuming a left-wing perspective.
It's your call whether this cartoon is as good as the other leftist cartoons I've shared, but it is a good caricature of the GOP country club types.
P.S. Yesterday I shared some libertarian valentines.
So in the interest of fairness, here's are some left-wing valentines.
They're designed to trick people into signing up for Obamacare.
Our first option is from a group called the National Women's law Center.
And here's one from a group named the Young Invincibles.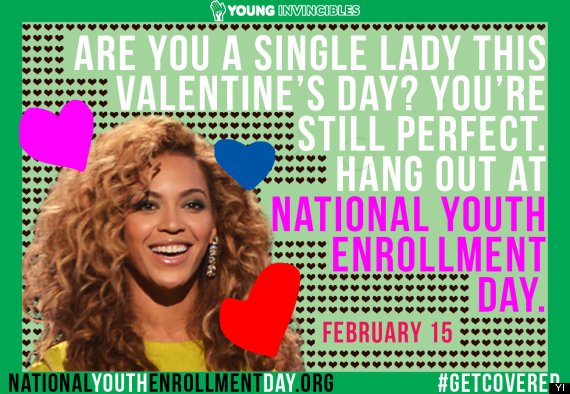 I have to say that I'm not overly impressed with either one of these valentines.
Though anything has to be better pro-Obamacare marketing than Pajama Boy or casual sex (because big government can take the fun out of anything).
P.P.S. Speaking of Valentine's Day, the PotL graced me with her presence, making me an inexplicable winner.
Even if some of my erstwhile friends who watch Modern Family have started to refer to us as Jay and Gloria.
P.P.P.S. Let's close with a comment on a very odd story from Norway.
The nut-job who killed 77 people has made an announcement.
Anders Breivik…wants the world to know that he's being treated "worse than an animal" in prison and is considering going on a hunger strike until the "torture"-like living conditions improve. Just how bad are things for the admitted and unrepentant killer? Well, for one, he says he's being forced to play his video games on an out-of-date Playstation 2 instead of a newer model. …Breivik was deemed sane by a Norwegian court in the summer of 2012 and sentenced to 21 years in prison, the most-severe sentence allowed under the Scandinavian country's laws… Details of Breivik's current conditions are a bit unclear, although Norwegian news reports from the time of his sentencing suggested that he was going to be kept in a three-room cell complete with an exercise area and a television.
I guess it's a good thing I'm not the warden at his prison.
Why? Because I not only would turn down his request, but I also would dump him in a 6X8 call. Moreover, I would station a couple of guards outside his cell and have them play the newest and fanciest version of Playstation 24 hours a day.

---
TOPICS: Business/Economy; Culture/Society; Editorial
KEYWORDS: france; francoishollande; humor



---
To: All
The extravagant blue skirted-glitzy black lace Caroline Herrara gown Michelle Obama wore to the French president's state dinner reportedly cost between $10,000 and $12,000....not to mention the deluxe vittles----the cost of the gown is more than the median annual household income worldwide of $9,733, and greater than the median income for households in at least 87 countries, according to data from Gallup.
Mmmmmmm....now we know how Obama got himself squared w/ Michelle after the Mandela Memorial embarrasment. Looks like he bribed her w/ a state dinner and that Herrara dress she had been eyeing.....in order to get back in her good graces.
=====================================================
Actually the $12K dress is a drop in the bucket compared to what it costs taxpayers to subsidize the Obamas WH lifestyle. The Obamas are itinerant luxury-loving parasites, living high, greedily sucking at the public teat......(prolly wire-transferring a bundle offshore for a cushy retirement and to finance Mrs O's political ambitions).
NRO tallied what taxpayers are paying for M/M O to live large on the taxpayers' dime: a grand total of $1.4 billion per year: Air Force One ($181,757 per hour), executive chef ($100,000 per year), three full-time White House calligraphers ($277,050 per year for the trio), chief of staff to the president's dog ($102,000 per year), Ohaha's royal motorcade ($2.2 million). $100 million alone for the African apology tour.
==========================================
$1.4 BILLION is the current annual cost of the White House — just in household expenses, not including US policy operations for which the WH exists-- administered by some 900 parasites--- policy staff recruited by Ohaha. There's the $100 million trip to Africa not including the foreign aid billions O handed out to these oil-rich satraps. There's serial Ohaha vacations costing taxpayers millions---- (the low estimate Hawaii vacays is $4 million each, but is probably five times that); the pricey Martha's Vineyard stays; Mrs O's costly trip to elite Marbella w/ an entourage of 30.
Mrs O's $3900 PER NIGHT in Ireland PLUS 30 more rooms for her entourage.
Ireland's Grace Kelly hotel suite.
=======================================
TAXPAYERS SUFFERED RUINOUS HEALTHCARE CANCELLATIONS--BUT THEY PAY $7 MILLION FOR THE OBAMAS HEALTHCARE---NRO found the first family's yearly health-care costs Americans $7 million; the reason why only Boobamba himself was "enrolled" last month --and not his family.
Mrs O wore her pricey diamond bangles (bought on a govt salary?) at a DNC fund-raiser, attended by "tolerant and compassionate" Dems....raised big bucks to keep Mr O in office so he could work for "the poor." Her diamond Gothic cuff priced at $15,350 set with 2.17 carats in diamonds and the Quatrefoil bracelet at $11,800 set with 1.73 carats in diamonds. (Excerpt) Read more at houston.culturemap.com.
Mrs O wowed all the "tolerant and compassionate" Dems who hate the rich and support endless tax-paid programs "for the poor."
===============================================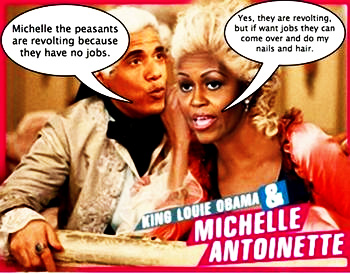 Mrs O has 24 assistants at her beck and call. Her
wardrobe, nails and hair pieces subsidized w/ tax dollars
of struggling Americans.

---
To: Liz
---
To: All
Silver-gowned and banged Mrs O when she bombed big time at the Oscars.
==================================================
Mrs O was roundly criticized for her scary appearance at 2012's Oscar telecast---the buzz is that stars and moguls in the seats heaved a collective groan when she was beamed in on a large drop-down screen over Jack Nicholson's head.
Even more pointedly, post-Oscar stories left her out of "who wore what" red carpet reports---she used the same designer as one starlet but print and media reports omitted any mention of Moosh, or her glitzy dress (she was entertaining in the WH at the time and was surrounded by uniformed military guards).
LOYAL DEMOCRATS LIKE DONNY DEUTSCH WEIGHED IN: "As far as I'm concerned, she was an uninvited guest. Now what I mean by that is (as an advert guru), you have to give the consumer, the viewer, the ultimate respect. They tuned in to watch movie stars, to watch movies. And all of a sudden, politics is thrown at them."
"If I want to watch her on Jimmy Fallon, that's okay. But, (the Awards)---that was an intrusion, and I have a feeling that three out of four Americans -- Democrat or Republican -- don't want to see the First Lady (there). I think you have to respect your audience enough to not impose her, that's not a moment we're looking for there---the President or the First Lady," Deutsch said on CNN's "Piers Morgan Tonight."
DONNY CONTINUED: "....the tone of it, it was almost a monarch quality.....an elitist flavor to it. I was watching and going, 'huh?' and I'm a Democrat," Deutsch told host Piers Morgan. "I just thought it was very very tone deaf and I was really surprised they did it," Deutsch concluded.
=========================================================
If this keeps up, pretty soon the self-serving O's will be depicted as the new Juan and Evita (/snix) or maybe Nikolai and Elena.
One could even say Ohaha's using the "Argentina Strategy." He and his wife see themselves with unlimited power---employing military strongmen to keep we, the rabble, in check---while duping the worshipful media into thinking they are "humanitarians.
THIS SOUNDS FAMILIAR The Perons bankrupted Argentina, took savage, total power by confiscating money from the rich-----and letting Evita bestow the money on the poor, in numerous well-publicized "acts of charity."
Evita traveled around in luxurious designer fashions, furs and lavish jewels; she was infatuated w/ Hollywood. Reigning movie queen Lana Turner saw Evita adopt her look and hair styles--- and was alarmed when her jewelry was confiscated so that Evita could get it copied.

---
To: Kaslin
Nothing humorous about the narcissistic POS in the White House or any of the progressive Marxist scum that supports him.
I hope that some day this period in American History be known as one of the lowest points if not the lowest and we can once again become a great nation.
POTUS and his supporters are a disease we need to find a cure from.
---
FreeRepublic.com is powered by software copyright 2000-2008 John Robinson