---
Review: The Dying Gaul
The Washington Free Beacon ^ | February 22, 2014 | Aaron MacLean


Posted on 02/22/2014 12:30:29 PM PST by Kaslin

At the National Gallery of Art, Washington, D.C. through March 16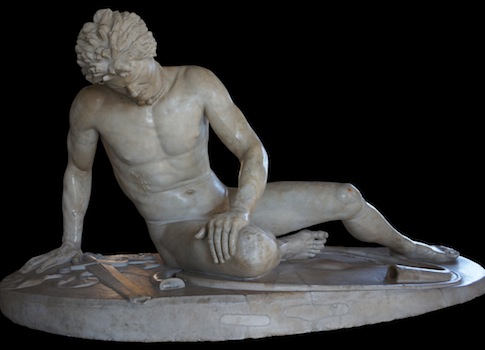 Did you miss it? 2013 was the Year of Italian Culture (YOIC), brought to us by the Italian Ministry of Foreign Affairs. The themes of the event were, according to the brochure, "Research, Discovery, and Innovation"—which is somewhat odd, considering that the most noticeable manifestation of the YOIC was the temporary importation of various masterpieces of Italian art that are hundreds or even thousands of years old.
Perhaps the idea was for the YOIC to give evidence of past innovation. In any event, those of us on the receiving end should not be too nitpicky, as the United States benefited from a veritable carpet-bombing of old Italian paintings and sculptures: Caravaggios dropped on Los Angeles, the Capitoline Brutus on Boston, and a cluster of "over seventy" Veronese on Sarasota.
Here in Washington, D.C. we witnessed the inauguration of the YOIC's artistic outreach with Michelangelo's David-Apollo last year at the National Gallery. Now, even though it is technically no longer 2013, the YOIC, like a Roman native lingering at the end of a fine meal over the dolce and the digestivo, continues in the form of the Dying Gaul, an ancient statue also on display at the National Gallery. It is located in the Rotunda of the West Building, down the hall from another diplomatic exhibit: the 'Heaven and Earth' show displaying Byzantine art and objects, brought to us by the government of Greece.

(Excerpt) Read more at freebeacon.com ...
---
TOPICS: Culture/Society; Editorial; US: District of Columbia
KEYWORDS: attalos; attalosi; dyinggaul; galatia; godsgravesglyphs; italy; pergamon; romanempire; thedyinggaul
---
---
---
---
---
---
---
---
---
---
---
---
---
---
---
---
---
---