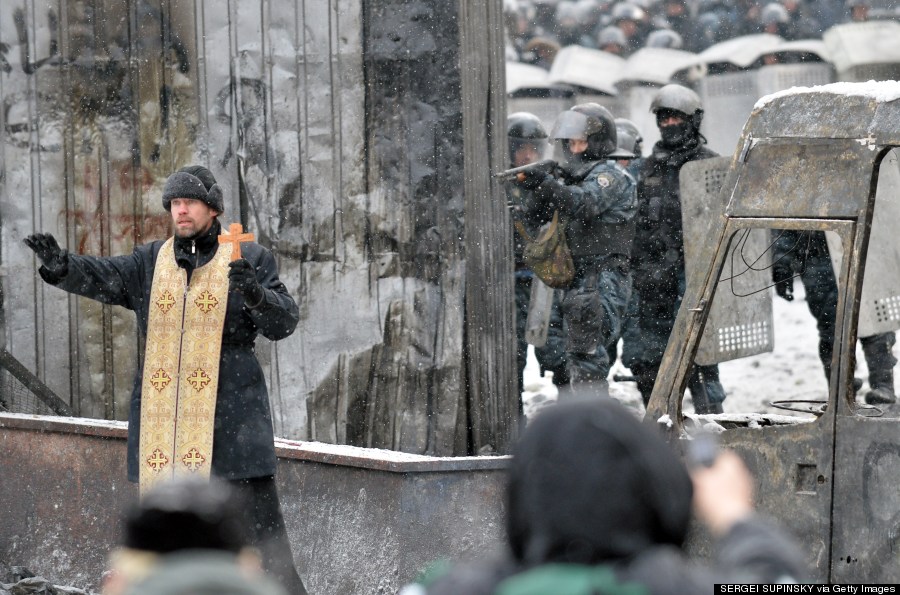 Ukraine priests speaking to the crowd at the backdrop of armed guards
Striking images have been released, showing Ukrainian priests on the front lines before armed guards and burning barricades, reaching out to the people in the midst of violent conflict between the Ukrainian government and protesters, which led to close to 100 deaths on Thursday.
"Ukraine's Orthodox and Catholic priests have been frequently seen on or near the front lines of the clashes, ministering to protesters and riot police alike, though at times some have appeared to more closely align themselves near the protesters," The Washington Post reported on Thursday.
Ukraine's opposition leaders and President Viktor Yanukovich signed a deal on Friday to end violence. The EU-mediated peace deal came after a previous truce on Wednesday between the Ukrainian government and protesters failed, leading to fresh clashes where close to 100 people were killed and over 500 injured.
The Obama administration expressed its outrage on Thursday following the clashes.
Tensions in the Eastern European nation reached a boiling point in the past couple of weeks, stemming from Yanukovich's decision in November to stay loyal to Ukraine's economic relations with Russia and refuse to sign a trade deal with the European Union.
Ukraine is largely a non-religious country, according to a poll in 2006 which found that 62.5 of the population identify as non-religious or do not belong to a specific church, though the biggest religion is Eastern Orthodoxy (26.8 percent). Roman Catholics make up 5.9 percent of the population.
The Economist noted on Friday that the religious environment in Ukraine is a complicated one, as there are four church organizations which claim to be the main Ukrainian branch, though the Ukrainian Orthodox Church is officially recognized as the legitimate body by other Orthodox churches around the world.
"Among the most striking and inspiring images to emerge from the battle-scarred streets of Kiev have been photographs of priests, alone or in groups, standing between protesters and police, offering blessings, tending the wounded and praying over the dead," The Economist wrote, before delving into the history of Eastern Orthodoxy in the nation.
The main message coming out from churches seems to be a call for an end to the bloodshed, with priests condemning the violence that has gripped Ukraine this past week.
"With great regret I should say that appeals of churches to prevent the bloodshed and a peaceful settlement of the conflict has not been heard," said Major Archbishop of the Ukrainian Greek Catholic Church Sviatoslav Shevchuk in statement to BosNewsLife earlier this week.
"In the name of God I condemn violence and disregard of human rights and the will of the people," he added. "I would like to emphasize that the one who has the power, bears full responsibility for what is happening in the country."