---
To: BurningOak
And it's not "Kharkiv" but Kharkov.
For all who know the history of WWII, the battle of Kharkov remains one of the most important in the defeat of the nazi Germany.
The 1st Battle of Kharkov so named by Wilhelm Keitel, was the 1941 tactical battle for the city of Kharkov during the final phase of Operation Barbarossa in 1941, when the Germans captured the city from the Red Army.
The final battle of Kharkov, in August 1943, was the biggest tanks battle of all times - more than 2600 tanks involved:
"Throughout the morning Soviet tanks worked their way forward in the hollows up to the southern edges of the cornfields, then made a mass dash across the road in full sight. "Das Reich"'s Panthers caught the leading waves of T-34's with fierce defensive fire before they could reach our main battle line. Yet wave after wave followed, until Russian tanks flowed across in the protecting hollows and pushed forward into our battle positions." - Wehrmart General Erhard Raus. Hitler ordered that the city had to be held "under all circumstanced".
10,000 Germans were killed and 20,000 wounded.
The Red Army despite heavy losses, retook the city on August 23 1943.
19
posted on
03/01/2014 5:13:50 PM PST
by
Marguerite
( When I'm good, I'm very good, but when I'm bad, I'm even better)
---
To: Marguerite
Thank you for the history, very interesting.
20
posted on
03/01/2014 5:43:30 PM PST
by
BeadCounter
(Let's see some backup for what you say.)
---
To: Marguerite
The biggest tank battle of all time was at Kursk not Kharkov.
---
To: Marguerite
You failed to mention that Kharkov was taken by the Russians in the wake of their Stalingrad successes but then was RETAKEN by the Germans. It was the last large metropolis ever taken by the German Army in World War II.
28
posted on
03/01/2014 6:38:58 PM PST
by
Monterrosa-24
( ...even more American than a French bikini and a Russian AK-47.)
---
To: Marguerite
One of Field Marshall von Manstein's spearheads in the retaking of Kharkov was led by Joachim Peiper who was later to be infamous on the Western Front during the Battle of the Bulge.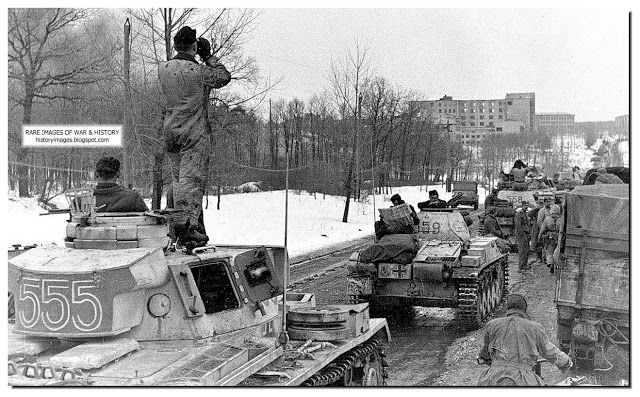 31
posted on
03/01/2014 6:50:21 PM PST
by
Monterrosa-24
( ...even more American than a French bikini and a Russian AK-47.)
---
FreeRepublic.com is powered by software copyright 2000-2008 John Robinson