---
To: FReepers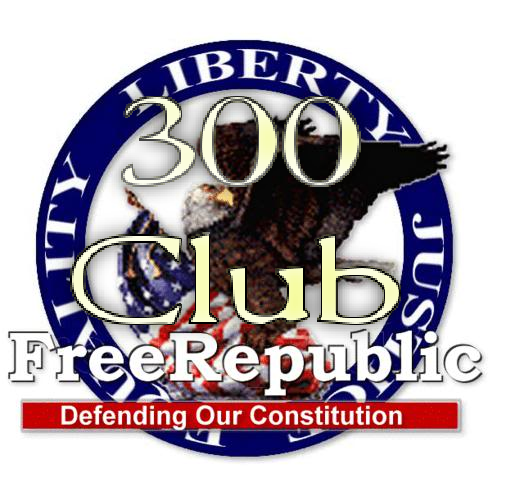 FR is looking for 300 loyal FReepers to donate $100 or more per quarter.

By contributing at least $100 per quarter or $400 per year to Free Republic, you may become a member of the "300 Club."

Counting the generous $100 Donation we just received from our NORTH CAROLINA FReeper, we now have 185 donations of $100 or more!!

Thank you ALL very much!!

If you send in or Donate $100 or more, please send Jim a note to add your screen name to the 300 Club Roster!!

Unfortunately, way too many of you very generous Donors are way too shy and humble about adding your name to this important list!
300 Club

17th Miss Regt
4integrity
AsBirdsFly
Axelsrd
basil
Bon of Babble
BooBoo1000
Boomer One
BuckeyeTexan
ButThreeLeftsDo
CitizenUSA
ConorMacNessa
credo2
DaveArk
deadrock
Ditter
Elderberry
Enterprise
EXCH54FE
Fiddlstix
Finny
FlyingEagle
Gator113
Gene Eric
glock rocks

GopherIt
Graewoulf
GRRRRR
GunsareOK
hoosiermama
houeto
I_be_tc
Jane Long
jazusamo
Jimmy Valentine
jmaroneps37
JMJJR
John 3_19-21
Kathy in Alaska
KSCITYBOY
kvanbrunt2
Lancey Howard
LibLieSlayer
Little Bill
MarMema
Movemout
novemberslady
onyx
Overwatcher
OwenKellogg

PA Engineer
penelopesire
Ragnar54
RedMDer
Roccus
Ron C.
Rushmore Rocks
Ryn
small business owner
spacejunkie2001
SpeakerToAnimals
spna
The Cajun
theneanderthal
TheOldLady
Tijeras_Slim
toomanylaws
tubebender
upchuck
wardaddy
warpsmith
whinecountry
Wingy
xzins
Zuben Elgenubi


Per FReeper I_be_tc's 300/100 challenge, FR is looking for 300 loyal FReepers to donate $100 or more per quarter. By contributing at least $100 per quarter or $400 per year to Free Republic, you may become a member of the "300 Club."

You may contribute any combination of monthly and/or one-time contributions by Credit Card, Mail-In Check, Money Order or PayPal to reach this goal.

DONOR NAMES ARE ADDED TO THIS LIST ONLY BY REQUEST OF THE DONOR.

Please contact Jim Robinson if you're a $100 per quarter Donor and would like your name to appear on this List! Thanks very much and thank you for your loyal support of Free Republic!


---

Special Thanks To Ron C. For His Help With The List.

---

Table Format and Background Graphics Made By: Fiddlstix
To all:

Again, please let me know if you are a regular $100 (or more) Donor and will allow your screen name to be added to the "300 Club" Roster.

Thank you all very much!! Your loyal support is greatly appreciated!!

~Jim Robinson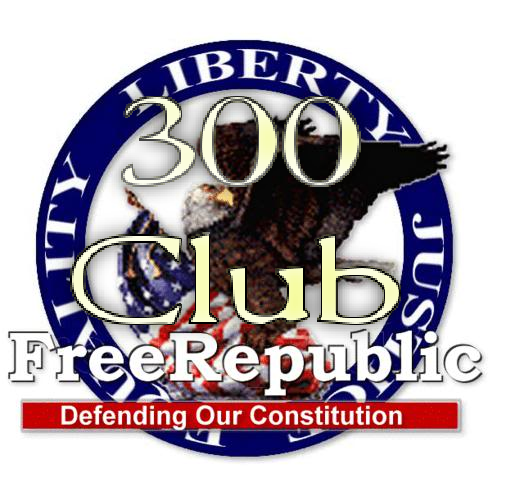 45
posted on
03/01/2014 11:21:18 PM PST
by
onyx
(Please Support Free Republic - Donate Monthly! If you want on Sarah Palin's Ping List, Let Me know!)
---
To: California; FReepers; OwenKellogg; Tijeras_Slim; TheOldLady
46
posted on
03/01/2014 11:23:36 PM PST
by
onyx
(Please Support Free Republic - Donate Monthly! If you want on Sarah Palin's Ping List, Let Me know!)
---
FreeRepublic.com is powered by software copyright 2000-2008 John Robinson