---
Investment & Finance Thread 2014 New Year(Mar. 17 - nexttime edition)
Daily investment & finance thread ^ | Mar. 17, 2014 | Freeper Investors


Posted on 03/17/2014 3:12:23 AM PDT by expat_panama

Investment & Finance Thread 2014 New Year(Mar. 17 - nexttime edition)

This is the thread where folks swap ideas on savings and investment --here's a list of popular investing links that freepers have posted here.

Open invitation continues always for input on ideas for the thread, this being a joint effort works well.

Keywords: financial, WallStreet, stockmarket. We still hope to include here a --

--so let me know if anyone wants on or off this ping.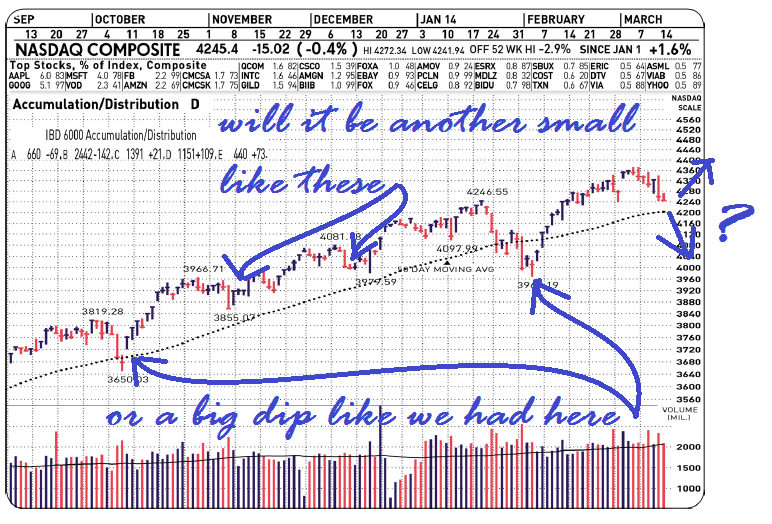 Be advised that it gets posted only when I'm not feeling lazy and remember that we now know from studies that sloth is completely genetic and lazy people are the way they are because they were born that way.
======================
So, which way are we going next?
This past week saw four down days out of five with trading volume increasing on the down tics and last Thursday we saw IBD change the market outlook from "confirmed uptrend" to "market under pressure".
We'll see how tomorrow morning's futures look, but in the mean time--
Gold Poised For Sixth Consecutive Higher Weekly Close

by Peter A. Grant March 14, AM (from USAGOLD.com) -- Gold surged to another six month high on Friday of 1387.87, before prices moderated intraday. The impending Crimean referendum this weekend has ratcheted geopolitical tensions steadily higher. Some U.S. data weakness offered an additional boost to the yellow metal initially.... (read more here)/
---
TOPICS: Business/Economy; Government; Unclassified
KEYWORDS: financial; stockmarket; wallstreet
---
Navigation: use the links below to view more comments.
first 1-20, 21-40, 41-60, 61-64 next last
---
---
---
---
---
---
---
---
---
---
---
---
---
---
---
---
---
---
---
---
---
Navigation: use the links below to view more comments.
first 1-20, 21-40, 41-60, 61-64 next last
---
---