---
Kenyan church attack leaves four worshippers dead and 17 injured
theguardian.com ^ | Sunday 23 March 2014 08.44 EDT


Posted on 03/23/2014 9:27:31 AM PDT by DeaconBenjamin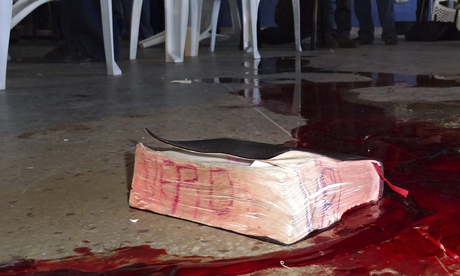 A bible next to a pool of blood inside the Joy Jesus church in Likoni near Mombasa. Photograph: Str/EPA
At least four people were killed when two gunmen burst into a crowded church and opened fired on worshippers near the Kenyan port of Mombasa.
The attack, which left about 17 wounded, came despite increased security in Kenyan cities amid heightened warnings of extremist violence.
Robert Mureithi, a local police chief, said: "They were shot by gunmen who shot indiscriminately at worshippers and then fled.".
There was no immediate claim of responsibility, but Kenya has been hit by a series of attacks since sending troops into southern Somalia in October 2011 to battle al-Qaida-linked al-Shabaab insurgents.
Kenyan troops, which have since joined the African Union force in Somalia, are taking part in a fresh offensive launched this month against al-Shabaab bases.
In September al-Shabaab commandos killed at least 67 people in Nairobi's Westgate mall.
Last month security chiefs warned of "increased threats of radicalisation" among homegrown Islamists. Last week police arrested two men with a vehicle stashed full of large pipe bombs, which experts said would have been strong enough to bring down a major building.
The interior minister, Joseph Ole Lenku, said on Saturday that security had been beefed up in Mombasa, as well as in the capital, Nairobi, and other towns. "Our officers are out there, they are doing everything possible to fight crime and terrorism," he said.
Last month police raided a mosque accused of encouraging extremism in Mombasa, detaining scores of suspects whom they accused of attending a radicalisation meeting.
Homegrown groups including the Islamist al-Hijra group, a radical organisation formerly known as the Muslim Youth Center, operate on Kenya's coast and have been linked to al-Shabaab

(Excerpt) Read more at theguardian.com ...
---
TOPICS: Crime/Corruption; Foreign Affairs; Government; War on Terror
KEYWORDS: africanchristians; benghazi; deathtoislam; deathtoll; globaljihad; iran; islamicterrorist; kenya; kenyanbornmuzzie; waronterror
---
---
---
---
---
---
---
---
---