---
To: caww
The decline of national states, though, should be perceived as a positive process, because the latter are rather enemies than friends of an ethnos in an organic sense. ... what us really inspires is a new great project aimed at worldwide revolution "from the Right,"
**************
That explains much. At least it is a refreshingly honest intellectual position being mapped out, instead of some unibrowed, Mitteleuropean William Tell cliche.
Transnationalism it the arch enemy of the species right now.
22
posted on
04/04/2014 1:18:51 PM PDT
by
Psalm 144
(FIGHT! FIGHT! SEVERE CONSERVATIVE AND THE WILD RIGHT!)
---
To: Psalm 144
....."Trans-nationalism it the arch enemy"....
It's all part of the Progressive/Globalization program...get everyone as close as possible under one roof....get as many employed as possible...resources consolidated as well as corporations, banks and all sources of fast cash...even religious institutes...they'll be going after these new Mega-Churches in time as revenue sources.......so revenues will flow and be controllable.....
Of course not to mention a "Self-Appointed" Governance to rule over it all. By then there will be so much international unrest the people will be begging for a savior from it all....and are fast ripening for just that.

---
To: Psalm 144
Whoa!......Ukraine Presidential frontrunner (Oligarch)'Poroshenko' said he would NOT seek to join NATO as this "could split the country."....further states...says any new leadership of the country should have "zero-tolerance" of corruption."....yet states..."Ukrainians have earned the right to a path to membership in the European Union". (http://www.rferl.org/content/ukraine-poroshenko-corruption-nato/25323193.html)
So Poroshenko gets it....in part. Looks like he's playing his cards right to the voters, and letting Nato/EU know the ball will be in His hands, not their's. Political talk comes cheap though...would be great if he even came through with 50% of what he says......He does look to win..and of course tightly knit to all players...and can deal with Russia when he has to....interesting twist.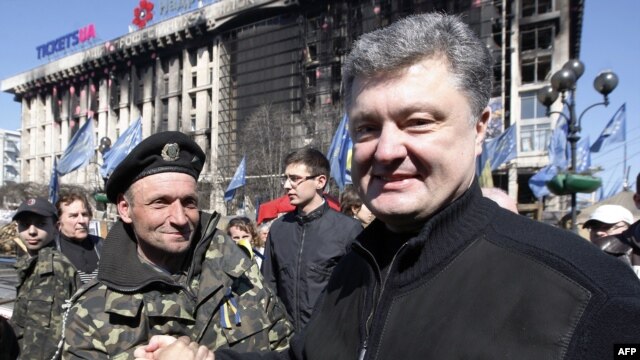 ---
FreeRepublic.com is powered by software copyright 2000-2008 John Robinson