---
Blaze in Chilean port city kills 11, destroys 500 houses
EuroNews ^
Posted on 04/13/2014 1:43:33 PM PDT by DeaconBenjamin
VALPARAISO, Chile (Reuters) – At least 11 people were killed and 500 houses destroyed over the weekend by a fire that devastated parts of the Chilean port city of Valparaiso, as authorities evacuated thousands and sent in aircraft to battle the blaze.
Pushed by strong Pacific coast winds, the fire rampaged over 700 hectares (1,700 acres) of forest and hilly residential neighbourhoods including La Cruz and Las Canas, local authorities said.
A police official said most of the dead appeared to be older people.
Some 1,200 firefighters were battling the blaze, using planes and helicopters to drop water on the flames in the city 135 km (85 miles) northwest of Santiago.
The fire started on Saturday, and most of the damage was done overnight. At daybreak on Sunday, Valparaiso was a stench-filled scene of smoke, ash and sirens as residents picked through their gutted homes and firefighters struggled to put out the remaining active points of the blaze.
"It is still not completely extinguished," said local government official Ricardo Bravo, referring to lingering pockets of fire still burning in higher parts of the city.
Valparaiso's rolling hills and closely built houses, many of them made of wood, make it difficult to combat fires. The city, part gritty port town and part bohemian retreat, has a large number of poor people.
"We are looking for something to remember the house by, but there's nothing," Jose Miguel Rivera, 59, told Reuters as he sifted through the ashes where his home used to be. "We are thinking about rebuilding."
Weather forecasts called for high temperatures and strong winds later on Sunday, a combination that could exacerbate the disaster if the remaining flames were not put out in time.
"We fled from the La Cruz neighbourhood, from an apartment I just got not too long ago. It's all burned down, my sister's house also burnt to the ground," said Rosa Guzman as she stared helplessly up at the hills.
The Chilean Congress, which is housed in Valparaiso, was spared by the blaze, as was the city's historic quarter with its late 19th century architecture.
There were no reports that exports of copper in the world's No. 1 producer of the metal were affected by the fire.
President Michelle Bachelet declared a state of emergency and sent the army to maintain order in the city. Marines patrolled the streets while ambulance crews treated people for smoke inhalation and other injuries.
This is the second emergency that Bachelet has faced in the first month of her new term, after an 8.2 earthquake slammed northern Chile at the start of April.
---
TOPICS: Foreign Affairs; News/Current Events
KEYWORDS:



---
To: DeaconBenjamin
Gas leaks from hidden earthquake damage?
2
posted on
04/13/2014 1:47:27 PM PDT
by
null and void
(The British declared war on the Tea Party. The Tea Party won! (Thanks mom!))
---
To: DeaconBenjamin
---
To: DeaconBenjamin
fires in five different locations, things that make you go hummmm...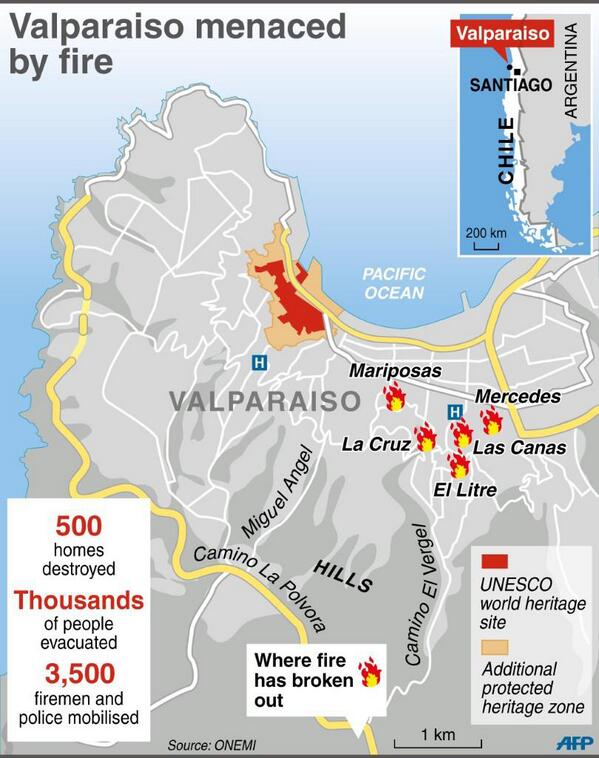 4
posted on
04/13/2014 2:00:59 PM PDT
by
Chode
(Stand UP and Be Counted, or line up and be numbered - *DTOM* -vvv- NO Pity for the LAZY - 86-44)
---
To: DeaconBenjamin
---
FreeRepublic.com is powered by software copyright 2000-2008 John Robinson