---
Investment & Finance Thread (Apr. 13 edition)
Daily investment & finance thread ^ | April 13, 2014 | Freeper Investors


Posted on 04/13/2014 3:35:12 PM PDT by expat_panama

Investment & Finance Thread (Apr. 13 edition)
This is the thread where folks swap ideas on savings and investment --here's a list of popular investing links that freepers have posted here and tomorrow morning we'll go on with our--

Open invitation continues always for idea-input for the thread, this being a joint effort works well. Keywords: financial, WallStreet, stockmarket.

======================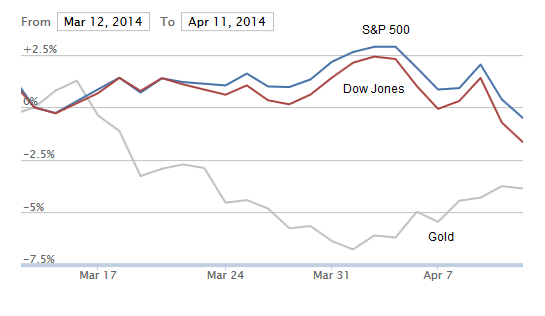 OK, so if April began with "a heck of a week", then it's moving along with another one that's even more so; we're seeing gold'n'silver maintain a rebound and stocks hammering down new lows (from here).
(click to enlarge)
There're many opinions from say, CNNMoney, Investing.com, FTLondon, as to what it all means, but imho Investing Daily (not to be confused w/ IBD) says their take is that this latest shift is money not fleeing the markets but rather 'rotating' from one set of sectors (including 3D printing & exotic meds) to stodgy big caps.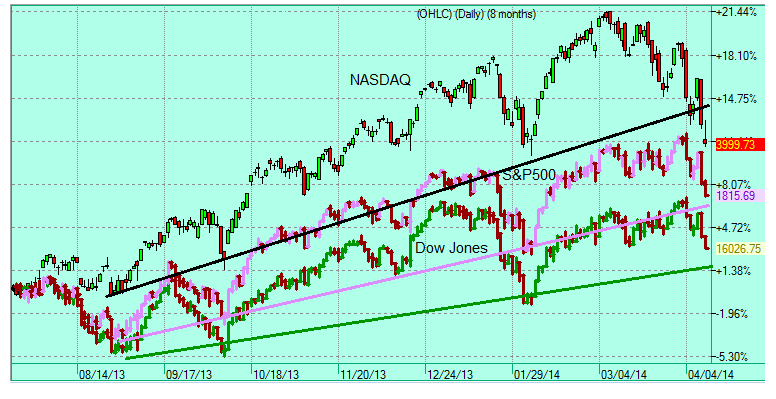 Maybe kind of like what we had at the end of the 'dot.com' bust where the big caps just kept chugging along while the NASDAQ got creamed.
(click to enlarge)
I mean, last Fri. we just saw the NASDAQ crush thru it's longer term support while the big cap Dow/S&P's haven't even got to their support levels yet. My thinking is that this was kind of foretold a week ago when we were watching the techs limping even while the big kids were pegging new highs.
So let's fast-forward to this week's office stock strategy pool. I'm voting for watching for this correction's 'follow-thru-day' and moving back in and enjoying the next run-up.

---
TOPICS: Business/Economy; Government; News/Current Events
KEYWORDS: financial; stockmarket; wallstreet
---
Navigation: use the links below to view more comments.
first 1-50, 51-73 next last
---
---
---
---
---
---
---
---
---
---
---
---
---
---
---
---
---
---
---
---
---
---
---
---
---
---
---
---
---
---
---
---
---
---
---
---
---
---
---
---
---
---
---
---
---
---
---
---
---
---
---
Navigation: use the links below to view more comments.
first 1-50, 51-73 next last
---
---