---
How Will the Ukraine Crisis Affect the Defense Budget?
Government Executive ^ | 28 Apr 14 | Charles S. Clark


Posted on 04/28/2014 3:23:46 PM PDT by SkyPilot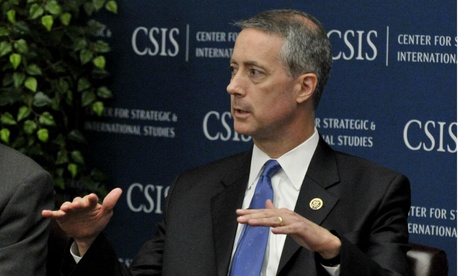 Rep. Mac Thornberry, R-Texas
Russian President Vladimir Putin's ongoing push into Ukraine represents a "startling brazenness not seen in history," a top House defense thinker said on Monday. "It means we need to expand the range of military options for which we have to be prepared," according to Rep. Mac Thornberry, R-Texas, a member of the Armed Service Committee.
On a recent trip to Asia just ahead of President Obama, "I heard that China is a rising power and the U.S. is a declining one, which doesn't mean conflict is inevitable, only that there's the potential for increasing complexity," Thornberry told a Brookings Institution panel on the future of defense spending.
The House Republican leadership, Thornberry said, agrees with Obama's stand on the need to abide by treaty commitments and seek a diplomatic solution to the Ukraine crisis. "But our allies need for us to be a reliable friend, so we must plan for a range of options," he added. "Slowly ratcheting up sanctions as in Ukraine seems not to be effective."
What is needed is a hike in defense spending because "what Russia and China and others respect is strength, the number of ships, and no other language," he added. "There's no magic number of 3 percent or 5 percent that means we're safe," Thornberry said. "But the world is watching what we do, and even though we thought the Cold war was over, what Russia is doing now is a big deal."
His Democratic counterpart, Rep. Rick Larsen of Washington, said Obama's recent trip to Asia to rebalance the U.S. posture there was "largely successful, a work in progress that's progressing." The defense debate must be broad and include discussion of health care, trade, diplomacy and economic growth, he said.

(Excerpt) Read more at govexec.com ...
---
TOPICS: Extended News; Foreign Affairs; Government; News/Current Events
KEYWORDS: budget; defense; military; sequester
---
To: SkyPilot
They are cutting the budget drastically.
---
To: Vinylly
The only agency to suffer actual, real, deep cuts these past 5 years has been the military.
Everything else is on a logarithmic curve upwards of irresponsible spending.
When the next war comes, we are in deep trouble.
---
To: SkyPilot
"represents a "startling brazenness not seen in history,""
LOL!!
Not seen in history?
When in history has weak leadership and utopian idealism NOT led to someone filling the power vacuum created by it??
---
To: SkyPilot
There's going to be a shortage of socks that will have to be funded:
On April 12, The Wall Street Journal reported that the White House was still weighing requests from the Ukrainian government for other supplies such as "medical kits, uniforms, boots and military socks."
"You want to calibrate your chest-thumps," a senior military official told the Journal, explaining this step-by-step approach. "He does something else in Ukraine, we release the socks."
Now, imagine you are Vladimir Putin. You illegally sent Russian soldiers without military insignia into Ukraine (a major violation of the Geneva Conventions). You lied about doing so at the time (Putin has since boasted that he did exactly that).
And your aide brings in the news that a "senior military official" of the United States has announced that if you take another step toward carving up Ukraine, the U.S. will be forced to give the Ukrainians the socks they've been asking for.
Read more here: http://www.fresnobee.com/2014/04/17/3882905/us-threatens-to-sock-russiathe.html#storylink=cpy
5
posted on
05/06/2014 9:06:38 PM PDT
by
Calusa
(Were going to have that person arrested.....that did the video, said Hillary Clinton.)
---
FreeRepublic.com is powered by software copyright 2000-2008 John Robinson