imho this past week is what I'd call a 'head-scratcher', but here are some other people's ho's: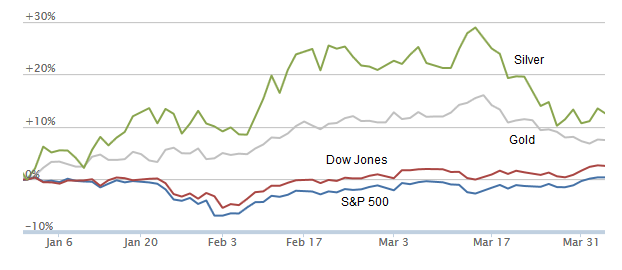 (click on pic to enlarge)
Gold Seeker Weekly Wrap-Up Gold climbed $5.04 to $1294.24 by a little before 8AM EST before it dropped back to $1285.54 in the next four and a half hours of trade, but it then bounced back higher into the close and ended with a loss of just 0.04%. Silver slipped to as low as $19.052 and ended with loss of 0.1%.

Next week's economic highlights include the Treasury Budget on Monday, Retail Sales, Export and Import Prices, and Business Inventories on Tuesday, PPI on Wednesday, Initial Jobless Claims, CPI, Empire Manufacturing, Net Long-Term TIC Flows, Industrial Production, Capacity Utilization, the Philadelphia Fed, and the NAHB Housing Market Index on Thursday, and Housing Starts, Building Permits, and Michigan Sentiment on Friday...

Investing.com Weekly Wrap-Up 09 May 2014 U.S. stocks rose on Friday as bottom fishers snapped up nicely priced technology shares and looked past escalating tensions in Ukraine, sending the Dow Jones Industrial Average to an all-time high. At the close of U.S. trading, the Dow 30 rose 0.20% to close at a record-high 16,583.34, the S&P 500 index rose 0.15%, while the NASDAQ Composite index rose 0.50%. Follow up: Technology and biotech shares have taken a beating in recent sessions, as investors have viewed the sector as too frothy...

Newscast: Stocks edge higher

4:25 p.m. May 9, 2014 - By MarketWatch Newscast: Stocks edge higher. Steve Orr reports on the closing numbers, including a new record high for the Dow.. Last Update: 4:25 PM May 9, 2014 Wall Street had hired wrap up the week the Dow industrials also closed at a fresh record high then...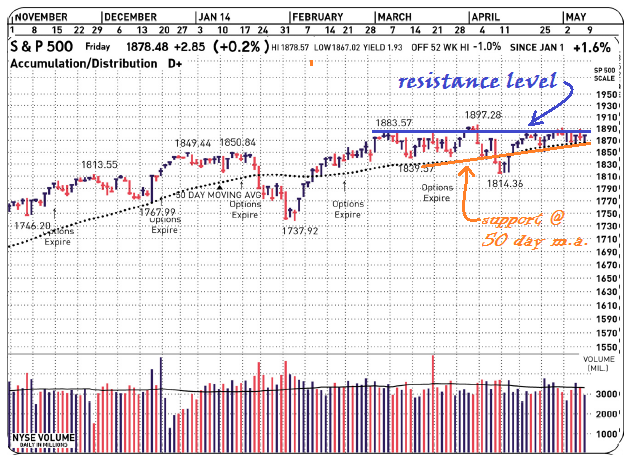 (click on pic to enlarge)
Honestly, this still isn't anything we could call 'market direction'.
OK, so the Dow hit a record. Sort of. More likely what the large caps are hitting is a tightening range between solid resistance and firm support. Then again, while what we've been seeing is flat/nowhere, this kind of pattern is usually what gurus refer to as 'bullish' because it bespeaks consolidation and presents a solid base to build on.