---
UKRAINE: Extremists in the East of Ukraine kill, kidnap and torture people, - UN
news.pn ^ | 16 May 2014 19:32 | Deutsche Welle


Posted on 05/16/2014 7:32:14 PM PDT by UMCRevMom@aol.com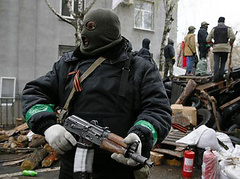 Separatists in the east of Ukraine «are well organized and armed» , it is spoken in the new report of the High Commissioner of the UN on human rights of Navi Pillay. According to the document, fighters are guilty in «purposeful murders, tortures, beatings, stealing, intimidation».
So, according to authors of the report, especially often foreign and Ukrainian journalists become victims of similar crimes. It is reported that tens employees of mass media faced threats in the address, were stolen or illegally were late. Experts of the UN expressed concern and in connection with a problem of safety of candidates for president of Ukraine.
Пиллай also I declared about «serious problems» in annexed by Russia to the Crimea, whose authorities are engaged in intimidation and prosecution of representatives of the Crimean Tatars, writes AFP. Meanwhile in the report the considered UN «also is mentionedcredible messages» , which testify that representatives of the Ukrainian army are guilty of kidnappings also, writes Reuters.
The report is prepared following the results of work of observation mission which was in Ukraine from April 2 to May 6.
In Moscow the document already called biased and having «it isn't enough of general with a real state of affairs». According to the representative Russian Foreign Ministry of Alexander Lukashevich, authors of the report «carried out the political order on a whitewash» the managements in Kiev.
We will remind, in east regions of Ukraine and in the Crimea where gangs of the Russian terrorists from FSB and GRU, people workabduct in broad daylight, arrange tortures, murders, beatings and terror.
According to the State Office of Public Prosecutor on Donbass from application of the firearms which have fallen into hands of terrorists, already 78 people were lost.

---
TOPICS: Foreign Affairs; News/Current Events
KEYWORDS: separatists; ukraine



---
FreeRepublic.com is powered by software copyright 2000-2008 John Robinson