---
To: DoughtyOne
Anything other than returning these people to their nation of origin will decimate our nation. 20-35 million new voters, 70% or more of which will vote for the Democrats..., game over.
AND if this is allowed to transpire, the southern border is effectively erased forever.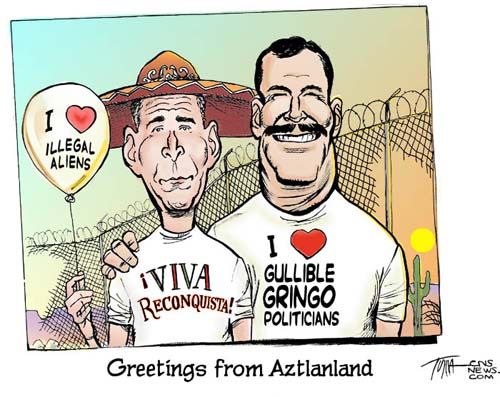 13
posted on
06/12/2014 10:26:12 AM PDT
by
Cheerio
(Barry Hussein Soetoro-0bama=The Complete Destruction of American Capitalism)
---
To: Cheerio
I agree with your line of reasoning there.
I will say that up until about five years ago, I pretty much saw the lines breaking down like the graphic depicts.
Truth is, the illegal aliens have disburses across this nation.
In 2000 I picked up a copy of the Washington Post. On the front page it was heralding a 300% increase in the hispanic population in the area around Washington, D. C.
This is a national problem today. Here on Free Republic you can find articles talking about the devastation in local school systems across the nation, as they have to deal with the dynamic of children who don't speak English, and mushroom the student population massively in a short period of time.
You can also read about the stress this puts on the health care community, in cities across our nation.
This whole nation is in trouble based on this blight.
---
FreeRepublic.com is powered by software copyright 2000-2008 John Robinson