---
Iraq Crisis ... The Bare Faced ISIS Executioner Who Beheads Those Who Fail 'Quranic Quiz'
The Telegraph ^ | 14 Jun 2014 | Colin Freeman


Posted on 06/15/2014 1:01:02 PM PDT by DogByte6RER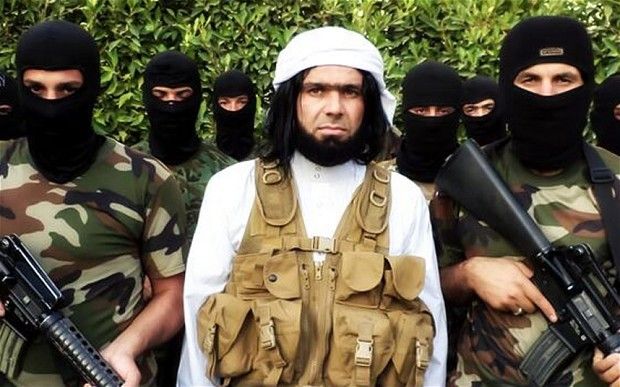 Iraq crisis: the bare faced ISIS executioner who spreads terror with his open killing
• Shakir Wahiyib is a feared enforcer for the Islamic State of Iraq and al-Sham who does not cover up his face in videos of his killings
In an army full of masked, black-clad figures, he is the one man who is never shy to show his face. But for those unlucky enough to cross him, the face of Shakir Wahiyib, a feared enforcer for the Islamic State of Iraq and al-Sham, is often the last they will ever see.
The star of a series of grisly jihadist videos, including one in which three men are executed after failing his "Quranic quiz", Wahiyib is one of the few publicly-identified leaders of the shadowy jihadist group that has swept through northern Iraq.
The movement, otherwise known as ISIS, generally instructs its followers to keep their faces masked to minimise the chances of them being tracked down by the Iraqi government. But while its commander-in-chief, Abu-Bakr al-Baghdadi, is even said to disguise himself while meeting fellow commanders, Wahiyib has no such reservations. Showing considerable relish for his work, he grins for the lenses of jihadi cameramen he goes on the rampage with his masked underlings.
However, the endless photo ops of him posing with machine guns and interrogating terrified prisoners is not just a matter of personal vanity. Instead, it seems to be an attempt by an otherwise anonymous organisation to graft a menacing human face onto its campaign of terror – a sergeant-at-arms who is all too real, and very clearly active on the ground.

(Excerpt) Read more at telegraph.co.uk ...
---
TOPICS: Crime/Corruption; Foreign Affairs; Miscellaneous; News/Current Events; Syria; War on Terror
KEYWORDS: alqaeda; decapitate; executioner; fail; iraq; isis; islam; islamofascism; jihad; jihadi; koran; muhammadsminions; muslims; offwithhishead; quiz; quizfail; quran; quranicquiz; sharia; terrorism; therelgionofpeace; unibrow
---
Navigation: use the links below to view more comments.
first 1-50, 51-53 next last
---
---
---
---
---
---
---
---
---
---
---
---
---
---
---
---
---
---
---
---
---
---
---
---
---
---
---
---
---
---
---
---
---
---
---
---
---
---
---
---
---
---
---
---
---
---
---
---
---
---
---
Navigation: use the links below to view more comments.
first 1-50, 51-53 next last
---
---