---
UKRAINE: Lukashenko allows Yanukovych to come to Belarus (AUDIO)
ukr.lb.ua ^ | June 16, 2014 , 11:27


Posted on 06/16/2014 4:29:27 AM PDT by UMCRevMom@aol.com

Lukashenko allowed Yanukovych to come to Belarus (AUDIO)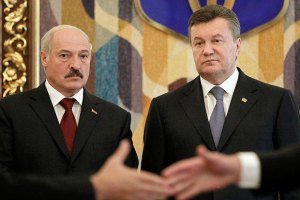 Photo: EPA / UPG Related news:
Yanukovych is in, as requested to ensure his safety, - Foreign Ministry Russia sheltered Yanukovych
The youngest son of former guarantor "pay off" for this golden loaf
Former President of Ukraine Viktor Yanukovych considers the possibility of moving from Russia to Belarus.
This is stated in the audio recording that was in the wording LB.ua . On the record man whose voice like the voice of a National Deputy Viktor Yanukovych Jr., talks to a man whose voice is like the voice of the President of Belarus Alexander Lukashenko.
"I wanted to talk about. Regarding what is now the father situation is somewhat not very good, you know. Did you solve the issue - a contingency plan - to leave you for a while, if the situation is?" - Asked during a telephone conversation with the man voice, like the voice of Yanukovych Jr..
"You must have missed my public statement about it when I started in Kyiv journalists questioned about Yanukovych: Do you provide asylum and so on. He, you know, I did not ask about it in the first place. Secondly, he did not flee refugee and nowhere is going. Thirdly, I say, do not forget that its roots in Belarus and to the extent that there is his village. So if he decides to return to his village forever or that it is unlikely I did not dare to contradict, "- replied to the man with a voice like the voice of Alexander Lukashenko.
Read: Lukashenko about Yanukovych: remove a president in Ukraine
He said he did not have the right to ban Yanukovych to get to their land. This likely Yanukovych Jr. said that the environment of ex-president fears that he may become pawns in a political game and for some situations it can convey Ukraine.
"I'm just afraid that they are there to deal with him without trial," - he added.
"This goes against my principles: no reprisals against Yanukovych cannot be. They let him thank you say that it is not their heads poskruchuvav all., Why did Yanukovych, then he commanded never to open fire. Had he opened fire, after 10 rounds there would be no one left. therefore it is a lie, "- said this likely Lukashenko.
"Let's do this: Viktor Yanukovych tell you that it is less watching TV and reading newspapers. Friend if he wants to come to Belarus - ever. Only you tell me a day. Arrive family may get one - as solve" - added a man with a voice like the voice of the President of Belarus.
During the conversation likely Yanukovych Jr. also promised to give Lukashenka golden loaf as a sign of friendship. He noted that despite looted the residence, they "were still some things."
Read: In Mezhyhir \ 'found her golden loaf
Lukashenko said this, he had a conversation with the former acting President Alexander Turchinov about it. "They wanted to shred there, and I told him: you, Sasho, keep in mind that I have seen this house territory. Such Kiev nowhere if you destroy it all, a penny you price. Nobody sell nothing ruin., I said to him, not so good when someone else in the house, people go, "- said the president of Belarus.
He also promised to meet soon with President Peter Poroshenko and discuss the issue.
At the end of the conversation Yanukovych Jr. said that there is another option - moving Yanukovych's "Novorossia." "They think to combine Luhansk and Donetsk regions in some" Novorossia "and perhaps his father invited as one of the leaders," - he said.

---
TOPICS: Foreign Affairs; News/Current Events
KEYWORDS:



---
To: UMCRevMom@aol.com
Ah what a democratic paradise Belarus
enjoy yourself and go get a radiation suntan (due to Chernobyl)
---
FreeRepublic.com is powered by software copyright 2000-2008 John Robinson