~ The FReeper Canteen Presents ~
~ Remembering Our Troops!! ~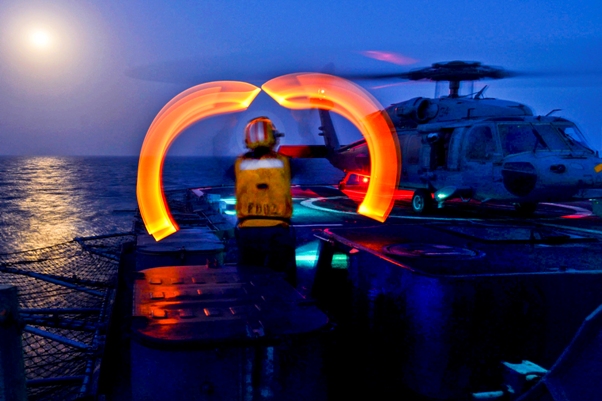 ARABIAN NIGHTS
U.S. Navy Petty Officer 2nd Class Janet Lee signals to pilots assigned to Helicopter Sea Combat Squadron 26 on the flight deck of the guided-missile cruiser USS Monterey in the Arabian Gulf, July 22, 2013. The Monterey is deployed to support maritime security operations and theater security cooperation efforts in the U.S. 5th Fleet area of responsibility. Lee is a boatswain's mate. U.S. Navy photo by Petty Officer 3rd Class Billy Ho







Canteen Mission Statement
Showing support and boosting the morale of
our military and our allies' military
and family members of the above.
Honoring those who have served before.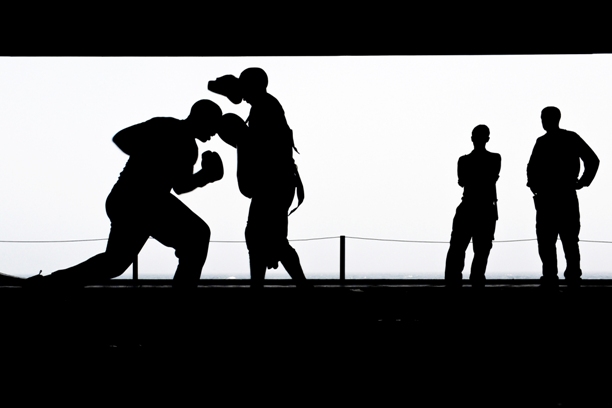 SHADOW BOXING
U.S. Petty Officers 2nd Class Lamonte Jordan and 3rd Class Mustapha Cunningham practice boxing in the hangar bay aboard the aircraft carrier USS Nimitz in the North Arabian Sea, July 23, 2013. The Nimitz Carrier Strike Group is deployed to the U.S. 5th Fleet area of responsibility conducting maritime security operations, theater security cooperation efforts and support missions for Operation Enduring Freedom. U.S. Navy photo by Seaman Derek A. Harkins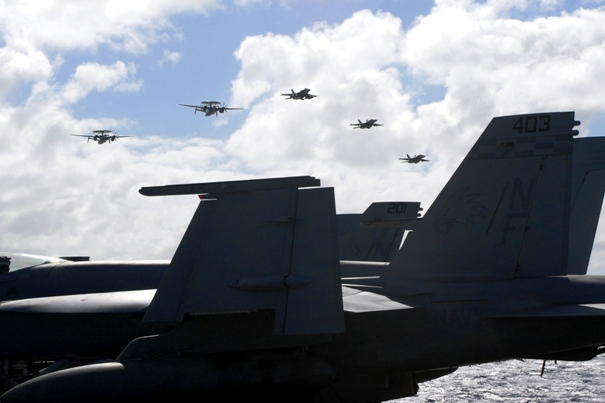 TALISMAN FORMATION
E-2C Hawkeyes from the Liberty Bells of Airborne Early Warning Squadron 115, left; F/A-18E Super Hornets from the Eagles of Strike Fighter Squadron 115, middle, and an F/A-18E Super Hornet from the Dambusters of Strike Fighter Squadron 195 fly over the USS George Washington in the Coral Sea, July 28, 2013. The George Washington and its embarked air wing, Carrier Air Wing 5, are currently participating in exercise Talisman Saber 2013. U.S. Navy photo by Petty Officer 3rd Class Michelle N. Rasmusson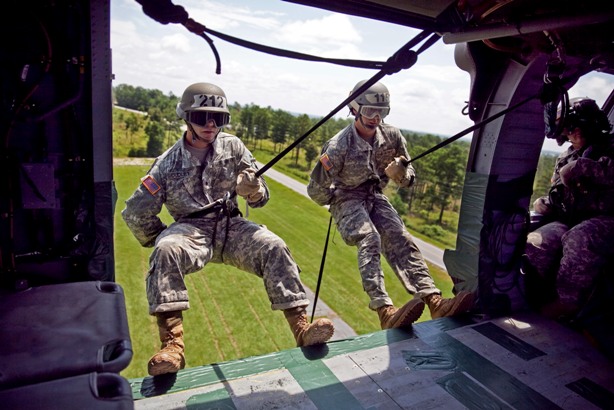 READY TO RAPPEL
Army Cadets Timothy Dudley, left, and Nicholas Calderon get into position to rappel out of a UH-60 Black Hawk helicopter during the last phase of an air assault course on Fort Benning, GA, July 23, 2013. U.S. Army photo by Ashley Cross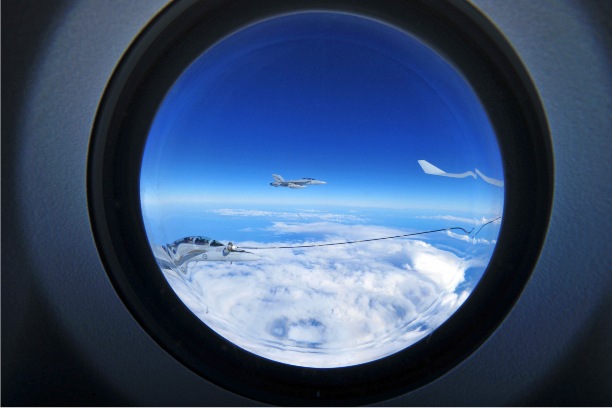 BIRD'S-EYE VIEW
Two Australian air force F-18 super hornets refuel off the coast of Queensland, Australia, July 26, 2013. The refueling mission was part of Talisman Saber 2013, a biennial exercise designed to enhance collaboration between U.S. and Australian forces for future combined operations, humanitarian assistance and natural disaster response. U.S. Air Force photo by Staff Sgt. Rachelle Coleman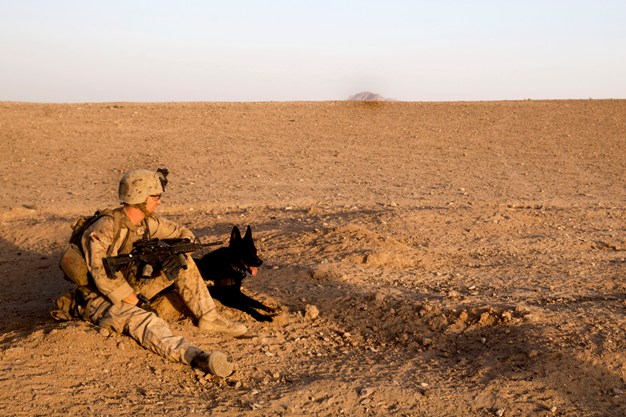 TAKING IN THE TERRAIN
U.S. Marine Corps Cpl. Adam Cook and his military dog, Falco, take a break during a patrol in Mohammad Abad village in Afghanistan's Helmand province, July 23, 2013. Cook, a dog handler, and Falco are assigned to the 2nd Law Enforcement Battalion. U.S. Marine Corps photo by Cpl. Geoffrey K. Scarborough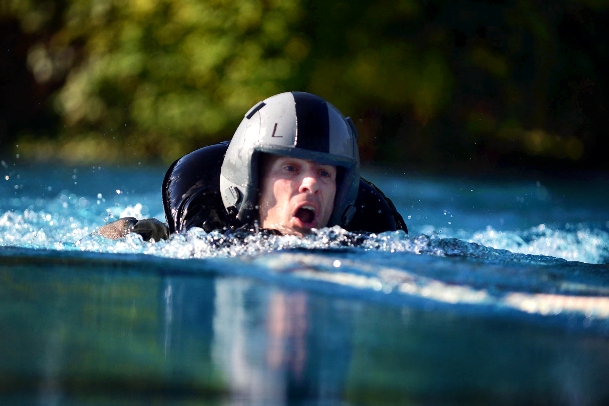 WATER SURVIVAL
Air Force Lt. Col. Steve Horton stays afloat while being dragged by a parachute harness during water survival training at Spangdahlem Air Base, Germany, July 19, 2013. Horton is the commander, 52nd Operations Group. Pilots must learn how to disengage from a parachute while being dragged across open water by the wind to ensure their safety in real-world situations. U.S. Air Force photo by Airman 1st Class Gustavo Castillo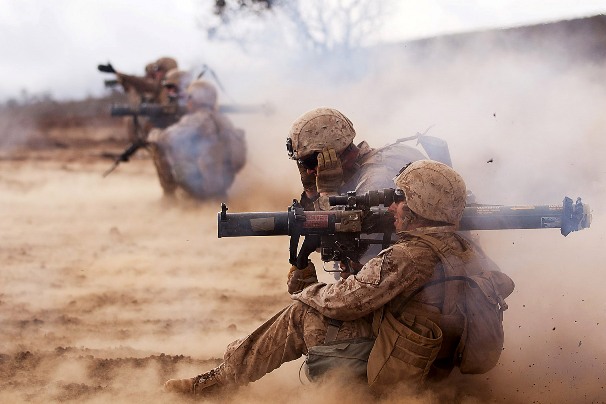 LAVA VIPER
U.S. Marine Corps Pfc. Matthew Bollig, front, and Pfc. Ryan Kelly, fire an 83 mm high explosive dual-purpose rocket from a shoulder-fired multipurpose assault weapon in a paired volley fire at the Infantry Platoon Battle Course, Range 10, in the Pohakuloa Training Area, Hawaii, July 20, 2013. The mock attack was part of Exercise Lava Viper, a battalion-level combined-arms exercise designed to enhance the abilities of ground combat and support element Marines. U.S. Marine Corps photo by Cpl. Matthew Callahan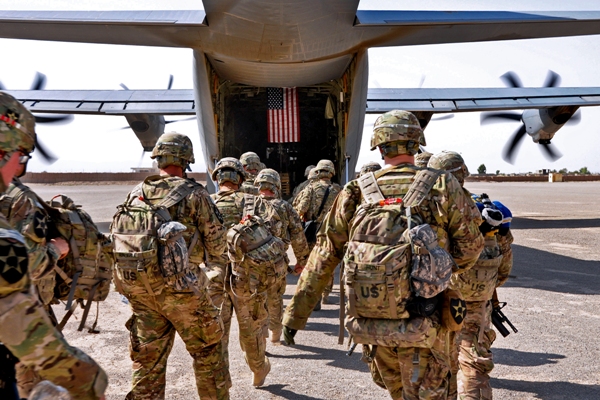 GOING HOME
U.S. soldiers board an Air Force C-130 as they depart Forward Operating Base Farah for Joint Base Lewis-McChord, Wash., following a two-month tour of duty with Provincial Reconstruction Team Farah, Afghanistan, July 23, 2013. The soldiers are assigned to 2nd Battalion, 12th Field Artillery Security Force. U.S. Navy photo by Lt. Chad A. Dulac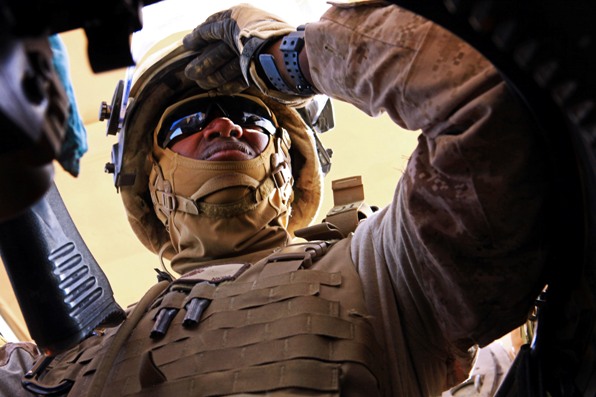 SECURITY WATCH
U.S. Marine Corps Cpl. Kenneth Benton provides security from his machine gun turret during a combat logistics patrol in Helmand province, Afghanistan, July 25, 2013. Benton, a technical controller, is assigned to Transportation Support Company, Combat Logistics Regiment 2, Regional Command, Southwest. U.S. Marine Corps photo by Cpl. Paul Peterson

Please remember that The Canteen is here to support
and entertain our troops and veterans and their families,
and is family friendly.