Our Troops Rock! Thank you for all you do!
For the freedom you enjoyed yesterday... Thank the Veterans who served in The United States Armed Forces.
Looking forward to tomorrow's freedom? Support The United States Armed Forces Today!
---
~ Hall of Heroes ~

David H. McNerney

Info from here.





David Herbert McNerney (June 2, 1931 – October 10, 2010) was a United States Army soldier and a recipient of the United States military's highest decoration—the Medal of Honor—for his actions in the Vietnam War. A native of Massachusetts who moved to Houston, Texas, as a child, McNerney served in the U.S. Navy during the Korean War before enlisting in the Army. He earned the Medal of Honor as a first sergeant on March 22, 1967, for taking command of his company during an attack by a numerically superior North Vietnamese force. Although wounded, he organized the unit's defense, exposed himself to hostile fire in order to mark and clear a helicopter landing site, and refused to be evacuated until a new commander arrived the next day. McNerney retired from the military in 1969, after serving four tours of duty in Vietnam, and began a career as a customs inspector in Houston.
McNerney was born in Lowell, Massachusetts, on June 2, 1931, into an Irish Catholic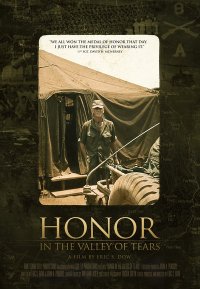 family with a history of military service. He was one of five children of Edward and Helen McNerney; his siblings were Ruth, Edward, Richard, and Susan. His father was a decorated World War I veteran, having received the Distinguished Service Cross, Silver Star, and two Purple Hearts. Two of his siblings served in World War II, Ruth as an Army nurse and Edward as a submariner on the USS Dace, and a third, Richard, was an Air Force fighter pilot in Vietnam. McNerney's family moved to Houston, Texas, in the early 1940s and he graduated from St. Thomas High School there in 1949. He soon enlisted in the United States Navy and served two tours in Korea during the Korean War before his 1952 discharge. Briefly attending the University of Houston, McNerney disliked school and decided to join the Army after seeing a recruiting poster on campus. In 1961, McNerney married Parmelia Marie "Charlotte" Moeckel; the couple had no children. Parmelia died in 2003.
After enlisting in the Army in 1953 at Fort Bliss, Texas, McNerney was stationed overseas in Korea and Okinawa. In 1962, he volunteered for special warfare training and was among the first 500 U.S. military advisers sent to Vietnam. He was deployed to that country a second time in 1964.[1] In late 1966, McNerney began his third tour of duty in Vietnam. By March 21, 1967, he was stationed in the Central Highlands near the Cambodian border as a first sergeant with Company A, 1st Battalion, 8th Infantry Regiment, 4th Infantry Division. On that afternoon, he and his company were dropped by helicopter into Polei Doc to search for a missing reconnaissance team. After camping for the night, the unit advanced on the morning on March 22 and came under attack by a North Vietnamese force three times their size. McNerney moved to the front to assess the situation and was wounded by a grenade. When the company commander and forward observer were killed, he assumed command of the unit and began organizing the defense. He called in air strikes to within 65 feet (20 m) of his own position and marked the unit's location by climbing a tree, in full view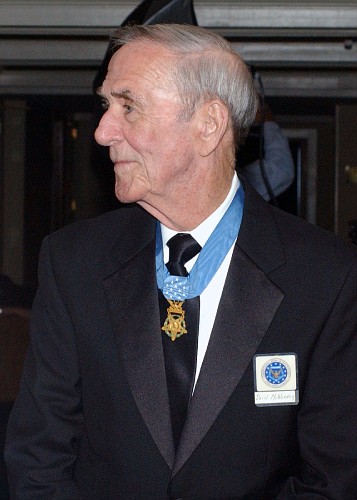 of the hostile soldiers, and tying an identification marker to the upper branches. Braving heavy fire to collect demolition equipment which had been dropped early in the battle, he blew up trees in order to clear a landing site for a helicopter extraction. Despite his wounds, he refused to be evacuated himself and stayed with the company until a new commander arrived the next day. For his actions during the battle, McNerney was awarded the Medal of Honor. McNerney returned to the United States in August 1967 and worked as a training instructor at Fort Dix, New Jersey. During a ceremony at the White House on September 19, 1968, he was formally presented with the Medal of Honor by President Lyndon B. Johnson. He volunteered for a fourth tour in Vietnam with Co B, 2nd Bn, 8th Inf Reg, 1st Cavalry Division before retiring as a first sergeant in December 1969.
After his military career, McNerney returned to the Houston area and settled in Crosby. He worked at the Port of Houston as an inspector with the United States Customs Service, a job he held from 1970 until his final retirement in 1995. In his later years he attended numerous public speaking engagements and events in his honor and was involved in Crosby's American Legion post and Junior Reserve Officers' Training Corps program. On August 24, 2004, McNerney donated his Medal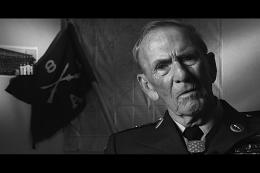 of Honor to his alma mater, St. Thomas High School, at a ceremony inducting him into the school's Hall of Honor. A documentary entitled Honor in the Valley of Tears, which tells the story of McNerney's company in Vietnam and details his Medal of Honor action, premiered at the May 2010 GI Film Festival. The film was co-written by the son of one of McNerney's soldiers. McNerney battled lung cancer which was declared terminal in the spring of 2010. He entered hospice care at Houston's DeBakey VA Medical Center in early October and died there a week later, on the morning of October 10, 2010. He was buried at Houston National Cemetery on October 16.
McNerney's official Medal of Honor citation reads:
1st Sgt. McNerney distinguished himself when his unit was attacked by a North Vietnamese battalion near Polei Doc. Running through the hail of enemy fire to the area of heaviest contact, he was assisting in the development of a defensive perimeter when he encountered several enemy at close range. He killed the enemy but was painfully injured when blown from his feet by a grenade. In spite of this injury, he assaulted and destroyed an enemy machinegun position that had pinned down 5 of his comrades beyond the defensive line. Upon learning his commander and artillery forward observer had been killed, he assumed command of the company. He adjusted artillery fire to within 20 meters of the position in a daring measure to repulse enemy assaults. When the smoke grenades used to mark the position were gone, he moved into a nearby clearing to designate the location to friendly aircraft. In spite of enemy fire he remained exposed until he was certain the position was spotted and then climbed into a tree and tied the identification panel to its highest branches. Then he moved among his men readjusting their position, encouraging the defenders and checking the wounded. As the hostile assaults slackened, he began clearing a helicopter landing site to evacuate the wounded. When explosives were needed to remove large trees, he crawled outside the relative safety of his perimeter to collect demolition material from abandoned rucksacks. Moving through a fusillade of fire he returned with the explosives that were vital to the clearing of the landing zone. Disregarding the pain of his injury and refusing medical evacuation 1st Sgt. McNerney remained with his unit until the next day when the new commander arrived. First Sgt. McNerney's outstanding heroism and leadership were inspirational to his comrades. His actions were in keeping with the highest traditions of the U.S. Army and reflect great credit upon himself and the Armed Forces of his count
Please remember the Canteen is here to honor, support and entertain our troops and their families. This is a politics-free zone! Thanks for helping us in our mission!
Thank you, Ms. Behavin, for the heads up on this one!! *HUG*