---
Nebraska is first to digitize homestead records
Journal Star ^ | July 3, 2014


Posted on 07/04/2014 2:46:33 AM PDT by NYer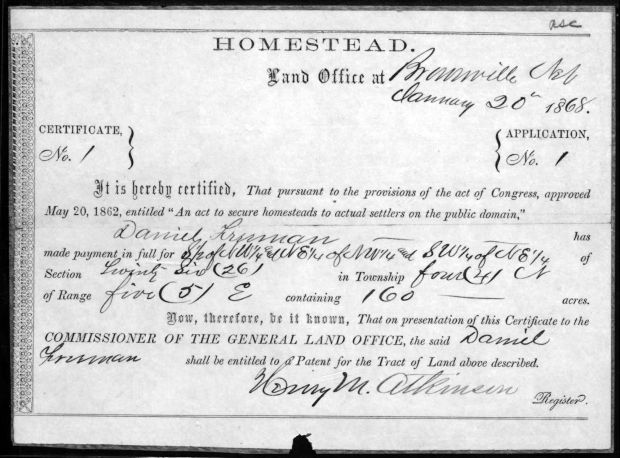 Daniel Freeman's Homestead certificate dated May 20, 1862.
It's a task that would give even the most dedicated librarian gray hair: digitizing 30 million homesteading documents from 30 states.
Where to start?
How about Nebraska? Where 45 percent of all land was given to homesteaders -- the largest percentage of land distributed by any of the 30 states under the Homestead Act of 1862.
A consortium including the Center for Great Plains Studies, Homestead National Monument of America, Center for Digital Research in the Humanities, National Archives and Records Administration, plus several private family history companies, began the daunting task five years ago.
On Monday, they celebrated completion of a major milestone: the digitization of 76,871 case files containing more than 1.6 million images related to homesteading in Nebraska.
"Nebraska is the first," Homestead National Monument Superintendent Mark Engler told a gathering at the Center for Great Plains Studies in Lincoln on Monday.
Illinois and Indiana homesteading records are also done and will soon be online. Arizona, Iowa, Ohio, Nevada and Alaska are next.
"Scholars are already mining the information found in these records," said Rick Edwards, director of the Center for Great Plains Studies. "I believe that once the records of all homesteading states are digitized and indexed, scholars will find so many surprising insights that will lead them to propose a whole new understanding of the settlement of the American West."
It was Engler who came up with the idea of making homesteading records kept at the National Archives in Washington, D.C., more accessible to scholars, historians, genealogists and the public.
One of the first people to file a claim under the Homestead Act was Daniel Freeman. His claim is now the site of Homestead National Monument of America west of Beatrice.
"I think we've done well. When we started this project, it seemed like the digitization of every Nebraska record was a bit of a dream," Edwards said.
Kay Walter, director of the Center for Digital Research in the Humanities, credited the many volunteers and students who helped scan homesteading files by hand. It was no easy task. The tri-folded documents were kept in boxes at the National Archives.
The documents were printed in different fonts, and handwriting had to be transcribed. Case files contained information including the size of a sod house, improvements made to the land, some family history and the country of origin if they were immigrants -- all important to historians and genealogists.
Engler said such information has the potential to not only change the lives of people searching for their family roots, it could help Americans in general better understand and interpret American history.
In all, 270 million acres were settled by homesteaders in the 30 states, or about 10 percent of all the land in the U.S., Engler said. Those homesteaders had 93 million descendants, close to a third of this country's current population.
Blake Bell, historian at Homestead Monument, said the actual work of digitizing the records was unremarkable and mundane, reminding him of the work homesteaders did: farming.
"They did not realize they were creating history," he said.

---
TOPICS: Culture/Society; Extended News; Government; US: Nebraska
KEYWORDS: history; homesteading



---
To: SunkenCiv
Ping!

2
posted on
07/04/2014 2:47:16 AM PDT
by
NYer
("You are a puff of smoke that appears briefly and then disappears." James 4:14)
---
To: GreyFriar
3
posted on
07/04/2014 7:04:20 AM PDT
by
NYer
("You are a puff of smoke that appears briefly and then disappears." James 4:14)
---
To: NYer
Thank you. Digitizing historical documents and records and putting them on the internet is a great boon to historians and folks with historical interests. Unfortunately it is not as easily done as some folks think. After the initial digitization, the tifs must be checked for clarity, combined into pdf files, made word searchable, and given meta tags to make them come up on an internet search. And finally get a website up and running to which the historical records are posted. And it takes money to pay for this.
thus patience should be given to those who have the records to get them on the web. I'm just not speaking from theory on this, but what I have personal experience in trying to accomplish.
---
FreeRepublic.com is powered by software copyright 2000-2008 John Robinson