---
UKRAINE: The Flag of Ukraine raised over Slavic: the security forces restore life in the city
www.unian.ua ^ | 05.07.2014 | 1 4:53


Posted on 07/05/2014 6:50:57 AM PDT by UMCRevMom@aol.com
Over Slavic hoisted National Flag of Ukraine, the security forces started the restoration of city life.
According to the press service of the President, the Minister of Defence of Ukraine, Colonel-General Valery Geletey and Chief of Army Staff, Lieutenant-General Viktor Muzhenko reported to the President of Ukraine Petro Poroshenko that the City Council of the Slavic hoisted National Flag of Ukraine.
"Mr. President, Supreme Commander, your order for release of Slavic fighters met. At that moment on the City Council before the parade Slavic Ukrainian soldier was hoisted National Flag of Ukraine ", - said Geletey.
He also noted that the order of the President of Ukraine on the restoration of social services and the police of the city Slovyansk taken for execution.
"We started the restoration of city life," - said Geletey.
The President said he welcomed the military, and gave orders to the rest of the day to present awards to Ukrainian soldiers who distinguished themselves during the liberation settlements Mykolayivka, Semenivka and city Sloviansk.
The leaders of the armed forces also reported the Supreme current state of anti-terrorist operations.
Yes, Kramatorske intelligence of mouth is the city to check for the possibility of mining it for future conduct of combat operations.
The President instructed termination of cities and towns to ensure maximum protection of civilians.
In Slavic starts mission to provide humanitarian assistance to all those in need.
The village Mykolaivka freed from the militants yesterday, started working temporary administration appointed head of the police.
As UNIAN reported earlier, pro-Russian separatists with the support of Russian terrorists took over Slavic in mid-April.
Today ATO forces dislodged from Slavic large number of terrorists who went to Kramatorska.
Later in social networks reported that thousands of terrorists and Slavic Kramatorska move to Donetsk .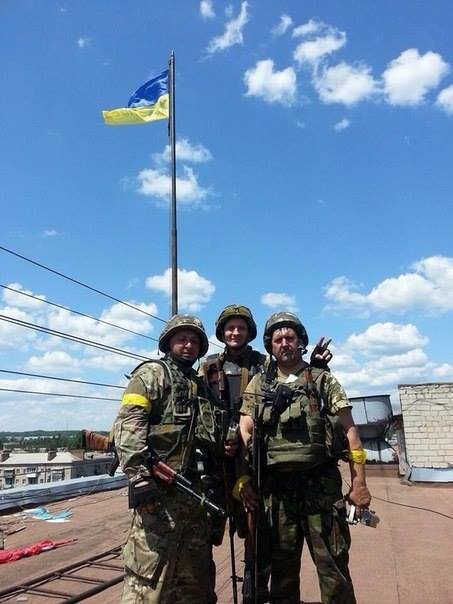 ---
TOPICS: Foreign Affairs; News/Current Events
KEYWORDS: military; ukraine

We have "guests" in Donetsk, in the covered market, a former SBU came a lot of armed men in cars and vans. In the Makeyevka/penitentiary of the bypass approaching are trucks and armored vehicles.

We still continue our prayers, in the heart of the city stands the prayer tent, just serve people-distributing food kits to refugees from Slavyansk.

Just help money to refugees, as many in the pockets on the left is 50 UAH. Pray for Donetsk, I hope it does not become a second Slavic.

---
To: UMCRevMom@aol.com
Good news, thanks for posting
2
posted on
07/05/2014 7:45:50 AM PDT
by
free_life
(If you ask Jesus to forgive you and to save you, He will.)
---
FreeRepublic.com is powered by software copyright 2000-2008 John Robinson