---
UKRAINE Lugansk region: Terrorist kidnap orphans (...again!)
www.unian.ua ^ | 27.07.2014 | 00:03


Posted on 07/26/2014 4:40:39 PM PDT by UMCRevMom@aol.com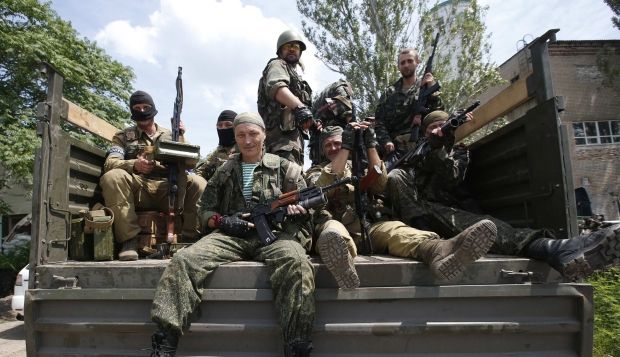 Ministry of Health: among more than 60 children 16 babies kidnapped by terrorists
Among the more than 60 orphans who were trying to take out the terrorists Lugansk region in Russia: 16 under the age of one year. "According to current information, a group of terrorists from the so-called" FSC "today around 17:15 hours.
Kidnapped from the orphanage Lugansk 61 children, 16 of them - up to a year, and without the proper permits two buses trying to take them to the Russian Federation . All children need constant medical supervision,"- said the ministry.
Among the hostages is also a boarding 19 employees, including the chief physician.
Read takozhTerorysty holding hostage 90 orphans under the age of 4 years' information on this egregious crime are brought to the attention of foreign countries and international organizations. Particular, MFA of Ukraine immediately addressed a note to the Russian Federation for categorical requirement to prevent the illegal export of Ukrainian children orphans in Russia," - reported in the Ministry of Health. Ministry of Health of Ukraine together with the Ministry of Foreign Affairs calls on the international community to exert all efforts in order to make the terrorists immediately release the Ukrainian orphans and not make them hostage to criminal terrorist activity, said at the end of the statement.

---
TOPICS: Culture/Society; Foreign Affairs; News/Current Events
KEYWORDS:



---
To: UMCRevMom@aol.com
Just like the Nazis used to do. Again, we see that the Russians are the real Nazis.
---
To: UMCRevMom@aol.com
Oh c'mon. I know you have personal involvement in this crisis and care deeply. I don't agree with your viewpoint, but respect your sincerity.
But KIDNAPPING BABIES??? That's just too weird.

---
To: UMCRevMom@aol.com
They've also been kidnapping foreigners.
4
posted on
07/26/2014 6:54:00 PM PDT
by
Paleo Conservative
(Just because you're paranoid doesn't mean they're not really out to get you.)
---
To: grania
Let's look from another angle. Government forces are bombing the city, basic services are barely available and how do they expect the rebels to provide for babies who needs extensive healthcare? I bet Kiev government wants to kill these children with airsrikes and have them buried in a mass grave to unearth and present them as 'tortured victims of Russian terrorists'.
It is exactly what happens in 'liberated' Slovyansk.
---
FreeRepublic.com is powered by software copyright 2000-2008 John Robinson