---
To: fishtank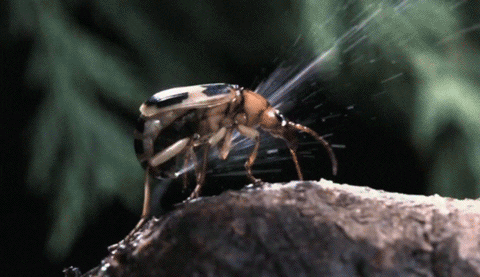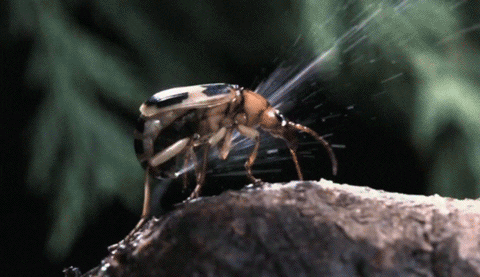 2
posted on
02/09/2018 11:47:08 AM PST
by
fishtank
(The denial of original sin is the root of liberalism.)
---
To: fishtank; Simon Green; teeman8r; ctdonath2; DungeonMaster
from the article:
"Creation scientists have long used them to challenge evolutionary theory.
Can the Darwinians fight back? "
All of science begins with the following question:
"Is there a natural explanation for what we see?"
If the answer is "no", then no science is possible, but if the answer is "maybe" then science can do its thing.
So, in the case of the Bombardier Beatle, here's what science says:
"The full evolutionary history of the beetle's unique defense mechanism is unknown, but biologists have shown that the system could have theoretically evolved from defenses found in other beetles in incremental steps by natural selection.[7][8]
Specifically, quinone chemicals are a precursor to sclerotin, a brownish substance produced by beetles and other insects to harden their exoskeleton.[9]
Some beetles additionally store excess foul-smelling quinones, including hydroquinone, in small sacs below their skin as a natural deterrent against predators—all carabid beetles have this sort of arrangement.
Some beetles additionally mix hydrogen peroxide, a common by-product of the metabolism of cells, in with the hydroquinone; some of the catalases that exist in most cells make the process more efficient.
The chemical reaction produces heat and pressure, and some beetles exploit the latter to push out the chemicals onto the skin; this is the case in the beetle Metrius contractus, which produces a foamy discharge when attacked.[10]
In the bombardier beetle, the muscles that prevent leakage from the reservoir additionally developed a valve permitting more controlled discharge of the poison and an elongated abdomen to permit better control over the direction of discharge.[7][8]"
In other words, squirting is not uncommon among insects and likely came first, with chemicals squirted becoming increasingly toxic under pressures from natural selection.
Nothing necessarily "irreducibly complex" about it.
"The unique combination of features of the bombardier beetle's defense mechanism—strongly exothermic reactions, boiling-hot fluids, and explosive release—have been claimed by creationists and proponents of intelligent design to be examples of irreducible complexity.[11]"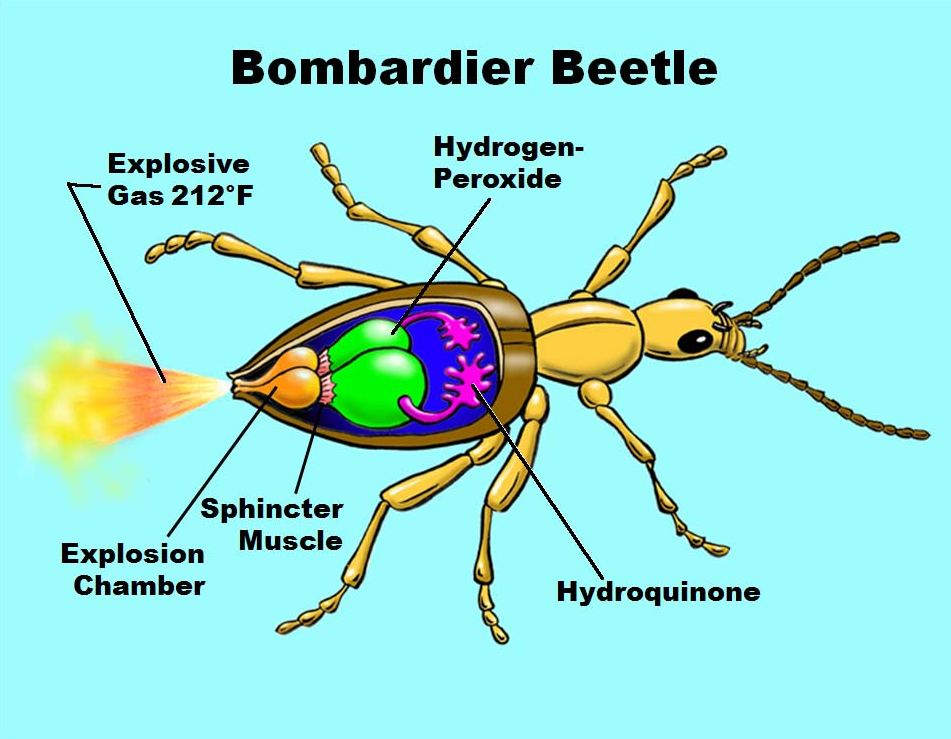 ---
FreeRepublic.com is powered by software copyright 2000-2008 John Robinson