---
To: smileyface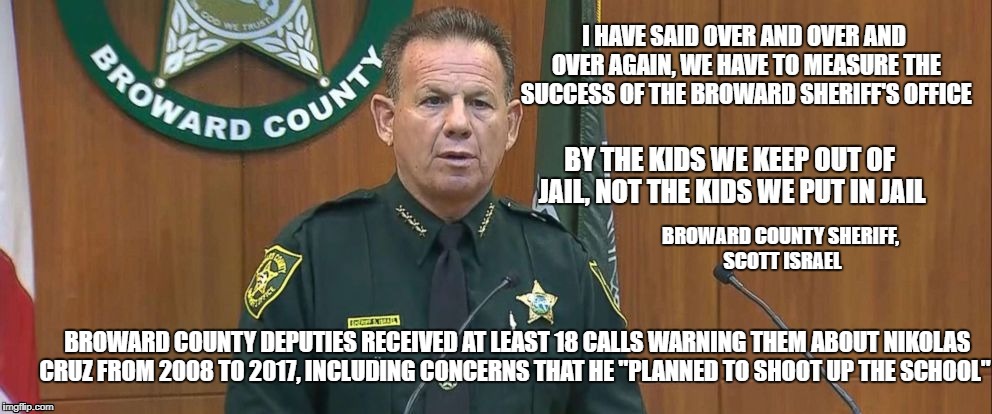 11
posted on
02/24/2018 6:30:40 PM PST
by
RC one
(Lying, cheating, deceiving & manipulating are as natural to Democrats as swimming is to fish.)
---
To: RC one
The coward of Broward should have been less concerned about keeping kids out of jail and focused a little more attention on keeping them out of the morgue.
12
posted on
02/24/2018 6:35:27 PM PST
by
Joe 6-pack
(Qui me amat, amat et canem meum.)
---
To: RC one
LOL, if those comments are his former comments, they are very damning!
13
posted on
02/24/2018 6:35:28 PM PST
by
DoughtyOne
(01/26/18 DJIA 30 stocks $26,616.71 48.794% > open 11/07/16 215.71 from 50% increase 1.2183 yrs..)
---
To: RC one
I had this azzhole pegged from the beginning....he'll soon disappear as
a liability for the DNC....his love for the center of attention is will only reveal more...
14
posted on
02/24/2018 6:43:10 PM PST
by
Doogle
(( USAF.68-73..8th TFW Ubon Thailand....never store a threat you should have eliminated)))
---
To: RC one
Here's the conduct that Sheriff Israel and the Broward courts won't prosecute if the perp is under 18.
This includes -ALL STUDENT MISBEHAVIOR and these non-violent infractions:
1. Disrupting or Interfering with class
2. Fighting in a public place(nonviolent?)
3. Theft if less than $300
4. Vandalism damages < $1,000
5. Disorderly conduct
6. Trespassing, Loitering or Prowling
7. Criminal Mischief
8. Gambling
9. Harrassment or Threats
10. Alcohol -all related offenses
11. Possession of Cannabis
12. Possession of drug Paraphernalia
13. Obstructing Justice without Violence
Kids have no consequences
21
posted on
02/24/2018 7:01:26 PM PST
by
Sasparilla
( I'm Not Tired of Winning)
---
To: RC one
The public in that county needs to fire Sheriff Scott Israel.
---
FreeRepublic.com is powered by software copyright 2000-2008 John Robinson