---
Qatar Is Getting This Unique Amphibious 'Mother Ship' And Radar Picket Vessel Mash Up
The Drive ^ | MARCH 19, 2018 | BY JOSEPH TREVITHICK


Posted on 03/19/2018 8:24:18 PM PDT by sukhoi-30mki
Italian shipbuilder Fincantieri has unveiled a model and artwork of a unique multi-role amphibious ship it is building for the Qatari Navy. Still in the grips of a simmering diplomatic spat with its neighbors, and under a physical and economic blockade, Qatar expects the vessel, along with four other Italian-made corvettes, will significantly expand its naval capabilities in the region.
Fincantieri offered a closer look at the designs for the Qatari landing platform dock, or LPD, and corvettes at the Doha International Maritime Defense Exhibition & Conference, or DIMDEX, earlier in March 2018. In June 2016, Qatar signed the initial deal, then valued at between $4.5 and $5.6 billion, which also includes the purchase of two smaller patrol boats, before finalizing what had become a nearly $6 billion project in August 2017.
Work on all seven ships is supposed to begin by the end of 2018. Fincantieri says it plans to deliver the first corvette by 2021 and the rest of the ships, including the LPD, within a six year period. The deal also includes 10 years of support services for the corvettes and five for the amphibious ship and the smaller patrol boats.
The LPD is the clear centerpiece of the purchases and is a derivative of the Fincantieri's Enhanced San Giusto design, itself based on San Giusto the company built for the Italian Navy as an expanded version of the older San Giorgio-class. The Italian company has already sold one of these ships to Algeria, where it has entered service as the Kalaat Béni Abbès.
USN
Algeria's Kalaat Béni Abbès, which is similar in design to the LPD that Fincantieri is building for Qatar.
Qatar's variant, which will displace approximately 8,800 tons with a full combat load, will be unique, though, with an L-band Kronos Power Shield radar. Another Italian firm, Leonardo, is building this system, which the Italian Navy is planning to install on its own future amphibious assault ship.
The Kronos Power Shield is an L-band active electronically-scanned array (AESA) radar that uses highly energy efficient gallium-nitride-based technology to remain both thin and compact, but still be powerful and accurate. They system can rapidly switch between broad, 360-degree area search and more focused tracking modes. There is also a "fence" functionality able to track short- and medium range ballistic missiles, but only in a very limited envelope. Leonardo says that the complete 430-square foot array offers a typical maximum search range of between approximately 930 and 1,240 miles, though this would be dependent on a host of environmental factors and the nature of the targets in question.
The model Fincantieri showed of the ship at DIMDEX indicated that it would also have a secondary three dimensional search radar. This could be the same European Multifunction Phased Array Radar (EMPAR) found on the Kalaat Béni Abbès or a different unit.
The Algerian ship also features an advanced electronic warfare suite, which would further help detect and categorize potential threats, as well as jam or otherwise disrupt them, and the Qatari variant is likely to have similar capabilities. These systems will all feed into Leonardo's Athena combat management system and would allow the ship to engage a wide variety of targets with its 16 Aster 30 surface-to-air missiles in two French-designed eight-cell Sylver vertical launch system (VLS) arrays.
The European missile consortium MBDA says that the latest versions of the missile can engage slow- and fast-moving aircraft and supersonic, low-flying cruise missiles, as well as offering a limited ballistic missile defense capability. The firm is in the process of developing a new version specifically for ballistic missile defense, as well. Range for the Aster 30 is stated to be roughly 70 miles.
Enrico Bonetti, Fincantieri's Senior Vice President for Naval Vessels, told Navy Recognition that the LPD would also act as a "mother ship" to provide long-range targeting information for the four smaller corvettes, each of which will had a displacement 3,250 tons when carrying a full combat load. Those ships will have their own radars and 16 Aster 30 missiles, as well.
The LPD and the corvettes will both feature a 76mm rapid fire main gun and Sylena Mk 2 decoy launchers to defend against incoming anti-ship missiles, as well as various automatic cannon for local defense. Each corvette will have a launcher for RIM-116 Rolling Airframe Missiles for additional close-in protection.
FINCANTIERI
An artist's conception of one of the new corvettes for Qatar's Navy.
But the Qatari LPD will be much more than just a floating sensor node and air defense picket ship. It will have the same flight deck as the Algerian Kalaat Béni Abbès, with two landing spots for either light or medium helicopters and will almost certainly serve as a platform for some of the 12 navalized NHIndustries NH90 helicopters the Qatari Navy is set to receive sometime between 2022 and 2025. The Arabian Gulf nation also announced that it would purchase those helicopters, along with 16 standard NH90 transports, at DIMDEX.
The ship may eventually be able to carry up to five NH90s on board, but Fincantieri will have to reconfigure the elevator and below-deck hangar design to accommodate the larger helicopters on Qatar's variant. There's nothing to suggest that this would necessarily be difficult to do, but at present, these features on the Enhanced San Giusto are more or less tailored to the much smaller Leonardo Super Lynx and the model the company showed at DIMDEX had the existing, narrow elevator design.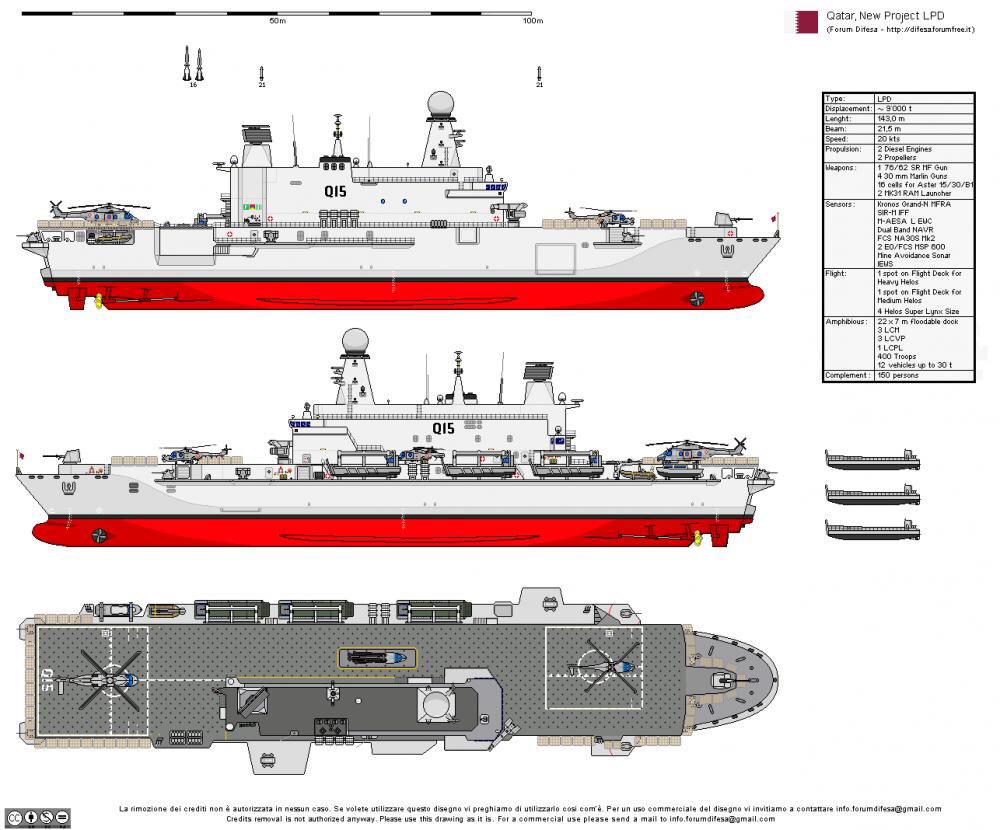 Depending on how Qatar decides to field them, the NH90s could act as transports, medical evacuation aircraft, or even fill a limited anti-ship role carrying the Marte anti-ship missile. In this latter configuration, they could complement the corvettes, which will carry MM40 Exocet anti-ship missiles, as well as other Qatari navy fast attack craft armed with those same missiles.
As an amphibious ship, it will be able to launch and recover three landing craft capable of carrying tanks and troops. The vessel also features a large rear ramp to allow the rapid loading and offloading of personnel and vehicles in a more established port setting. It will also be able to support other auxiliary ships and boats, including small special operations craft.
MBDA
An Italian Navy NH90 carrying a Marte anti-ship missile.
As such, this specially configured LPD begins to appear more as a small, multi-mission sea base. This broader functionality could be even more pronounced if the vessel retains the same 60-bed hospital ward and operating theaters as Kalaat Béni Abbès, allowing it to serve as a small hospital ship and help reduce the number of casualties during sustained operations, too. In total the vessel will be able to accommodate roughly 550 people, with about 150 of that complement being the ship's crew and the rest being made up of embarked amphibious troops as well as air wing and other personnel.
Amphibious type ships are growing in popularity broadly in no small part because of their inherent flexibility of their design and their ability to fill a variety of combat and peacetime roles, including supporting responses to natural disasters and other humanitarian crises. Qatar is hardly alone in the Middle East in looking to add this type of capability to its Navy. In 2015, Egypt purchased a pair of French Mistral-class amphibious assault ships, originally bound for Russia, and Saudi Arabia has reportedly explored the possibility of buying similar ships in the past.
For Qatar, though, the new LPD and the associated corvettes will dramatically increase its maritime punch, which at present consist of much smaller patrol and fast attack craft focused largely on coastal defense. These new forces could conceivably provide robust surface and air defense coverage throughout the entire Persian Gulf, disrupting potential enemy movements or at least putting additional challenges in their path. With the range of the LPD's main radar, it could also extend the detection and targeting capabilities of the country's ground-based air defenses ashore, which include American-made Patriot PAC-3 Missile Segment Enhancement (MSE) batteries.
Though limited, the Aster 30's ability to perform as a ballistic missile defense weapon could also be important given the increasing proliferation of these weapons throughout the region. Iran in particular is steadily increasing its arsenal of short- and medium-range designs, as well as providing technical assistance to its regional partners in countries, such as Syria and Yemen. In response, Saudi Arabia could begin looking to expand its own missile forces, possibly even with nuclear warheads if Iranian authorities continue to pursue their controversial nuclear program, and its a trend that will almost certainly continue to spread in the near future.
Beyond their use as defensive tools, the ships, especially the LPD, could also give Qatar sensors with the ability to peer into the territory of potential opponents, including Saudi Arabia and the United Arab Emirates (UAE), giving it more ways to monitor potentially hostile military air and surface activities on a regular basis.
The Saudi Navy is also set to significantly increase its own capabilities, through the addition four frigates from American defense contractor Lockheed Martin, along with smaller patrol boats and improved infrastructure, which you can read about in detail here.
Though the three countries are all members of the Gulf Cooperation Council regional bloc, in June 2017, the Saudis led a number of their partners, including the UAE and Egypt, to sever ties with Qatar, in no small part over the latter country's ties with Iran. The parties remain locked in a bitter dispute, which has seen various countries cut off or limit their political and economic interaction with Qatar. At the same time, Qatari authorities have moved to bolster their military capabilities and expand relations with other countries in and around the region, chiefly Turkey.
Qatar claims that those efforts mean the Saudi-led blockade has failed in its objectives to pressure it into accepting a wide range of demands, including cutting off its relationship with Iran. At the same time, there are still significant questions about whether the Qatari government or military can sustain the country's massive military buildup, either in terms of overall costs or requirements for added manpower.
Though it appears that Qatar can afford to at least buy the equipment for its rapidly growing military, the latter question may become serious and immediate concern. The Qatari military claims a force size of more than 100,000 individuals, but only between 10 and 30 percent of that total is on active duty, with the rest being conscript reserves.
Perhaps more importantly, the country has a limited pool from which to pull additional personnel. Of the country's population of more than 2 million, only between 10 and 25 percent on average are actually citizens, with the rest being foreign nationals. This fact has reportedly forced the country to become increasingly reliant on outside military contractors.
So, while there's no denying the Italian-made LPD and corvettes could give Qatar an impressive defense boost, it will also have to make sure it has the personnel and other resources in place to ensure it can get the most out of the ships.

---
TOPICS: Foreign Affairs; News/Current Events
KEYWORDS: armsbuildup; corvette; fincantieri; italy; maritime; qatar



---
To: All
The next FReepathon begins in just two weeks.
We need to finish this one first.
Come on FReepers, let's do this!!!
---
To: stylecouncilor
---
To: sukhoi-30mki
Cool stuff but......has Qatar ever had a navy?
Who will man these ships?
4
posted on
03/19/2018 9:07:29 PM PDT
by
BenLurkin
(The above is not a statement of fact. It is either satire or opinion. Or both.)
---
To: sukhoi-30mki
Is this one of Farrakhan's "Motherships" he's always talking about and looking to the sky?
hey, Louie, look down you schmuck.
---
To: BenLurkin
Who will man these ships?
American "contractors"?

6
posted on
03/20/2018 1:48:45 AM PDT
by
Does so
(Let's make the word Mohammedism--adding it to other ISMs...)
---
FreeRepublic.com is powered by software copyright 2000-2008 John Robinson