---
Inexpensive Good Guns to Replace guns Turned in at Baltimore "buyback" for $200
Ammoland ^ | 28 December, 2018 | Dean Weingarten


Posted on 01/07/2019 1:37:36 PM PST by marktwain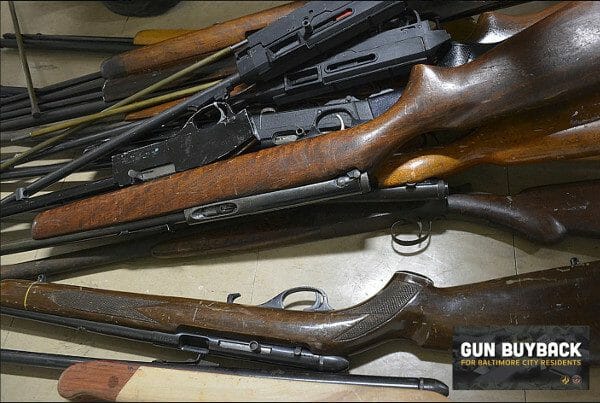 On 17 December 2018, the City of Baltimore held a gun "buyback". The term "buyback" is an Orwellian propaganda term. You cannot "buyback" something you never owned in the first place. It should be called a gun turn-in. On 17 December, over 500 guns were turned into the police for destruction.
One of them, a small 9 mm semi-auto pistol was turned in by Darlene, as interviewed by the local Fox affiliate, Fox45.
From washingtontimes.com: A woman by the name of Darlene told a local Fox affiliate that she turned in her 9 mm on Monday in order to "upgrade to a better weapon," adding that she hadn't "quite decided" yet what that weapon would be.
Better footage of the firearm turned in by Darlene shows it was likely a Soviet-era 9X18 Makarov pistol. The pin at the rear of the trigger guard, the angle of the slide to the lower edge of the frame, above the trigger, and the rebated slide at the muzzle end are all good indicators that it is a Makarov. (I believe the area above the trigger is a polished slide, not the ejection port.)
Darlene had the right idea. A decent Makarov is bringing about $250 on the open market these days. Transaction costs would eat up the $50 difference. Legal sales of pistols in Maryland are heavily burdened with regulation.
What can Darlene get for $200 or a bit more? She can obtain some very serviceable pistols.
She can get a Taurus 24/7 .45 ACP factory blem, $250 at gunbroker.com, at the time of this writing. She would have to look hard to find the blemish.

(Excerpt) Read more at ammoland.com ...
---
TOPICS: Business/Economy; Crime/Corruption; Culture/Society; US: Maryland
KEYWORDS: 2ndamendment; baltimore; banglist; buyback; md; nra; secondamendment
---
Navigation: use the links below to view more comments.
first 1-20, 21-31 next last
---
---
---
---
---
---
---
---
---
---
---
---
---
---
---
---
---
---
---
---
---
Navigation: use the links below to view more comments.
first 1-20, 21-31 next last
---
---