---
Irrational Responses to Armed Defenders in Church ~ VIDEO
AmmoLand ^ | 3 January, 2020 | Dean Weingarten


Posted on 01/06/2020 6:12:33 AM PST by marktwain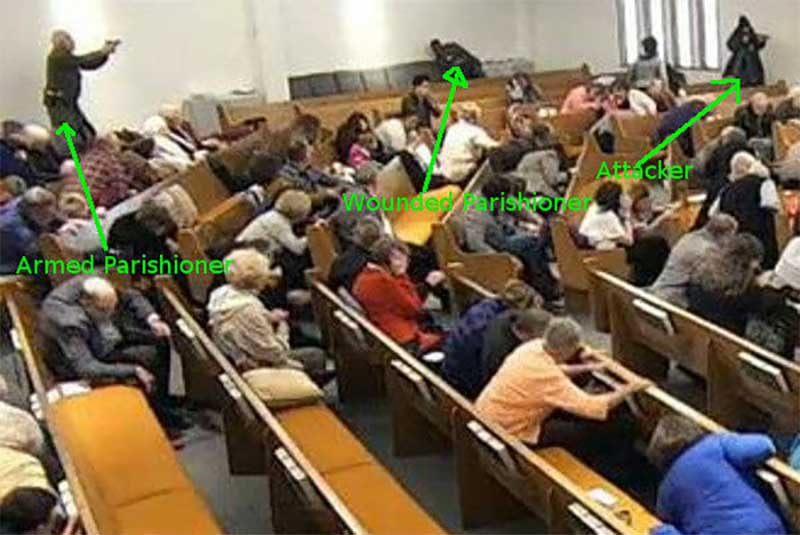 Texas Church Incident Shows How 2A Stops Mass Shooters
The recent use of arms by a skilled, armed defender, Jack Wilson, in the West Highway Church of Christ in White Settlement, Texas, was recorded on live stream video. (below)
In spite of rapid attempts to suppress the video, it has been made available to the world, via social media and the quick actions of freedom-loving activists.
The actions in the video are crystal clear. An armed, skilled, volunteer congregant stops an active murderer with one shot after two of his friends are shot and killed. The entire action happens in six seconds.
The defender acted with skill and grace under fire. Within a few seconds, several other armed congregant volunteers converge on the downed murderer.
None of the chaos and multiple deaths, predicted by those who wish a disarmed population, happened, in spite of several armed, volunteer, congregants.
The actions and video are one of the clearest refutations of the arguments of those who want a disarmed population, that has happened in recent years.
How have those who want us disarmed, responded?
Their first, and most common response, is to retreat to their fantasy of a world without guns. From flobalob, comment at dailymail.co.uk:
Three people died because of those guns. If there were no guns nobody would have died.
There are many variations. From a comment by RedRobinHood in the dailymail.co.uk:
Wait a minute , the NRA made sure a madman had a gun in the first place.
(Excerpt) Read more at ammoland.com ...
---
TOPICS: Constitution/Conservatism; Crime/Corruption; Culture/Society; Government; US: Texas
KEYWORDS: banglist; church; guncontrol; limeys; nra; secondamendment; texas
---
---
---
---
---
---
---
---
---
---
---