---
These 5 Streaming Moves Preview The COVID-19 Entertainment Shift
The Federalist ^ | May 29, 2020 | Josh Shepherd


Posted on 05/29/2020 9:04:44 AM PDT by Kaslin
The streaming wars are heating up, as John Krasinski's 'Some Good News' signs on with CBS, 'Hamilton' heads to Disney Plus, and Tom Hanks' new war movie goes straight to Apple TV.
---
The coronavirus crisis accelerated the trend of consumers choosing in-home entertainment — particularly, video-on-demand streaming services such as Netflix that maximize choices and almost eliminate ad breaks. U.S. theater ticket sales had already been in decline for the past 20 years, and today most theaters remain closed due to concerns about spreading COVID-19 in crowded, enclosed spaces.
Ten major streaming services are now vying for subscribers, with hundreds of smaller options serving niche audiences. Nearly all have had record subscriber growth and viewing hours this spring. Netflix announced 90 million households watched action film "Extraction" starring Chris Hemsworth in its first month online, their biggest-ever film premiere. Over the past three months, Disney Plus has reportedly added 30 million subscribers.
Both new and established players are seeking noteworthy titles that will grab headlines.
Launched Wednesday, HBO Max has gotten attention from cinephiles with its hundreds of classic films already available. The streamer has also generated buzz among comics fans with news that director Zack Snyder would revisit much-maligned superhero team-up flick "Justice League" for a "Snyder Cut" to be released exclusively on HBO Max in 2021.
Meanwhile, rival service Amazon Prime has acclaimed murder mystery "Knives Out" arriving June 12. This is all part of streaming competitors' efforts to stand out and acquire subscribers, especially as households continue spending more hours at home even with most shelter-in-place orders set to expire soon.
With current headlines moving as fast as a high-speed Wi-Fi connection, here are five streaming moves playing out in the coming months while the entertainment industry faces tectonic shifts.
1. John Krasinski's 'Some Good News' Lands Deal with CBS All Access
Some Good News with John Krasinski: The SGN Community Episode! (Ep. 8)
Since being introduced to the world as Jim Halpert on "The Office," John Krasinski has flexed his range as action star Jack Ryan and become the successful writer and director of "A Quiet Place." During the peak of this spring's pandemic, he along with his wife Emily Blunt and producing partner Allyson Seeger brought to life a unique online show simply called "Some Good News."
Opening with a bad "dad joke" and ending with Krasinski's signature line — "No matter how hard things get, there is always good in the world" — "Some Good News" turned into a global phenomenon.
Most segments featured everyday people spreading joy and giving to others despite hardships, with a focus on honoring COVID-19 first responders. Celebrities got in on it too. "The Office" stars helped a couple celebrate a remote wedding, and Chance the Rapper performed for students commemorating prom at home. The videos garnered hundreds of millions of views across various platforms.
Episode eight, which premiered last week, was billed as a finale, though the host signed off with a cryptic, "We will see you again."
Variety reported Thursday that Krasinski's team has inked a deal for new weekly episodes of "Some Good News" to hit streaming service CBS All Access. He will serve as producer and occasionally appear, with another host to be announced. Reportedly, "Some Good News" segments will also appear on CBS News social media channels.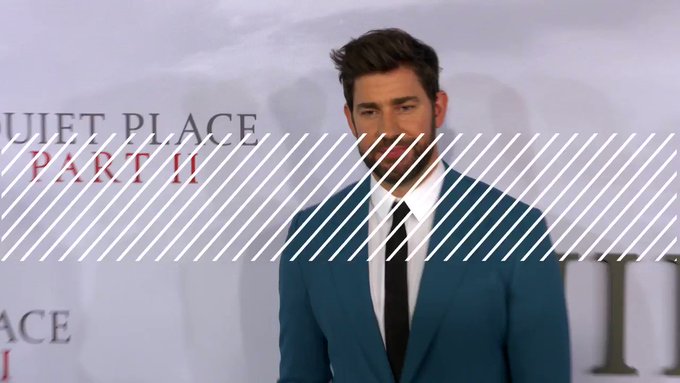 2. Disney Plus to Release 'Hamilton' Musical July 3
'Hamilton' Coming To Disney Plus In July
Back in February — which feels like years ago in lockdown time — Disney first announced it had secured the rights to release blockbuster musical "Hamilton." However, the theatrical release for this filmed performance featuring the original Broadway cast was set for October 2021. There was no telling when this famously sold-out rendering of American history would arrive on streaming.
Fast-forward three months. Households, sheltered in place, flocked to Disney Plus, expecting big releases every month. That explains why "Frozen II," "Onward," and "Star Wars: The Rise of Skywalker" arrived months earlier than scheduled, even as the streamer's production pipeline for new films and series faced bottlenecks.
With its slate of recent new films nearly tapped out, Disney executive chairman Bob Iger circled back with musical producers to negotiate an earlier release. Now Lin-Manuel Miranda's "Hamilton," the Grammy-winning, rap-infused celebration of the American founding, will land on Disney Plus worldwide July 3. Such a major release during Independence Day weekend is expected to drive new subscriptions.
3. 'Psych 2' Comedy Reunion Film Coming to NBC Streamer July 15
Gaining new viewers during lockdown, outrageous comedy "Psych" proved binge-worthy. Over eight seasons, psychic-but-not-really detective Shawn (James Roday) and his partner in crime-solving Gus (Dulé Hill) frequently butt heads with detective Carlton "Lassie" Lassiter (Timothy Omundson). Soon, fans affectionately dubbed "Psych-os" can enjoy a second cast reunion film.
Beloved actor Omundson suffered a stroke in 2017, and his "Psych" castmates rallied around him. Now their upcoming film "Psych 2: Lassie Comes Home," centered on his character, will premiere July 15 on NBC's streaming service Peacock.
Similar to HBO Max, Peacock barely missed the spring surge of streaming activity instigated by coronavirus, yet still has its sights set on making a splash. No need to complain about another streaming bill; nearly all content on Peacock will be available free with ads.
4. With Live-Action Halted, Animation May Dominate This Fall
Dembe Tells Red He Underestimated Liz - The Blacklist
On May 15, viewers of acclaimed drama "The Blacklist," starring James Spader, encountered a very different seventh season finale. Live-action segments that had already been filmed were interspersed with graphic-novel animated scenes, voiced by the show's stars. It was a necessity for producers to give viewers closure, as lockdowns had halted TV production worldwide.
Partly because animators and voice actors can do their work from home, animation looks to dominate this fall regardless of theaters' status. Box-office returns show family animation is one of few genres (along with superhero franchises and remakes) that can reliably turn a profit despite massive budgets. DreamWorks' "Trolls: World Tour" proved that when it earned $100 million on-demand this spring, even though it missed out on a planned theatrical run.
After three major animated films hit video-on-demand services, others are likely on the way. Meanwhile, cartoons for kids and adults are booming. Last week, Fox touted a massive debut for animated series "Solar Opposites" on Hulu. NBC's Peacock has two kids' cartoons set to release at launch, while several smaller animation studios are hiring to keep up with demand. With "Avatar: The Last Airbender" currently No. 1 on Netflix, expect animation to keep flying high.
5. WWII Naval Drama 'Greyhound' Heading to Apple TV Plus This Summer
After headlines worldwide noted his positive COVID-19 test result, Tom Hanks has been inextricably linked to the crisis (he and his wife, Rita Wilson, have since recovered). Now, in a first for the A-list star, his next film "Greyhound" will release exclusively via streaming due to continuing Wuhan virus-related theater closures.
Apple reportedly paid $70 million for exclusive rights to stream the World War II naval drama written by and starring Hanks. In "Greyhound," Hanks portrays U.S. Navy officer George Krause, who commands a destroyer in the Allied fleet being hotly pursued by German U-boats. Pegged as a dad movie, "Greyhound" is expected to release in advance of Father's Day.
Along with its seven-day trial, Apple TV Plus is being offered free for a year with the purchase of an Apple device.
While the growing number of streamers has become difficult to navigate, this many competitors vying for audiences means consumers can win with low-cost — and even free — streaming options.

---
TOPICS: Culture/Society; Editorial
KEYWORDS: animation; appletv; coronavirus; covid19; disneyplus; entertainment; hollywood; netflix; pandemic; peacock; streaming; streamingvideo; tv; wuhancoronavirus; wuhanvirus



---
To: Kaslin
With Live-Action Halted, Animation May Dominate This Fall
I think voice actors have a bright future. For awhile. I'm not sure studios are going to want to continue paying $20M a movie to good-looking people who are popular with the public.
Animation has come a long way. You don't need Tom Cruise to run down the street. You can just make it look like Tom is running, or drinking coffee, or shooting a bad guy. It can all be fake.
Voice Actors can read the lines to accompany the animation. And if computer voices get better, you can have a machine read the dialogue and you can adjust emotional inflection and then the cost of hiring the "talent" can really go down.

2
posted on
05/29/2020 9:33:56 AM PDT
by
ClearCase_guy
(If White Privilege is real, why did Elizabeth Warren lie about being an Indian?)
---
To: Kaslin
Can't get enough of the f-word? Watch the latest Jack Ryan series.
---
To: Kaslin
The movie "war hero" thing is way beyond tiresome, considering these people, like Hanks in particular, but also so many others, have never worn the uniform. It's no longer possible to drum up any respect for such play acting. As much as I liked John Wayne, even he was hard to take for the same reason.
---
To: Kaslin
Networks are also acquiring programming from Canada, the UK and Australia.
---
FreeRepublic.com is powered by software copyright 2000-2008 John Robinson