Vili Fualaau, 18, who fathered two daughters with his sixth-grade teacher, Mary Kay Letourneau, watches court proceedings following opening arguments in a $1 million lawsuit filed by his mother, Soona Vili, Thursday, March 21, 2002, in Kent, Wash. The suit accuses the Highline School District and Des Moines police for failing to protect the boy from sexual exploitation. Letourneau is in prison for child rape.
(AP Photo/Elaine Thompson)
"I'z a victim..."
Mom's making some dough too...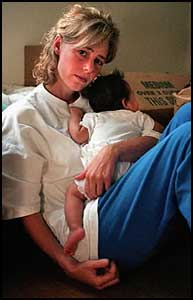 Convicted Teacher Profits From Sex With Student
Judge Rules Mary Kay Letourneau Can Get Royalties
April 18, 2000
SEATTLE (AP) -- Mary Kay Letourneau, convicted of child rape for a relationship with a former grade-school student who fathered two of her children, may earn royalties from books, movies and interviews, an appeals court ruled.
Overturning sentencing conditions imposed by a King County judge, the state Court of Appeals ruled Monday that Letourneau could not be barred from profiting by selling her story as part of her sentence. The appellate court also ruled that Letourneau could visit with her six children without supervision.
Letourneau, 38, serving a 7 1/2-year prison term for second-degree child rape, is reportedly working on an autobiography that describes her relationship with Vili Fualaau that began when he was 12 and she was a married mother of four. The boy earlier had been a grade-school pupil of hers in a suburban Seattle school district.