---
Thunderstorms may have caused crop circles!
CANADA dot COM ^ | Story filed: 15:45 Sunday 7th July 2002 | Editorial Staff


Posted on 08/01/2002 7:04:27 PM PDT by vannrox
Thunderstorms may have caused crop circles


Meteorologists are investigating whether fierce thunderstorms caused crop circles in parts of Canada.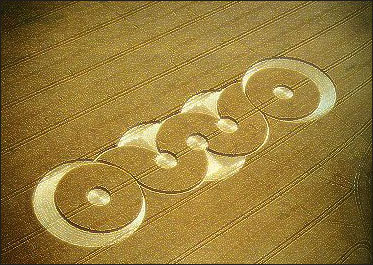 Environment Canada officials say swirling vortices of air or downbursts may be behind circles in fields in New Brunswick and Prince Edward Island.

The severe weather on Thursday and Friday also uprooted hundreds of trees and damaged a number of buildings.




Canada.com reports that Environment Canada's Mike Campbell said: "What we believe is a lot of air had rushed out of the thunderstorm and when it hit the ground it swirled around. It just whipped up the crops and flattened them into circles."

Derrick Blacquiere, a resident of Prince Edward Island, says he saw several funnel clouds create deep depressions in a neighbour's wheat field, flattening grain into circular patterns up to six metres in diameter.

Mr Campbell says crop circles caused by sudden bursts of wind have been reported in Nova Scotia, New Brunswick and in the Western provinces.



The most recent was reported last year in Port Hillford on the eastern shore of Nova Scotia.



Story filed: 15:45 Sunday 7th July 2002

---
TOPICS: Canada; Crime/Corruption; Culture/Society; Extended News; Foreign Affairs; News/Current Events
KEYWORDS: air; aliens; circles; crop; discovery; paranormal; storm; swirling; thunder; ufo; unexplained
---
Navigation: use the links below to view more comments.
first 1-20, 21-26 next last
---
---
---
---
---
---
---
---
---
---
---
---
---
---
---
---
---
---
---
---
---
Navigation: use the links below to view more comments.
first 1-20, 21-26 next last
---
---