---
To: Sungirl
Will this ever be on the network news???
The real shame of all this, is that the Venezuelan people know exactly what they are up against there, but via our media here we are oblivious!
Many of the Opposition to Chavez marchers banners below carry similar themes of "NO CUBA HERE!"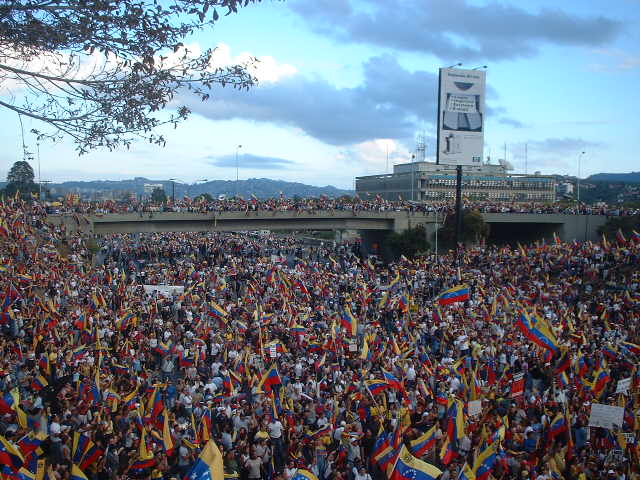 We could hope here in the USA for no better allies than the Venezuelan people. According to the just published 2002 Global Attitudes Survey by the Pew Research Center in Washington; 82% have a favorable opinion of the USA, and that is amongst the highest ratings of all the 44 countries surveyed! And, in regard to supporting the US led war on terrorism, 79% favor it while only 20% oppose it! (What's the %'s for/against for that question in the USA right now?!?)
Clearly, no country in South America holds more promise for being a strong and effective ally and supporter of the USA, perhaps none better in this entire Hemisphere, *when* Chavez is gone and remnants of his regime are fully rooted out.
Also, though, there is no current government in this hemisphere that is a more "Clear & Present Danger" to the USA with the continuation and expansion of Hugo Chavez's goals & plans!
-Shane

---
To: shanec
To be fair, when things were getting bad a couple weeks ago (what happened to the general strike??), CBS did allow on the evening news video of a woman saying he is becoming a dictator. But, if what this article says is true.....he is much more than that.....he is a terrorist.

---
To: shanec
Great Pictures!

Happy New Year!

---
FreeRepublic.com is powered by software copyright 2000-2008 John Robinson