---
When the US gets cold, the world pays more for oil
Taipei Times ^ | 07.22.03 | Timothy Gardner


Posted on 07/22/2003 8:20:26 PM PDT by Enemy Of The State

When the US gets cold, the world pays more for oil

Americans' voracious appetite for fuel, coupled with the decade-long shrinking of the US energy industry, is putting massive demands on an already stretched supply system
By Timothy Gardner
REUTERS
Tuesday, Jul 22, 2003,Page 9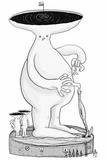 ILLUSTRATION: MOUNTAIN PEOPLE


Last January, the cold was so bitter north of the New York Harbor oil hub that icebreakers in the Hudson river had to smash free a heating oil barge. Consequently, dozens of fuel shipments to New England were delayed.

Energy analysts dubbed the winter "The Perfect Storm".

The cold, combined with the build-up to war in Iraq and a general strike in Venezuela, a major supplier of crude to the US, pushed oil to within one cent of a 12-year high of US$40 per barrel and drove US heating oil futures to record levels.

It also did far more than that. So voracious is the US appetite for energy -- the country uses a quarter of the world's oil and depends on imports for 60 percent of its fuel -- that soaring costs in America rippled around the world, pushing up oil prices and damaging the economies of other nations.

The government of Ghana was forced to raise gasoline and diesel costs by an average of 90 percent -- an action that helped raise inflation in the spring by nearly 30 percent. In South Korea, which imports all of its oil, the government slashed import taxes on petroleum by 50 percent and switched off some public lighting.

Behind the shortage in the US and its knock-on effect on prices worldwide lies a decade-long shrinking of the US energy industry, where costs have been cut to improve profit margins. In addition, oil and natural gas drillers are pumping less from the US mainland, and refiners that could no longer make profits closed plants and drained storage tanks. The result is a system that is increasingly exposed to interruptions in supply.

Perhaps, analysts say, if the US had been more prepared to provide fuel to its own consumers -- instead of relying so much on imports -- the shock waves from this year's US heating oil crisis would have been much smaller.

"The oil industry has been generally under-invested in the last 20 years ... If we get into a situation where we get a hiccup in the oil balance you get these very leveraged effects on price," says Mike Rothman, an analyst at Merrill Lynch in New York.

Poor profits, cost-cutting

Plagued by relatively poor profits for much of the 1990s, US energy companies reacted by cutting costs. Oil companies in the US keep about 1 billion barrels of spare crude and oil products like gasoline on hand, worth tens of billions of dollars.

But when oil prices drop, the cost to refiners can be overwhelming, as inventory loses value. US oil refiners whittled down the stock cushion they kept on hand by managing the risk from inventories more efficiently using computer software.

"The US has probably been the most active [nation] in terms of moving toward a lower average level of inventories for petroleum," says Dave Costello, economist at the federal Energy Information Administration.

The shift gained pace during the Internet stock boom as oil companies' shares suffered in comparison with the dotcom high-fliers.

"If refiners wanted to maintain share price in an environment of high-tech stocks they had to do everything to cut costs," says Sarah Emerson, director of Boston-based Energy Security Analysis.

Demand for oil and oil products in the US is huge. The US economy burns up 26 percent of the 76 million barrels per day (bpd) of world oil supply, yet the country's oil production has been declining since the Arab embargo of 1973 -- down from 9.3 million bpd then to about 5.7 million bpd this year. Yet in those 30 years, demand has jumped from 17 million bpd to 20 million bpd.

Only one oil refinery has been built from scratch in the US since the 1970s. Existing refineries have been expanded but mostly to meet stiffer environmental regulations and to process the heavier crude imported from Venezuela.

"This is a system that produces enough oil if it starts at the right time and with the right balance between [oil] products," says Paul Horsnell, head of energy research at JP Morgan in London.

But the system is poor at catching up. For instance, if the heating oil season doesn't go well, "the system starts off too late in building gasoline inventories, but never catches up and gasoline prices spike", Horsnell explains. "And in trying to cope with that, then heating oil inventory build starts too late."

Such was the case in the winter of 1999 and summer of 2000 when gasoline prices soared. More recently, US oil demand slipped after the Sept. 11, 2001 attacks, as Americans avoided flying and the economy faltered.

But any rebound in demand in coming years could put strains on an already stretched supply system.

Overstretched

The signs are already there. The Venezuelan strike and tribal violence in Nigeria, an exporter to the US of particularly gasoline-rich crude, have driven down US stocks of environmentally clean reformulated gasoline (RFG) to their lowest level. Electricity utilities have also switched from burning natural gas to oil as US natural gas supplies have shrunk to their lowest level in a decade.

On the supply side, major petroleum companies are having a harder time finding new sources of oil and gas.

"They're having to spend more to get less," says Jay Saunders, energy analyst at Deutsche Bank in New York.

The world's top oil exporter, Saudi Arabia, one of the few countries with spare supply, boosted production before and during the war in Iraq. Even so, the Energy Information Administration warned earlier this year that if US heating oil stocks do not grow at a faster rate this summer than in the past five, supplies for the coming winter would be even more meager than last -- leaving the market unprotected should other storms break.

But untapped resources could help break this cycle of price shocks. Liquefied natural gas (LNG), a shippable, compressed form of natural gas, is plentiful worldwide, and is found in places including Australia, Indonesia, Malaysia, Qatar and Alaska.

But the US has only four LNG terminals and these meet just 1 percent of US natural gas demand. Proposals for more LNG terminals are under review. The government also could provide incentives to enable alternative energies to grow. Conservation might help too -- reducing electricity use got California over its energy crisis two years ago.

But as long as US oil production is on the decline, the nation will remain hooked on supplies from OPEC, whose share of the global market is set to climb in coming decades.

"This is not the sign of a market that is either working well or playing a constructive role in the US economy," says Horsnell.

Without structural changes to the US petroleum supply system, oil price shock waves could continue to have reverberations around the world.

"Every US$10 rise in oil price means a rise in the import bill of oil-importing developing countries of around US$40 billion, or more or less 1 percent of their gross domestic product," says Hans Timmer, a macro-economic trends analyst at the World Bank in Washington.

---
TOPICS: Business/Economy; Culture/Society; Editorial; Foreign Affairs; Front Page News; Government; News/Current Events; Politics/Elections; War on Terror
KEYWORDS:
---
---
---
---
---
---
---
---
---
---
---
---