---
Judge keeps Peterson hearing open
CNN.com/Law center ^ | August 14, 2003


Posted on 08/15/2003 5:59:11 AM PDT by runningbear

Judge keeps Peterson hearing open

Thursday, August 14, 2003 Posted: 4:43 PM EDT (2043 GMT)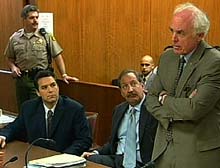 Defendant Scott Peterson, left, in a previous courtroom appearance.
MODESTO, California (CNN) -- The September preliminary hearing for a man accused of killing his pregnant wife will not exclude the public, a judge ruled Thursday.
Stanislaus Superior Court Judge Al Girolami said he would take a few days to decide, however, whether cameras should be permitted at the September 9 preliminary hearing for Scott Peterson.
After the ruling, Peterson attorney Mark Geragos withdrew his request to ban cameras from the courtroom.
"We might as well open it up entirely and pollute the entire state," Geragos said. A prosecution request to ban cameras remained in place.
Peterson, 30, has pleaded innocent in the killings of his pregnant wife, Laci Peterson, 27, who vanished on Christmas Eve, and their unborn son. The bodies washed ashore in April along the San Francisco Bay.
Earlier Thursday, the parents of Laci Peterson sent a letter via fax to the news media begging them to omit "unnecessary graphic details" when reporting on the deaths.
Several broadcast outlets, including CNN, Court TV and the networks, have argued that a camera should be allowed at the September hearing.
"The events of this week have once again added pain to our daily grief as we read in the newspaper details regarding our daughter and grandson's remains," said the letter, which was signed by attorney Adam Stewart.
The family, including Laci Peterson's mother, Sharon Rocha, also pleaded with Geragos to do everything he can to get the bodies released so the family can bury them "in dignity and peace when the time comes."
Officials said Thursday that after the remains are X-rayed, the court and prosecutors will hand them over to her family.
Defense attorneys earlier this week filed a court document against the media petition, saying a camera would prohibit Peterson from having a fair trial.
The defense pointed out that the gag order, which pertains to all statements by witnesses and counsel, was issued to protect the ability of both sides to select a fair and impartial jury.
In addition, if the hearing is open to the media, "the mere introduction of evidence at the preliminary hearing" could put the party introducing that evidence in violation of the gag order, the defense said.
The Stanislaus County district attorney has requested that Girolami bar cameras from the preliminary hearing out of respect for Laci Peterson's family.
Television media attorneys have countered that neither the prosecution nor defense argument offers sufficient reason to prohibit cameras.
They said that when the family, the police and Scott Peterson himself asked for national publicity to help find Laci Peterson, they received it.
The media attorneys also offered federal and state studies purportedly showing that cameras in courtrooms had little or no influence on the conduct of trials.
Also earlier this week, defense attorneys were allowed to look at the remains and allowed to take tissue samples. The bodies are at the Contra Costa coroner's office.
Other developments:
• Girolami responded to a prosecution motion to survey registered voters in Stanislaus and two other counties about how familiar they are with the case. The prosecution hopes to use the responses to fight any defense request for a change of venue. The judge said that before he makes a decision he wants to see a copy of the questionnaire.
• Girolami ordered that information from wiretaps on Scott Peterson remain sealed until a decision is made on whether to admit it as evidence.
• Girolami asked the district attorney to investigate whether defense attorneys violated a court gag order based on an article in the Modesto .....
------------------------------------------------------------------------------------------------------------------------------
Peterson hearing to be open to public Decision next week on whether to allow live TV during trial
Peterson hearing to be open to public Decision next week on whether to allow live TV during trial
Charlie Goodyear, Chronicle Staff Writer Friday, August 15, 2003
--------------------------------------------------------------------------------
Modesto -- A preliminary hearing of the evidence against Scott Peterson will be open to the press and public, a judge ruled Thursday in overruling defense objections that it would prejudice potential jurors in Peterson's double-murder trial.
Judge Al Girolami of Stanislaus County Superior Court rejected arguments from Peterson's attorney, Mark Geragos, that a public hearing would hurt Peterson's chances of a fair trial. The preliminary hearing next month will be the public's first intimate look at evidence in the case and whether there is enough probable cause to hold Peterson over for trial.
Geragos had argued that some of the evidence the prosecution may present at the preliminary hearing might not be introduced in a trial. There is no way to keep potential jurors from hearing such tidbits, he said.
"We are in Stanislaus County, not in L.A. County," Geragos told Girolami. "I invite you any time you want to move this case to Los Angeles County, and we could do an open hearing there."
Girolami said there was no way of knowing whether the defense's fears were well-founded. "The harm expected is speculative," he said.
Peterson, 30, is charged with the murder of his 27-year-old wife, Laci Peterson, and the couple's unborn son. The victims' bodies washed up on a Richmond shoreline in April.
After losing his bid to keep the hearing sealed, Geragos told the judge he believed the proceedings should be televised. "The accuracy of the information when it's not televised is always suspect," he said.
Prosecutors oppose having a camera in the courtroom, saying it would distort the proceedings and intimidate witnesses.
Girolami said he would rule in a few days on whether to allow Court TV to provide a live feed to broadcast networks for the hearing in Modesto scheduled for Sept. 9.
Also Thursday, Girolami ordered an inquiry into an article that ran Wednesday in the Modesto Bee quoting a defense lawyer discussing a theory that Laci Peterson's body could have been dumped into the bay near a location in Albany where supposedly satanic artwork was found. Defense lawyers have indicated they will try to show that the killings were carried out by a satanic cult.
On Thursday, Geragos blamed "eavesdropping" for the report, noting that a reporter had been present in the lobby of a crime lab in Ripon .......
------------------------------------------------------------------------------------------------------------------------------

Scott Peterson and attorney Mark Geragos, right, confer during Thursday's proceeding. AL GOLUB/THE BEE

Joe Peterson, Scott Peterson's brother, removes a parking ticket in front of the courthouse Thursday. DEBBIE NODA/THE BEE
Hearing open to public
By JOHN COTÉ and GARTH STAPLEY
BEE STAFF WRITERS

Published: August 15, 2003, 05:03:08 AM PDT
Scott Peterson's preliminary hearing on double murder charges will be open to the public, Stanislaus County Superior Court Judge Al Girolami ruled Thursday. He delayed a decision on allowing cameras in the courtroom, saying he would issue a ruling in the next two days.
Also, Girolami said the defense camp earlier this week appeared to violate his gag order when, in front of a Bee reporter and photographer, an attorney discussed a theory regarding satanic ritual killings. The judge said he will consider the matter after the preliminary hearing.
Peterson, a 30-year-old Modestan, is charged in the deaths of his wife, Laci, 27, and their unborn son, Conner, and could receive the death penalty if convicted on both counts.
A preliminary hearing to determine whether there is enough evidence for a trial set for Sept. 9.
Defense attorney Mark Geragos had asked for the hearing's closure, arguing that widespread media coverage would poison jurors' minds and taint potential witnesses.
Charity Kenyon, an attorney for a group of newspapers that includes The Bee, fought to keep the hearing open, noting that similar proceedings in high-profile murder trials -- including those of O.J. Simpson, actor Robert Blake and convicted Yosemite killer Cary Stayner -- all have been open.
"This case has seen unusual publicity, but that does not mean unprecedented," said Rochelle Wilcox, an attorney representing broadcast media outlets. "Not everyone pays attention to what happens in this courtroom."
Geragos argued that the Peterson case was unique because it has created a "massive drumbeat within a small community" that would not have the same reverberation in a larger county like Los Angeles, where Geragos is from.
"I invite you, anytime you want, to move this case to LA County and we'll do an open prelim," Geragos said.
The judge said the high legal bar set by the U.S. Supreme Court to close a preliminary hearing had not been met, "even considering that this is a capital case."
"In short, this court cannot make a blanket closure," Girolami said.
Geragos later said he would not object to live TV coverage of the proceedings: "What the heck, let's just open it up and pollute the entire state."
Prosecutors and Laci Peterson's family are opposed to cameras in the courtroom.
'Not for entertainment'
"This is not for entertainment; this is not for ratings," Senior Deputy District Attorney Dave Harris said in court as Laci Peterson's mother and stepfather, Sharon Rocha and Ron Grantski, brother, Brent Rocha, and sister, Amy Rocha, sat in the front row behind him.
Harris also contended that it is "human.....
-----------------------------------------------------------------------------------------------------------------------------
Thursday's statement from the Rocha family
Thursday's statement from the Rocha family
Published: August 14, 2003, 04:02:00 PM PDT
Adam Stewart, attorney for the Rocha family, sent this letter to various news organizations Thursday: Sharon Rocha and all of Laci's family have asked that the following statement be issued on their behalf in response to numerous requests from the media for comment:
"These past eight months have been tremendously difficult for our family as we put so much hope and energy behind searching for Laci only to have our worst fears confirmed in April. There are no words to describe the pain we felt when we learned the remains were those of our beautiful daughter and unborn grandson. We have spent these past four months enduring this pain every day, every hour, every minute.
"The events of this week have once again added pain to our daily grief as we read in the newspaper details regarding our daughter and grandson's remains and hear unnecessary graphic details when we turn on the television. We respectfully ask that all deliberate attention and effort be made by Mr. Geragos to return Laci and Conner to us. As the family, we plead with the media to be sensitive to the fact that this is not a media story to us. This is our Laci and Conner whom we love with all our hearts. This is not a story … this is our life.
"Please treat her in death respectfully so that we as her family will be allowed to lay her and Conner to rest in dignity and peace when the time comes. We ask that you respect our privacy and understand our pain as we grieve for our beautiful Laci and baby Conner."
AND THE PRESS RELEASE OF THE MINUTES:
Superior Court, Stanislaus County August 14, 2003

Minute Order: (1) Defendant's Motion to Close Preliminary Hearing; (2) Media Motion to allow TV/Audio Coverage of the Preliminary Hearing; (3) People's Motion for Venue Survey; (4) People's Motion to Seal Part of the Opposition to the Defendant's Suppression Motion

(Excerpt) Read more at cnn.com ...
---
TOPICS: Constitution/Conservatism; Crime/Corruption; Culture/Society; Extended News; Government; News/Current Events; US: California
KEYWORDS: lacipeterson
---
Navigation: use the links below to view more comments.
first previous 1-20 ... 101-120, 121-140, 141-160, 161-165 next last
---
---
---
---
---
---
---
---
---
---
---
---
---
---
---
---
---
---
---
---
---
Navigation: use the links below to view more comments.
first previous 1-20 ... 101-120, 121-140, 141-160, 161-165 next last
---
---