---
To: Helms; LurkedLongEnough; JohnHuang2; CasearianDaoist; SJackson; freeangel; dennisw; joesnuffy
Is the author's view of "Islamic World Renaissance" reality?
Islam can only rise and expand through military conquest. This is historical fact.
True, the philosophical and cultural differences between Islamic nations (The East) and Christian nations (The West) can be viewed as two separate civilizations in competition with each other.
Both profess a divine appointment, calling, mission, and spiritual reference points. Muslims point to the Koran while Christians point to the Bible. Both the Koran and the Bible point to God as the Author of their faith and the source of their strength, but that is where the similarities end.
Islam's code requires Jihad to perpetuate itself in "unbelieving" nations resistent to the teachings of Muhammed.
Christianity's code requires mercy, forgiveness, and a turning away from violence and hatred even towards those resistent to the teachings of Christ.
The act of proselyting a Muslim by a Christian in an Islamic nation is punishable by death. In fact, Christianity itself is outlawed in most Islamic nations (and ultimately punishable by death).
The act of proselyting a Christian by a Muslim in a Christian nation has no legal or physically harmful ramifications to the Muslim.
The Muslim in a Christian nation is free to proselyte whereas a Christian in a Muslim nation does so at the risk of death.
This struggle will continue until Islamic nations cease to expand Jihad into Western Christian nations. Or until their desire to do so is broken by military brute force.
Of course, this reality may not be universally accepted in either Islamic or Christian cultures.
For that matter, what is reality?

9
posted on
09/05/2003 7:19:10 AM PDT
by
Happy2BMe
(LIBERTY has arrived in Iraq - Now we can concentrate on HOLLYWEED!)
---
To: Happy2BMe
It's funny when the Islamic empty heads rattle on about the glories of Islam. It's bizarro world.

---
To: Happy2BMe
"What is reality?"
Excellent question-and Postmodernists (hey France and Germany as well as Media elites) have their own answer as follows:
"Postmodernists often express a profound skepticism regarding the Enlightenment quest to uncover the nature of truth and reality. Perhaps the most striking examples of this skepticism are to be found in the works of French cultural theorist, Jean Baudrillard. In his book Simulations, he contends that social 'reality' no longer exists in the conventional sense, but has been supplanted by an endless procession of simulacra.
The mass media, and other forms of mass cultural production, generate constant re-appropriation and re-contextualisation of familiar cultural symbols and images, fundamentally shifting our experience away from 'reality', to 'hyper-reality'."
I suggest that such a "hyper-reality" is Palestine and the so-called faux cycle of violence.

---
To: Happy2BMe
The EAST is only slam???? NO WAY! You forget that Eastern Orthodox Christianity flourished and still survives in places like Egypt, Iraq, Iran, Syria. You also forget the three other civilisations that aren't either slamic or Western Christian, viz. the Chinese, Japanese and Indian civilisations.

---
To: Happy2BMe
THIS IS REALITY
---
To:
hellinahandcart
From cnn.com: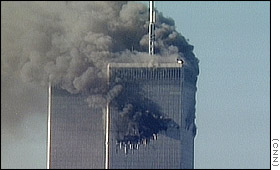 3 posted on 09/11/2001 8:59 AM EDT by sanchmo
[ Post Reply | Private Reply | To 1 | View Replies | Report Abuse ]
---
---
FreeRepublic.com is powered by software copyright 2000-2008 John Robinson