---
From a few days ago, but still current and up-to-date.
-archy-/-

---
To: AAABEST; A.J.Armitage; archy; bc2; Beck_isright; bootless; claidheamh mor; Cathryn Crawford; ...
PorcuPing! Free State Project list news and info alert....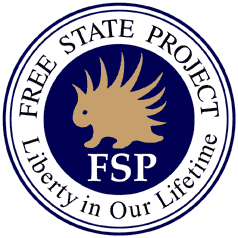 2
posted on
09/15/2003 10:01:21 AM PDT
by
archy
(Keep in mind that the milk of human kindness comes from a beast that is both cannibal and a vampire.)
---
To: archy
Who yo callin a ho, mofo?

---
To: archy
The FSP sounds like an interesting idea. Good luck with it. Will be watching from afar and hoping it is successful. (Also hoping it doesn't attract people for the wrong reasons).

4
posted on
09/15/2003 10:58:13 AM PDT
by
Tired of Taxes
(and tired of this screenname, too.)
---
To: archy
Hightlighting a few choice lines from the article:
As for Republican and Democratic politics: "It's an elitism: I should have the power to mother you,"
"Folks have given up on big parties--socialism and socialism light."
"If you're Democrat or Republican, you have to compromise.
They are willing to compromise to win elections
record tax increases approved this past legislative session.
"We have more and more conservatives who can't justify supporting this,"
"There are a lot of people who are philosophically Libertarian but are not prepared to join the party,"
[many] have a Libertarian streak even when they don't know what it is."
The Free State will succeed by a coalition of like minded people. Having left the old world for a new land based on a common governing philosophy will be the binding agent. Depending on the state they could work in or with the Republicans or a 3rd party. Too early to tell which course it will be.

---
To: archy
I'd say its a waste of time to try and clean a little spot in a sewer. Failure of libertarian ideas, are the failure of the libertarians themselves (me included). Running away, isn't going to change the big picture. The ideas of the omnipotent state must be challenged at its roots where it is strongest. Any other approach is pure fantasy.

---
FreeRepublic.com is powered by software copyright 2000-2008 John Robinson