---
To: franky; Siobhan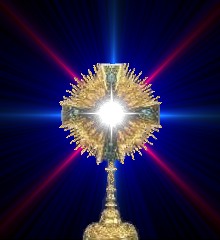 Could you not watch with me, for one hour.
So very glad that you were able to locate a curch sufficiently nearby where you can go for Adoration. On the Journey Home program tonight, a young convert from the Lutheran faith, said that he is drawn to Eucharistic Adoration. He draws his life from those moments spent with Christ. It is comforting to know that more and more catholics are seeking that hour of silent conversation with our Lord.
On Fridays, during Lent, my Maronite Catholic parish offers the Procession of the Cross. I have not yet attended this service. Yesterday, in describing it to me, they likened it to Eucharistic Adoration. The chants sung, are Mary's words as she stood at the foot of the cross, contemplating her Son. We will have Eucharistic Adoration on Holy Thursday.
May God bless you for your effort to share time with Him this week. "I speak with my Lord and He speaks to me".

---
To: NYer; franky
Every Maronite service and especially the Holy Qurbono cause me to weep because I find the presence of Jesus the Lord so profound and almost overwhelming.
There are times at Benediction and at Adoration when I receive from Our Blessed Lord something so sweet and pure I am at a loss to say what it is beyond Grace. But it is what has kept me alive and hopeful after tremendous sorrows, and it has given me the courage to do things for Him I would never have had the courage to do apart from gazing upon Him and receiving from Him the love, the compassion and the grace to undertake the seemingly impossible.

---
FreeRepublic.com is powered by software copyright 2000-2008 John Robinson