---
To: Titanites
"Here is a good response."

As a Catholic, I believe that I was saved in baptism,[snip]

Is this the doctrine of the Catholic Church?

40
posted on
09/28/2005 5:51:19 PM PDT
by
DocRock
(Osama said, "We love death, the U.S. loves life, that is the main difference between us.")
---
To: DocRock
From the
Catechism of the Catholic Church
. I strongly recommend reading the entire link, if you want to know what the Church really teaches (as opposed to anything that jack chick's dishonest scoundrels have to say).
1992
Justification has been merited for us by the Passion of Christ who offered himself on the cross as a living victim, holy and pleasing to God, and whose blood has become the instrument of atonement for the sins of all men. Justification is conferred in Baptism, the sacrament of faith. It conforms us to the righteousness of God, who makes us inwardly just by the power of his mercy. Its purpose is the glory of God and of Christ, and the gift of eternal life:40
But now the righteousness of God has been manifested apart from law, although the law and the prophets bear witness to it, the righteousness of God through faith in Jesus Christ for all who believe. For there is no distinction: since all have sinned and fall short of the glory of God, they are justified by his grace as a gift, through the redemption which is in Christ Jesus, whom God put forward as an expiation by his blood, to be received by faith. This was to show God's righteousness, because in his divine forbearance he had passed over former sins; it was to prove at the present time that he himself is righteous and that he justifies him who has faith in Jesus.41

47
posted on
09/28/2005 5:56:33 PM PDT
by
ArrogantBustard
(Western Civilisation is aborting, buggering, and contracepting itself out of existence.)
---
To: DocRock
Not in isolation, as a stand-along sentence. That's why it was part of a larger context discussing the comprehensive Catholic view of salvation.

This particular statement comes from 1 Peter 3: 21-22, "Baptism, which corresponds to this [to the rescue of Noah and his family from the Flood], now saves you, not as a removal of dirt from the body, but as an appeal to God for a clear conscience, through the resurrection of Jesus Christ, who has gone into heaven and is at the right hand of God, with angels, authorities, and powers subject to him."
49
posted on
09/28/2005 5:57:58 PM PDT
by
Tax-chick
(Start the revolution - I'll bring the tea and muffins!)
---
To: DocRock
As a Catholic, I believe that I was saved in baptism,[snip]
Is this the doctrine of the Catholic Church?
It is an oversimplification that can lead one to false ideas.
First, "salvation" to Catholics doesn't mean the same thing that it does for Protestants. Thus, if I say "Baptism saves", you will immediately think we believe we go to heaven because of this one-time event. The correct term is "justify". We are made children of God, inheritors of heaven, infused with God's Grace and forgiven of all sin. If we were to slip and fall in the Baptismal font and die, we'd be in heaven. But for the rest of us, our eternal salvation is not secured as a result of ONLY Baptism.
The Gospels (and Paul, if one drops Sola Fide as their lenses for looking at the Scriptures) are clear that we must have faith in God, trust in His promises, and obey Him out of the sake of our love for Him. When doing deeds of love, it is understood that God is present within us, as we cannot earn righteousness on our own. God enables us to "work out our salvation", as He places within us the will and ability to do His will (Phil 2:12,13).
Someone brought up the Young Rich Man previously. That is one of many examples that Jesus gives us about what we must do to enter the Kingdom. He told the man "you are not far from the Kingdom" when the man said he obeyed the commandments. Jesus looked at the man and loved him - presumably, because he was not like the Pharisees who did good works BUT expected payment/wages. The man obeyed the commandments out of love for God. "He was not far from the Kingdom" But Christ saw another attachment - money - that kept the man from entering God's Kingdom. Faith is nowhere mentioned in this story. HOWEVER, it is PRESUMED, since the man was obeying the commandments out of love.
One can be saved only through faith in God, working out his faith through love (Gal 5:6). Without love, I am nothing (1 Cor 13:2). Faith without works (of love) is dead (James 2). Thus, BOTH are needed - faith AND deeds of love. Since justification is NOT a one-time process (we are not always righteous in God's eyes), we must persevere in our faith and love in God. God gives us the grace to continue on this journey, which we call sanctification. The two terms go together.
An interesting analogy that might help is this...
Think of a person as a glass full of black liquid, representing our soul before God's graces come to us through Baptism. God, from Baptism, pours His Spirit into us (the glass), adding white liquid and completely whitening the liquid in the glass. Now, as time goes by, we, by our sin, add black liquid back into the glass. It darkens a bit. When we ask for forgiveness, repent, and love others, God pours some white liquid back in. As we continue to grow in holiness, we add less black liquid in, while God continues to add white liquid. The day we die, God will judge the color of the liquid. Note, we NEVER add white liquid to the glass! We ONLY can try to keep the black liquid out. By turning to God, He gives us a stronger will, enabling us to resist temptation and to love others without thought of reward (as we can never earn a reward).
Some may ask "well, how do I know if my "glass is white or black"? Don't be scrupulous like Luther...If a person is sorry for the sins he has committed, this is the work of the Spirit within us - thus, we are not being shunned by God. Hope this helps
Regards

---
To: DocRock
As a Catholic, I believe that I was saved in baptism,[snip]
Is this the doctrine of the Catholic Church?
No.
Do Protestant churches teach that being "Born Again" and carrying a Bible automatically earns you a one-way ticket to Heaven no matter what you do afterwards?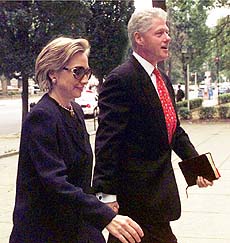 If the Catholic Church taught that, I could have saved myself a lot of worry as a 14 year-old for lusting for Diana Rigg. :-)
---
FreeRepublic.com is powered by software copyright 2000-2008 John Robinson