---
To: Siobhan; Canticle_of_Deborah; broadsword; NYer; Salvation; sandyeggo; american colleen; ...
2
posted on
06/23/2006 11:39:39 AM PDT
by
Pyro7480
("If you wish to go to extremes, let it be in... patience, humility, & charity." -St. Philip Neri)
---
To: Pyro7480
Doesn't look much like Fisher. Here's Holbein's sketch: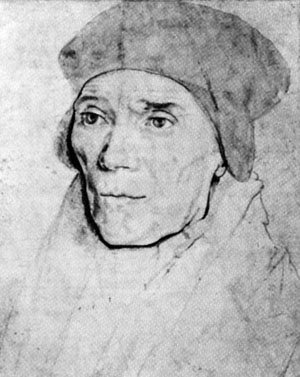 Holbein probably took as good a quick likeness as any artist, ever.

3
posted on
06/23/2006 11:46:47 AM PDT
by
AnAmericanMother
((Ministrix of Ye Chase, TTGC Ladies' Auxiliary (recess appointment)))
---
To: Pyro7480
As the town criers used to proclaim when the visier Jaafar the Barmecide had somebody punished in public [Sir Richard Burton's "Arabian Nights" translation]: "This is the just deserts, and the least of the just deserts, of those who meddle with the others' harems and matrimony..."
---
FreeRepublic.com is powered by software copyright 2000-2008 John Robinson